Hello, and welcome to another update from the folks at MWLL!
In this series of articles, we're excited to share with you the various events members or groups within our community host or are planning to host. These events are open to beginners and veterans alike!
Our longest-running event is known as Chaos March, where teams of players compete over planets in a skirmish-type game mode. Hosted by Clan Smoke Jaguar, it runs every weekend (and sometimes Fridays), usually starting at 1800 GMT and running until around 0100 GMT. You only have to hop into the community TeamSpeak server (maintained by Clan Smoke Jaguar) - at address mwll.mwmaster.com - and stand by in the Ready Room channel to get sorted into teams! Everything else will get under way from there, and talking or having a microphone isn't required. For more information and updates, check out our forum post here and the Chaos March website here.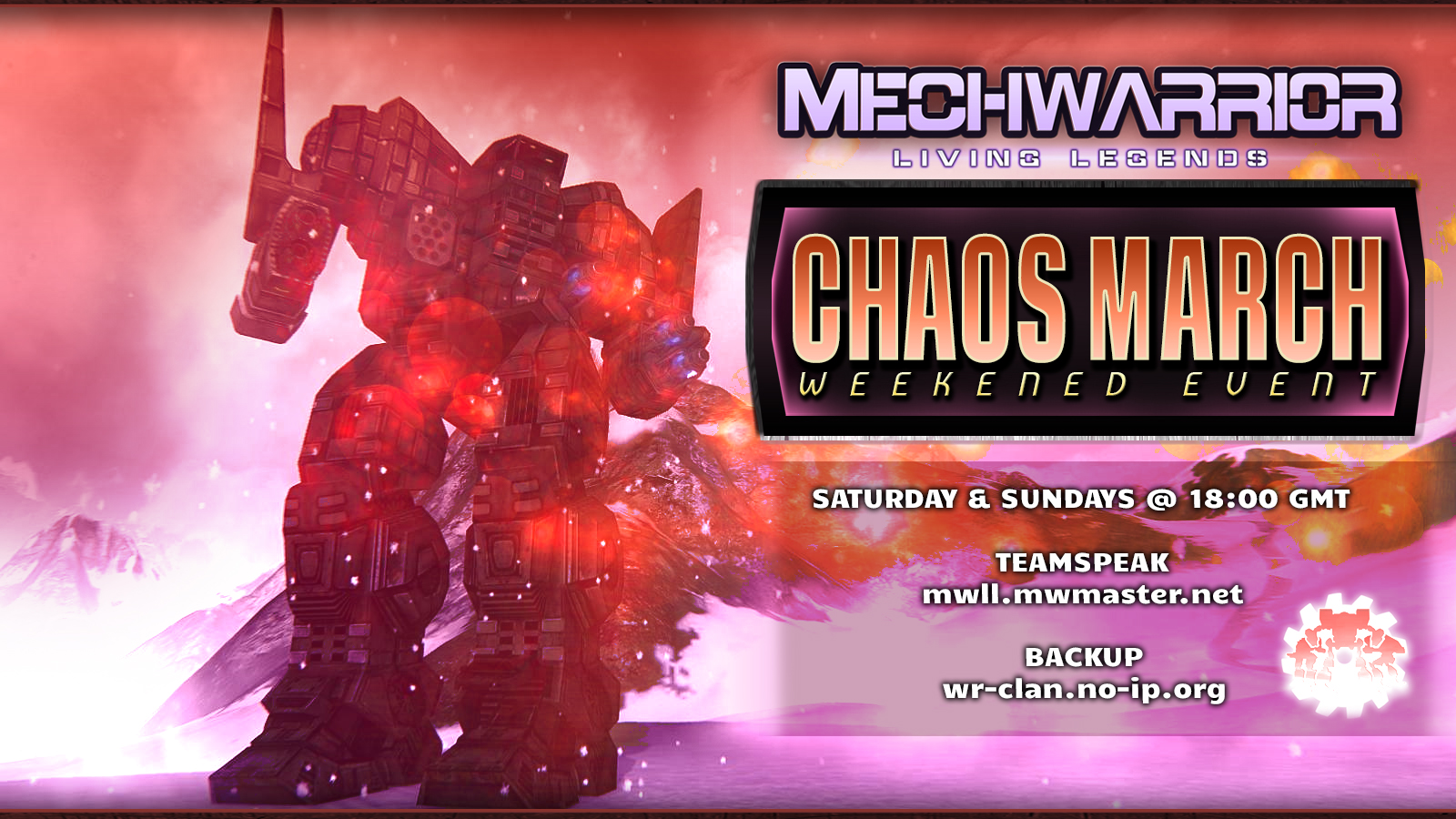 Though Chaos March is the biggest event our community hosts, there are a few newer ones that take on different forms of play. One of the latest, called TC101: Drop Edition is aimed specifically at helping players that have at least a little experience playing, and want to get better. Such players can drop with more experienced players into a public ongoing Terrain Control match, and get what you could call "live coaching" to help them out. This event will run on February 3rd and 10th, from 2000 to 2200 GMT. Getting on the mwmaster TeamSpeak server is required for this event, however having a microphone isn't. If you feel like you could use some guidance from our helpful veterans, you can sign up right here.
Yet another event that has recently taken off is our Solaris Arena Championship. This is an arena bracket competition, where pilots duke it out in specific weight or vehicle classes - such as light 'Mechs only, or Aerospace Fighters only. Pilots of any skill level are welcome, and using the TeamSpeak server isn't required. The event just recently passed its "test run," if you will, and that means it's going to be played more often! Though its test run is over, the Solaris Arena Championship will next run at some point during mid to late February, likely on a Saturday. There's no signup required for this event, but stay tuned for more updates in the coming month. You can check out this thread on our forums for more info, as well as potential updates on the event's status.
Lastly, there is another event planned called the Ishiyama Black Mountain Cup. This is a Terrain Control-oriented event, with organized teams basically playing the gamemode in a competitive manner. Voice comms will likely be required, however there aren't too many other specifics available at this time, such as a date and time. A signups form will be posted when the event gets fleshed out more.
To find more information and receive notifications about when an event will take place, you can also join our discord here.
We look forward to seeing you on the field!