Finally we can present you some gifs showing a combat in Alder's Blood. Remember that this is still a work in progress and the game is in very early phase of development.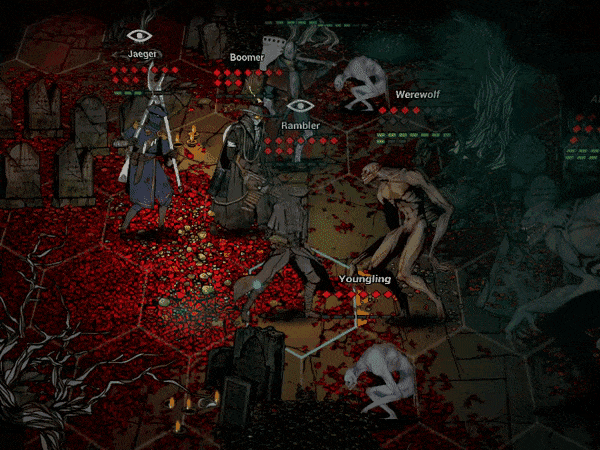 Rambler fighting a Werewolf.
Turn-based combat
Tactical combat in Alder's Blood is a turn-based battle with the hex-grid navigation system. Every quest has its own purpose (eliminate the enemies, steal an item, escort, defence civilians), which can be obtained only by the wise use of our characters' skills.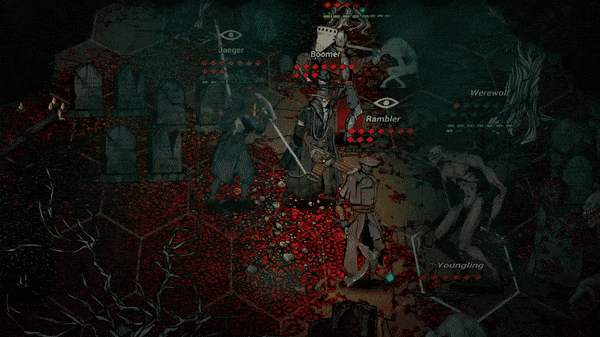 Jaeger is placing his Arquebus (musket) on a Bardish and shooting the Werewolf.
The world is covered in constant dusk. "Day" and "night" are no longer a thing. The lunar light of the Moon ceaselessly illuminates the dark; a grim reminder of the curse.



Battles take place in the dark, so the visibility is limited. Only a good strategy will allow us to survive and fulfill the purpose of the mission.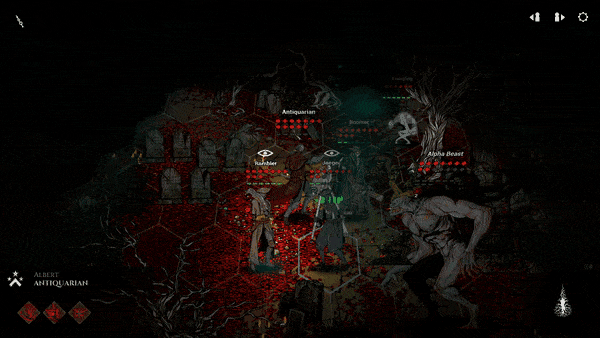 Antiquarian is healing his fellow, Jaeger.
Use your resources wisely as there are many enemies lurking in the night. A smart Hunter is always vigilant, feeling the presence of sharp claws in the darkness.



Every action costs Action Points (each character has two) and Stamina Points. Stamina will partially replenish at the start of your next turn. Be carefull and observe the stamina pool - do not use all of it fighting with one enemy. Exhausted Hunter (with no stamina left) is completely defenceless and can be knocked down easly even after confronting the weakest enemies.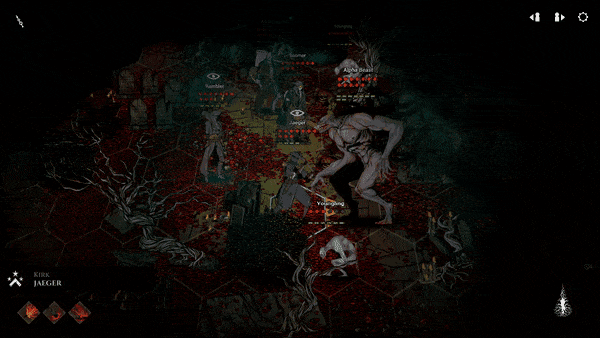 Jaeger fighting the Alpha Werewolf with his Bardish.
Remember that lonely hunter is – more often than not - a dead hunter.
Cooperation is probably the most important word, that you need to be familiar with. Combine your characters' abilities to prepare a solid team, bloodcurdling even for the strongest creatures. There are a few different classes of Hunters. Every class has it's strenghts and weaknesses. Classes has its own, completely different and unique sets of usable weapons and skills. Hunter will be able to overcome the raw and unpredictable habits of the Nature combining the skills and weapons. There's no one universal way of doing it.
Some of the abilities can inflict a special effect on its target. This factor affects both hunters and enemies. The combinations of special effects can be highly effective when eliminating beasts or crushingly devastating when inflicted on your hunters.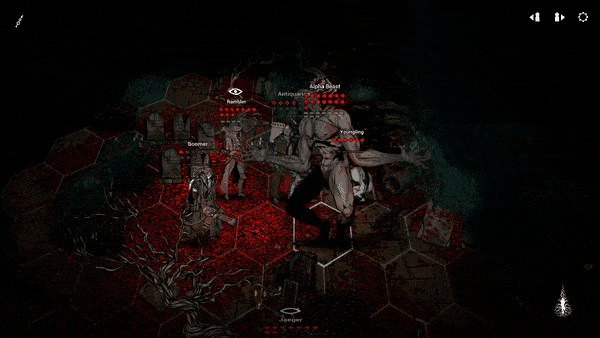 For a nice goodbye - angry Alpha Werewolf ;)
Hope you guys enjoyed the article, if so, we would be more than happy if you share it to a friend.
Like us on Facebook if you appreciate our work - Facebook.com
Visit our blog - Aldersblood.com
Wanna say hi? This is our e-mail adress - info@shockworkgames.com