Has it been a week already? We've updated the Pre-Alpha Combat Demo of Battle Brothers to fix the bugs you guys reported and add a bunch of features you requested. Chief among them are the new optional armor and hitpoint bars shown above all characters. You can find a full list of changes down below.
If you haven't tried the demo yet or want to give it another go, don't wait any longer and download it here:

As always, we depend on your feedback. Talk to us and let us know of any problems you encounter and anything you'd like to see changed or added to the game!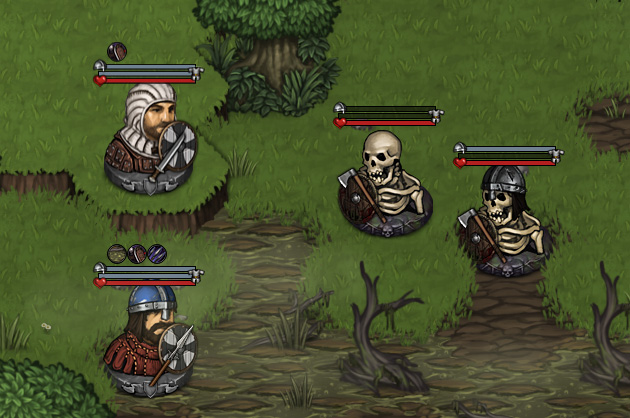 Changelog
Fixed bug that could leave the game hanging indefinately during the AI turn when the necromancer moves outside of view towards corpses to resurrect
Fixed bug that could leave the game hanging when using the wait turn action with only a few characters left
Fixed bug that had the inventory tooltip sometimes claim a character doesn't have enough AP to switch items when in fact he does
Fixed bug that had tooltips for hidden opponents show "Click left to focus" when it wasn't in fact possible
Fixed bug that characters wouldn't immediately show the hidden status effect icon if spawned inside brush
Fixed bug that had skeletons sometimes use the Shieldwall skill when no opponent was actually in range
Fixed shader incompatibility with some low end video cards
The last few scattered opponents on a map should be a bit easier to find now
The combat log now also gives exact numbers for armor damage taken
Added optional edge of screen scrolling mode (disabled by default)
Added a slight movement threshold to drag-style scrolling in order to avoid accidentally scrolling the map when trying to click something
Added optional camera mode that always keeps the current AI character in focus (disabled by default)
Added an option to disable the hardware cursor and use a software cursor instead (use this for a visible cursor when making videos of the game!)
Added support for scrolling with ZQSD keyboard layouts
Added optional overlay to show armor and hitpoint bars at all times (toggleable with Alt key and in the options menu)