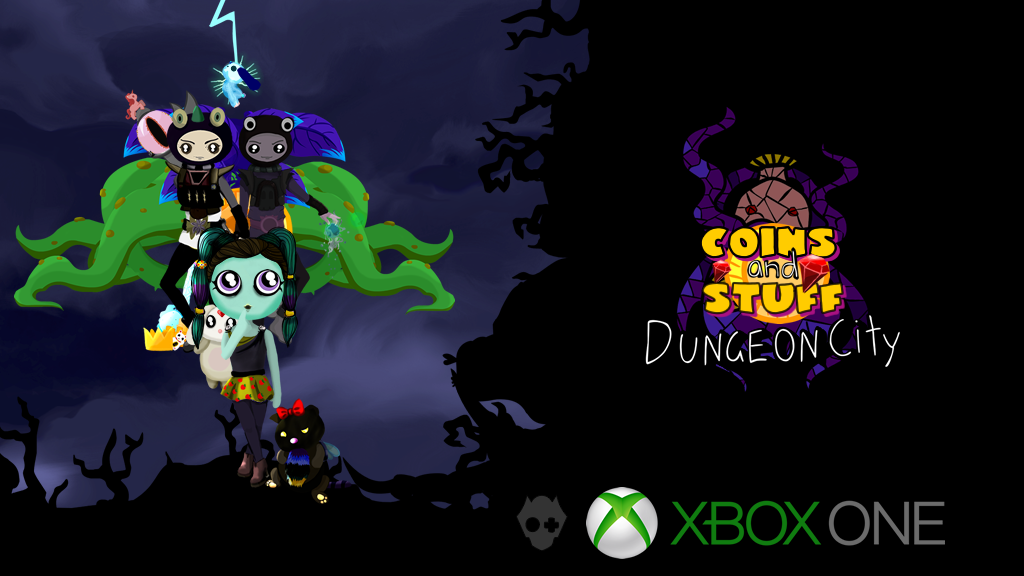 We at Snazzlebot are beyond excited to announce RPG Coins and Stuff Dungeon City will be developed for release on Xbox One, the all-in-one games and entertainment system from Microsoft, along with PC and Mac.
All thanks to the ID@Xbox self-publishing program for indie developers.
Kids with combovers, bush pigs gone wild and bad ass bunnies. Hack 'n cast RPG 'Coins and Stuff Dungeon City' is set in our version of an underworld; an afterlife where you get to do whatever you loved doing in your 'topside' life for all eternity.Obliterate enemies, pick and choose your quests, go solo or two player local co-op.
Like most games, some trouble kicks off and you've got to sort it out. While that's a pretty standard trope, we are embellishing our world with lots of different quests, hopefully a lot of laughs with a little bit of 'aww'. While there is an overall arc for the characters, it's flexible. We want to build a world - an afterlife that can be whatever we want.We've basically thought what do we like in games? Playing together, epic feeling battles and attacks, cool characters and we can't forget the precious loot - that's what should be in our game by the time we are done.
There's a lot of influence from cartoons and the best of the RPG genre like Diablo, Final Fantasy and World of Warcraft. It's still in development so to find out more info and track our progress, you can follow our Twitter and check our sites out.
@snazzlebotgames
coinsandstuffgame.com
snazzlebot.com
Contact details
Naz Taylor (Programmer)
Email: naz@snazzlebot.com
Twitter @nazulu
Sarah Taylor (Artist)
Email: sarah@snazzlebot.com