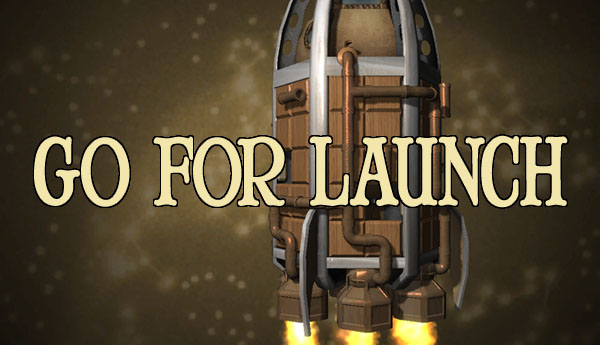 Hey all! Cogs went live on Steam about an hour and a half ago. I dunno about Rob but I can report that I am positively jittery. Big official-sounding press release to follow, it's all dressed up for the press big-wigs so I hope you'll excuse some shamelessly self-promoting adjectives (Rob is much less modest when he writes than I am :P ).
---
Lazy 8 Studios™ Launches Cogs Puzzle Game
Rich steampunk look sets a new standard for casual games
San Francisco, CA – April 14, 2009 – Independent developer Lazy 8 Studios announced today the worldwide release of Cogs, their debut puzzle game. Players can download Cogs for the PC via Steam, the online game distribution service from Valve, Inc. A demo version is available for free with the full version priced at $9.99 (£6.99 or €8.99).
According to Lazy 8 Studios founder Rob Jagnow, Steam was their first choice for online distribution: "With an audience of more than 15 million worldwide, a high threshold for game quality and a strong reputation for customer satisfaction, Steam stands out as a great choice."
In Cogs, players interact with a 3D environment, using sliding tiles to build machines. The 50 puzzles have a surprising variety. As players advance through the levels, they build helicopters, inflate hot-air balloons, compose music, power rocket ships, and more. Cogs has three gameplay modes: when players complete puzzles in Inventor Mode, they can further challenge their skills by racing against time or working with a limited number of moves.
Cogs was created by the two-man team of Lazy 8 Studios founder and graphics engineer Rob Jagnow and digital artist Brendan Mauro. As Jagnow explained, it has taken some time for the game to become a reality. "From conception to completion, I've worked on Cogs for more than five years. In that time, it has evolved substantially based on user feedback. It's become something far more than I originally imagined."
Jagnow credits Mauro with the polished steampunk look that gives the game much of its appeal. "This is one of Brendan's first major game projects. He came to Lazy 8 Studios with a creative vision about where he could take this game and he's really followed through. One of our early testers described the look of Cogs as 'just delicious.'"
The refined appearance makes Cogs stand out in the casual game market. As Jagnow explains, "we wanted to leverage the graphics hardware that is available on most modern computers. We want the player to feel immersed in the mechanical world that we've created."
About Lazy 8 Studios™
Lazy 8 Studios, LLC, is an independent game studio in San Francisco, CA. Founded in 2008, Lazy 8 specializes in casual games.
Contact
Rob Jagnow
Founder, Lazy 8 Studios
rob@lazy8studios.com
Additional press materials at Lazy8studios.com