It's finally happened. After over four years and more than 8,000 hours of work, Cogmind has just been released on Steam :D
"Released" but Early Access. Some say that as soon as you release on Steam, EA or not, that's it--you only really get one launch and the "full release" won't make as big a splash later. That's fine, since Cogmind is a very complete experience and it's time for anyone who's been waiting for this opportunity to jump in.
There are of course a lot of people who don't have much faith in Early Access games, but as long as they're interested in the concept of Cogmind I don't think it'll be too hard to win them over while we spend the coming months adding optional features and content, especially considering the amount of development already allocated to ensuring maximum polish.
Thanks to everyone who's helped make this possible! Cogmind has come way beyond what it would have been without as much support as everyone's provided over the years, be it financial, spreading the word, or offering feedback and suggestions. A few months back I shared a lengthy rundown of features that didn't have to happen but have certainly made Cogmind better for it, features that you all made possible.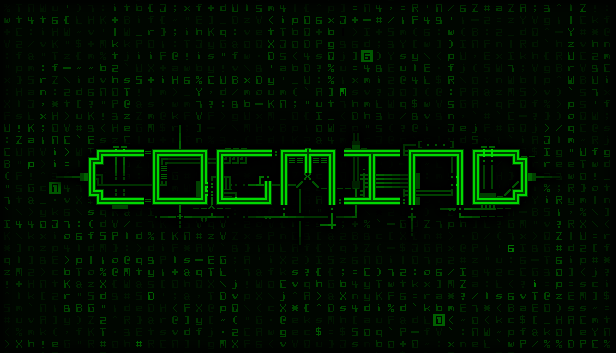 A logo image recently put together while preparing for Steam.
Cogmind feature highlights, as it launches into the wild on Steam:
Build and modify a unique robot from nearly 1,000 parts, whether found or salvaged from other bots
Highly dynamic character development without XP/grinding
Dozens of robot classes, each with unique behavior within the ecosystem
Mechanics and environments that enable one of the most compelling stealth experiences in a roguelike
Extensive hacking systems--nearly 100 machine hacks so far
Procedurally generated world, including dozens of map types into which hundreds of hand-made areas are mixed
Hundreds of NPC encounters and thousands of lines of dialogue form a rich story
Seven different animated endings to discover
Fully destructible environment
Nearly 1,000 pieces of ASCII art
Huge range of particle effects like never seen in a terminal (except my other project :P)
Everything has sounds--more SFX than any roguelike, ever
Advanced terminal interface, with numerous built-in input options and tons of information at your fingertips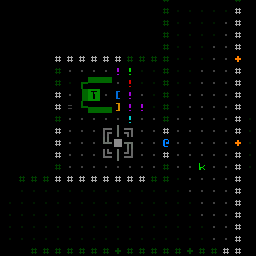 Composite demo of various Cogmind features.
Other interesting points regarding design and development:
Cogmind is all about atmosphere--there isn't even a main menu, the player is dropped right into the game world
Cogmind was designed entirely in CP437, with aesthetics conforming to limitations imposed by a two-colors-per-cell grid-based display (nothing breaks that rule)
There is a tileset available by default (since approximately 75% of players prefer to use it!), but even that was designed to mimic the ASCII aesthetic so as to not ruin the style
Despite the limitations, Cogmind's UI explores many features never before seen in traditional roguelikes
A niche game like Cogmind managed to raise more than $100,000 from players to fund alpha development, which was how it could keep expanding for over four years :)
To help build Cogmind I created REXPaint, a free editor now in use by a large number of artists and gamedevs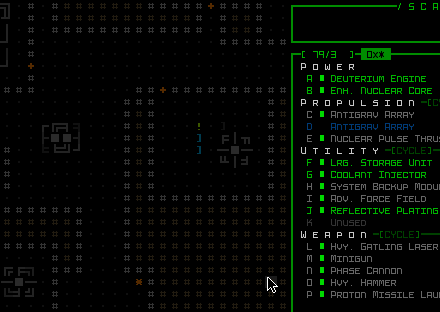 Cogmind inventory management demo with bonus ASCII destruction and repair :)
Alpha Supporters
I've sent out emails to alpha supporters who bought back when a Steam key was promised as part of those tiers. So check your inboxes (and spam, just in case) and email me at gridsagegames@gmail.com if you were supposed to receive a key but did not. Note that my response time might be a little slower than usual due to a much higher volume of activity around release time.
Those of you migrating from DRM-free to Steam can import your settings and metadata as usual. After installing via Steam, open the Steam-installed local files and copy over your old Cogmind /user/ directory into the new one. That's it. It will automatically update from then on for subsequent versions.
A little Beta 3 was put out last week to coincide with this Steam launch, so anyone not on Steam will want to update manually. See the announcement for notes on that.
For those of you who bought ages ago just to support development and are only now being reminded you own the game but never registered your copy, therefore your name doesn't appear in the supporters list (or more importantly the art gallery if you bought that early), go back to your original download email and use the linked form to register. There are still quite a few unclaimed items in the gallery, mostly because a lot of you probably didn't notice the form link (just a couple quick fields to fill out, otherwise I don't know what name you want to use!). After some time on Steam I'm going to have to reallocate remaining unclaimed items to other players!
Purchase Options
Although Cogmind is now available on Steam, it will also always be available for sale from my website as well, and the DRM-free version will continue to receive the same updates (though technically the two versions are slightly different packages).
In the near term, however, as has been indicated on the buy page for a little while now, direct purchases will NOT include a Steam key.
A big part of the reason is to encourage purchases from Steam to help push up the overall review score. Everyone playing Cogmind on Steam please take some time to leave reviews! They're vital for encouraging more sales, and more sales is how we're going to get more features!
Further down the line this key policy could change, but it depends on a lot of factors and we'll have to see how things play out. So if you haven't bought Cogmind yet and are interested in doing so to play on Steam, buy from Steam. For a DRM-free non-Steam version instead buy direct here.
GOG I'm not sure about, because despite proactively expressing interest in Cogmind they haven't responded to my later emails, so for now I've decided to shelve that route.
Coverage
There hasn't yet been a whole lot of advance press coverage about Cogmind's Steam release, partially because I requested that most influencers hold off on their coverage until on or after the actual release date, though I'm still not sure what kind of reception we'll see since Cogmind is pretty niche, after all. Some pre-release happenings:
Purely coincidentally, leading up to this release PC Gamer published an article full of praise for Cogmind, and despite his short time with it the author did a great job of understanding and conveying the essence of the game.
Well-known roguelike let's player Aavak has started a Cogmind series which has been pretty popular.
Two Credits has a quick summary of the launch news, but otherwise there's not much out there just yet.
Gonna have to rely on word of mouth and continued updates to get attention! :D
If you have any favorite LPers/streamers you'd like to see try Cogmind, or a reviewer who's opinion you'd like to read, let them know! I've already written to several, but I can't possibly find them all (and I imagine lots probably won't notice my email anyway, but if some of their fans let them know that can be even more powerful than me self-promoting my way into their inbox).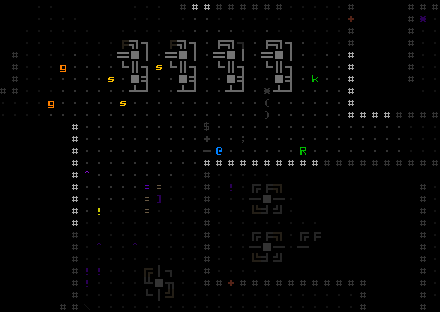 Cogmind combat demo with particle effects.