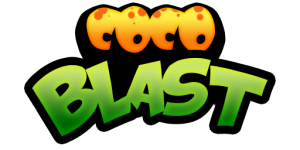 It's been a long journey with Coco Blast, but finally we've done it. Coco Blast has officially be released to the iOS App Store and is pending review!
Within a few weeks we will know if Apple has accepted or rejected our game. If all goes well, everyone will be able to play this little gem in all its glory on iOS, iPad and iPod Touch.
While everyone is waiting, we suggest you check out our FREE Web version here. This will give you a small taste of gameplay to get your feet wet.
Here are a few of the features you will find in the iOS release...
iOS Features
Game Center Integration
With Game Center Integration, players have access to Achievements, Challenges and Leaderboards
Leaderboards
Through Game Center you will automatically post to multiple leaderboards
Earn Over 85 Achievements and Compete Online with Friends on Game Center!
Compete in our daily, weekly, and monthly online leaderboards and enter contests to win cool prizes! (iOS only)
iPhone, iPad, and iPod Touch
We spruced up Coco's kicks for maximum awesomeness on all of your iOS devices!