VIENNA, Austria – August 29, 2015 – Interstellar Game Studios relaunches its Kickstarter and Steam Greenlight campaign for Mad Squad with a new demo update. Mad Squad is a physics-based, 2.5D, Co-op Action-Platformer. Get the windows demo for up to 4 players here.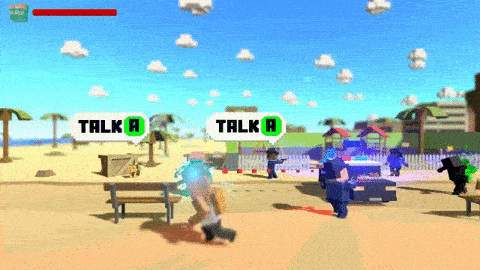 In Mad Squad, you take on the role of a special forces unit with a dog, on a mission to save the world. You move through a voxel-themed world with realistic physics, and encounter NPCs that forward the storyline. Each character has its own set of attacks and can fire energy blasts to interact with the environment.
The relaunch of the two campaigns comes with an update for the demo. The update delivers optimized physics and all-new energy blasts which are now in a cubic style.
Mad Squad is an indie game, developed by Interstellar Game Studios. It is currently running campaigns on Steam Greenlight, Kickstarter, and Indiegogo. The official release is planned for early 2016 for PC, Mac, Linux, Playstation 4, Xbox One and Wii U.
Interstellar Game Studios is the alias for the game developer Reinhard Zach, based in Vienna, Austria.
To find out more visit www.InterstellarGameStudios.com
Trailer 720p 48fps: Youtube.com
Kickstarter: Kickstarter.com
IndieGogo: Indiegogo.com
Steam Greenlight: Steamcommunity.com
###
Press Assets: Interstellargamestudios.com