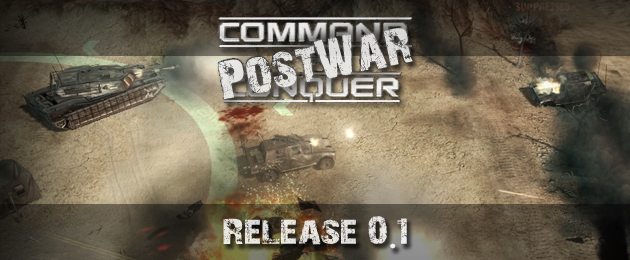 This is it. After months of hard work, absence and resumption of this project I'm glad I can finally offer you some playable material. Choosing the C&C 3 SAGE engine has often proven as wrong and I'm not as satisfied with the current result as I'd like to be. Minor details have cost an excessive amount of time, other elements had to be adapted to the engine's limitations or were completly cut off. There are a few problems that could not be solved yet and which are enlisted under "known issues". Anyhow, this should of course not mean that you cannot have a lot of fun with this mod!
Features:
The first release version includes one playable faction (the Peacekeepers) with all units you have seen on screens so far. Actually it was planned to have at least one controllable air unit (an Apache based attack helicopter), but at the moment there are none. Futhermore it includes three maps, all with the conquest system, and all with working A.I..
Known issues:
Some of the UI elements are not reworked yet, and a lot of menu stuff is actually still in progress. These, however, are cosmetic issues only!
The A.I. in general should be seen as a placeholder. In the current state it sometimes tends to have problems with capturing outposts, although it has units in it. This should be an A.I. only issue. If you experience similar bevavior in multiplayer matches please report me!
Infantry is not supposed to be able to shoot out of Badgers. Occasionally this happens though.
Sudden unit rotation is part of the engine's bad habits and cannot be fixed.
If you notice any other bugs, imbalances or the like, feel free to leave a comment or report me via PM. An installation guide and further info are included in the readme file.

What's next?
In case you are still reading here, you might also wonder what will come next for this mod. Originally it was planned to get the first release out much earlier and to reveal a second faction after this. At the moment, however, this is not going to happen until I will find another modeller and texture artist, which brings me to the last point of this news:
I'm looking for:
- A modeller
- A texture artist (for models in first line, UI/promotional stuff optionally)
- A talented mapper (for semi-realistic map-style, like the ones this mod includes)
Other than this, what will follow next, is probably a bugfixed version, if required.
That's it so far. Wish you some nice matches and hope you enjoy the mod!