BREAKING NEWS! Due to Computer Errors combined with nobody joining the goddamn game we're moving it to Saturday at 8 pm EST.
BATTLE 1
Objective: Defeat all enemies!
-5 players will be chosen on a first-come, first-serve basis. The 6th player will be Ferriswheel42, a mod member and referee, but also a player. The contestant who wins the match, as recognized by the game, earns the prize. If Ferriswheel42 wins... well, we'll have to think about that one, though he maintains that he is not an experienced player and "won't win, let's leave it at that."
(In future battles, there may be other objectives such as "capture this Observation Post" or "Destroy this bridge" but the first game may as well be simple.)
Map: Magmageddon!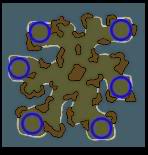 -A fairly even 6 player map. There are land routes between each base, but the island is surrounded by water, and there are some naval shortcuts between starting points.
Game Info:
Time: 8pm (GMT-5) on Saturday, June 27, 2009
How to play: Ferriswheel42 will host a game at 8. The game name will be Community Mod Project, or something to that effect. Spots are first-come first-served, and the game will have no password or reserved spaces, so come early!
Prize: Super Ultimate T3 Unit!
-The winner of the game gets to submit an outline for a super-powerful, super-expensive, one-available-at-a-time, unit for a single faction that they choose. The unit will be built in T3 at the faction's War Factory or Naval Yard. The unit can be anything that is not humanoid/infantry, or anything super-detailed.
This unit will be coded into the Community Mod Project, and will be available for use in EVERY UPCOMING C.M.P. MATCH.
Watch this space for further updates, and don't forget to show up for the game if you can!