ALPHA VERSION
We're getting ready to send links to an Alpha version of UFHO2. I'm uploading the builds now, and I'll be messaging all our backers on Kickstarter that chose the Fashionist tier or more.
The builds are for Windows, Mac, Linux and Linux64, and I'm probably going to update the iOS build as well tomorrow*.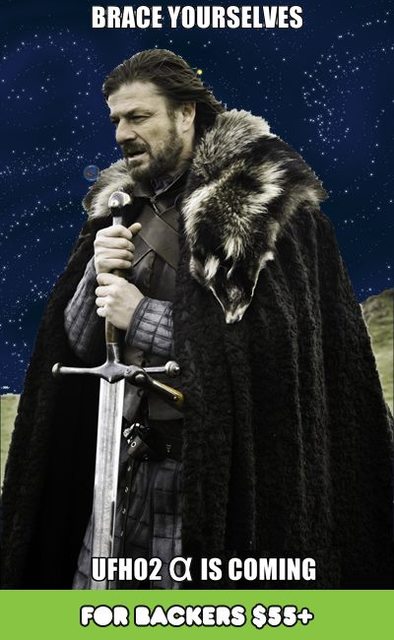 Any issue you would point out, suggestion you would like to make, or compliment, is very welcome. I'm particularly interested in the Linux builds, since I can't test them. You can vent all your rage, or love, on the Tiny Colossus forums: Forum.tinycolossus.com
I want to remind you that on the forums there's a hidden section for backers only. If you want access to that, join the forum with a new account and then send me a message on Kickstarter with the username, and I'll allow you to the 'secret' section.
Inside there's all the latest WIP screenshots, concept art/sketches, and all the discussion on the alpha builds.
BETA VERSION
In a month or so, we should be ready for beta testing. At that point, more people will be invited to join and try the game before release. It won't be totally open, but I'll select people among our developer friends, some other backers, but more importantly UFHO players who have been excited about the game since the beginning.
During beta, you will also be able to play online and so start grinding some stats... you'll have a small advantage over day-one players in the leaderboards!
* if you haven't joined our TestFlight program yet, let me know on Kickstarter with a message and I'll add you. Don't forget it's valid only for backers $55 and up, it was one of the rewards!