We are excited to announce that our publisher Lace Mamba Global is planning to flood the English-speaking world with a retail version of Clones starting on May 20 2011! Link : Videogamer.com
We have been working to include multi-language support for an international release in the future, and have begun to seriously consider a Linux and Mac port.
In the retail version co-op play is enabled and the video above shows how that plays during a singleplayer puzzle. Note that having two (or more) people working together can really increase your score and ranking because you can tackle problems in parallel. In the video it was only our second attempt and we got the 2nd fastest time stat and the 16th overall world rank. It helps to see your teammates cursor so you can plan out where you want each other to go.
On the multiplayer side the co-op play means that each player can focus on either attack or defense. In the video above the "Rambo" clone is solely focused on sabotage because his partner is doing the pathfinding to their exit. In this particular video the "Super Mold" game option was enabled which allows a clone to continue to build a bridge even if there is no land underneath it. It's a subtle change but can have a large impact on the level of control you have over any single clone.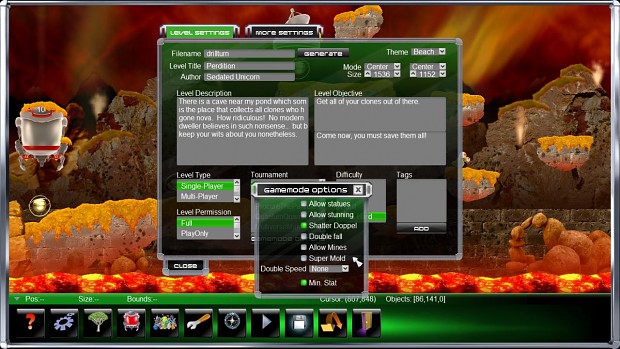 There are many other game mode options which can be enabled by default in the editor when you are creating a new level. Players also have the ability to configure the size and number of clones and release rate dynamically before each match to provide some variation.