Client 1.6 : Hobbies & Crafting
We are very excited to release version 1.6 of the NuVera Online client. There are many updates and fixes, but the most notable new change is the introduction of our new Hobbies and Crafting system.
Scavenger Hobby
We've had previous articles about the coming hobbies system and we're excited to say it's finally here! While there is still a lot more we plan to add the first introduced hobby is Scavenging. This involves finding raw materials such as logs, stone and ore and using those items to craft furniture for your home.
For items found on the ground, such as stone and logs, you simply need to explore, find and click on these harvest-able items. For items found in the ground, like copper ore, you'll need to purchase and use the Scav-Scanner.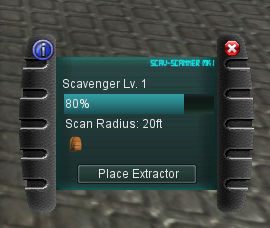 The Scav-Scanner is a fun new technology that extracts raw materials from the ground. To learn more about the Scav-Scanner and about finding raw materials see this Knowledge Base Article.
Crafting
Once you've collected some raw materials you can start in on crafting. In order to craft you'll need to find the appropriate work station which are publicly accessible in Sunset Isle and Tutorial Island. Clicking on a work station will open up the crafting interface where you can see the list of recipes available. As you collect raw materials and craft new items you'll earn experience which in turn will increase your Scavenger level making new recipes available to you.
Hobbies
The scavenger hobby has a current maximum level of 10, but we're certainly not stopping there. In future updates we'll be increasing the level cap and adding new raw materials and great new items to craft.
Scavenger is also only the first hobby we've added. We have plans to also add in a fishing hobby and a gardening hobby which will also have their own crafting counter parts.
General
There are a lot of tweaks, fixes and other updates in this release which make it one of the biggest releases to date. We're very excited about all the new changes and updates and look forward to your feedback.
Please read the release notes below for a full list of all the changes.
Release Notes
[Updates]
- New Scavenger hobby added. Users can collect raw materials and craft them in to various items that can be placed in their homes.
- Crafting stations added to Tutorial Island and Sunset Harbor
- Harvest-able items added to Sunset Isle and Tutorial Island
- Bridge in section 3 of Tutorial Island has been replaced
- Performance optimization for Sunset Isle
- Added new advanced settings for Grass & Clutter distance and density that take effect in Sunset Isle and Tutorials Island.
- Updated several areas in Tutorial Island to make the terrain less jagged
- System button changed to Settings & Support
- Added new in world help system under Settings & Support. This interface can also be opened by pressing F1.
- Advanced scale tool has been removed to resolve issues with non-uniform scaling causing weird skewing on child objects.
- Market Items can now be sold for Treasure Tokens in your market item inventory
- Gathered and crafted materials can be sold for Treasure Tokens
[Fixes]
- Fixed issue with shadows graphic setting not being applied in Sunset Isle
- Fixed issue with user public area rental options not showing the correct next pay date for rooms that have expired
- Fixed issue with chat window causing lag on some systems
- Fixed issue with some placed market items not retaining the correct rotation
- Updated product loading to help resolve issues with products not loading and getting stuck during the load process.
- Tab buttons no longer interact with objects behind the tab button when clicked