Starting to get some good old development momentum building again!
Here's the recent additions:
Different BG for active/inactive spells.
Worked on Combat AI, it's getting pretty good, on the right track.
Reworked Racoon Thief and Gecko Saboteur art.
Minor optimizations in AI and HUD.
Large chunk of new health bar system in.
Bugs: Anglerfish targeting, base damage poison, AI effected by stun
I'm glad these two characters have been cleaned up they've been bothering me for awhile. The old Racoon just looked wrong. And the Gecko is one of the early early characters.
Old Racoon Thief v. New Racoon Thief: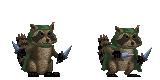 Old Gecko Saboteur v. New Gecko Saboteur


Feel free to check out some more gameplay on the youtube site.
Let me know what you think! And here's a gif!