The beta will include 6 classes per faction, which are all fun and unique.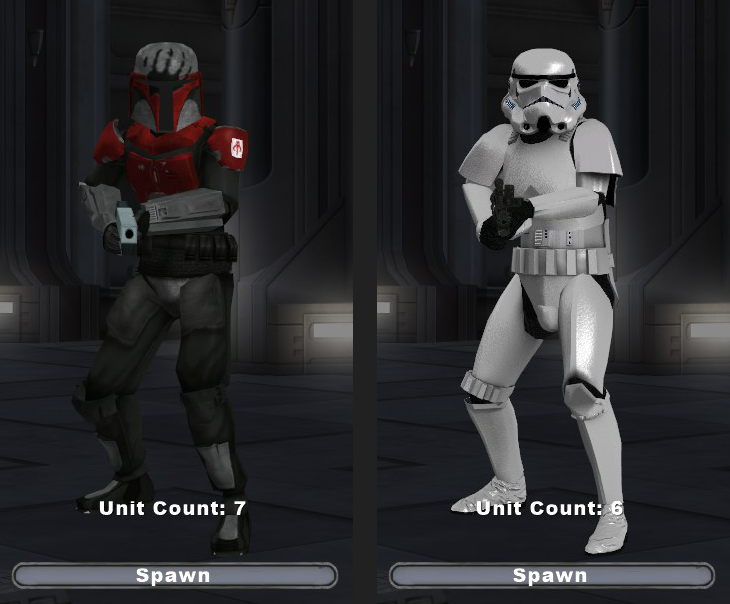 To start off, we have the normal Soldier class:
They feature a GALAAR-15 Blaster Carbine/E-11 Blaster Rifle alongisde a pistol incase they're out of ammo.
Thermal detonators and the ability to melee other units are also available incase the situation gets too heated.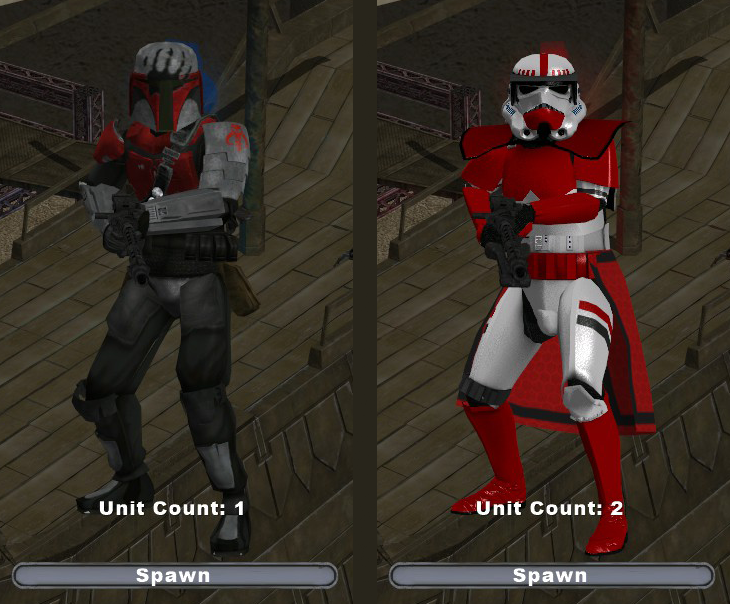 Next, we got the Heavy class:
Both use a DLT-19 Blaster Rifle which shoots fast, however doesn't do much damage but they also carry a pistol, thermal detonators and they can also melee.
Alongside that they can deploy an E-Web Turret to quickly take out any bigger target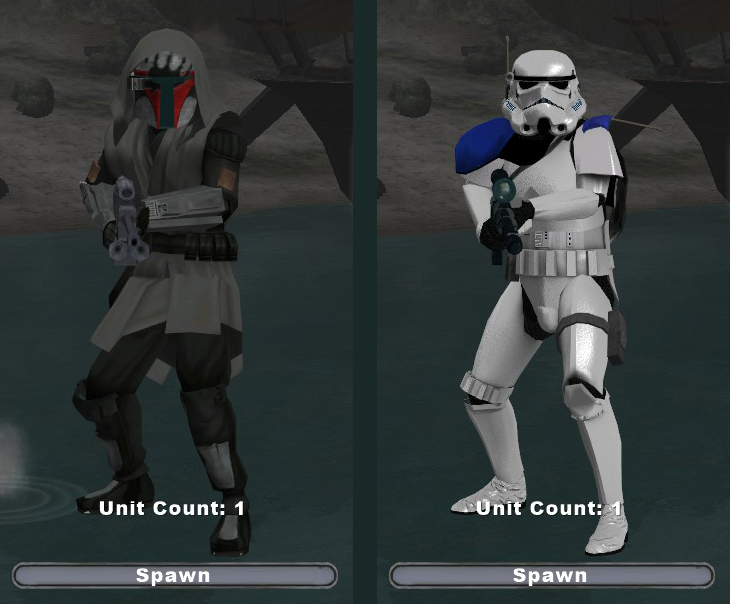 The Sniper class is incredibly dangerous at a long distance, being able to one-shot normal soldiers and quickly taking out larger threats.
Since the Mandalorian Sniper needs time to steady the rifle in prone mode, they can deploy auto turrets to defend them whilst aiming.
By making use of their antennas, Stormtrooper Snipers can make use of Recon Droids to kill targets from a short distance and they can also explode incase the situation gets out of hand.
Instead of a normal melee they both have a knife.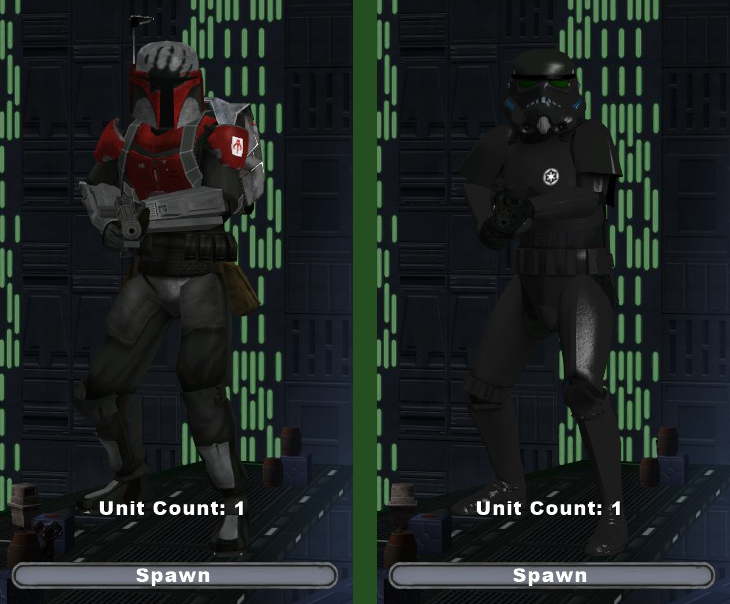 You won't see these guys too often, as the Stealth class can go invisible and make stealthy kills.
The Mandalorian Stealth Unit uses a stolen DC-15S Blaster Carbine from the Clone Wars, which also acts stronger against droid classes, whilst the Shadowtrooper makes use of an E-11 Burst Rifle, which fires three shots in one salvo.
Both classes make use of seismic charges, pistols and melee.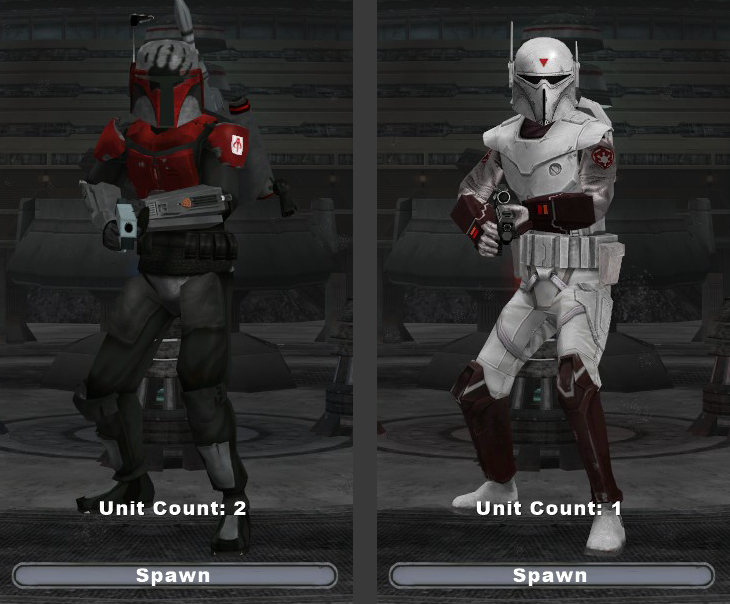 This class is loved by every mandalorian fan, the Jetpack class. As the name suggests, these units make use of jetpacks to get air superiority.
The Mandalorian Jetpack Trooper uses a normal GALAAR-15 Blaster Carbine, whilst the Imperial Loyalist, who betrayed the mandalorians, uses a special rifle given to them by the Empire. It cannot shoot in full bursts and is a weapon with a single trigger, but that doesn't make it weaker.
Since the mod does not have a rocketeer class, the jetpack class can shoot a jetpack rocket that is nearly, if not fully, as strong as a rocket shot by a rocket launcher.
Both units also feature thermal detonators and pistols.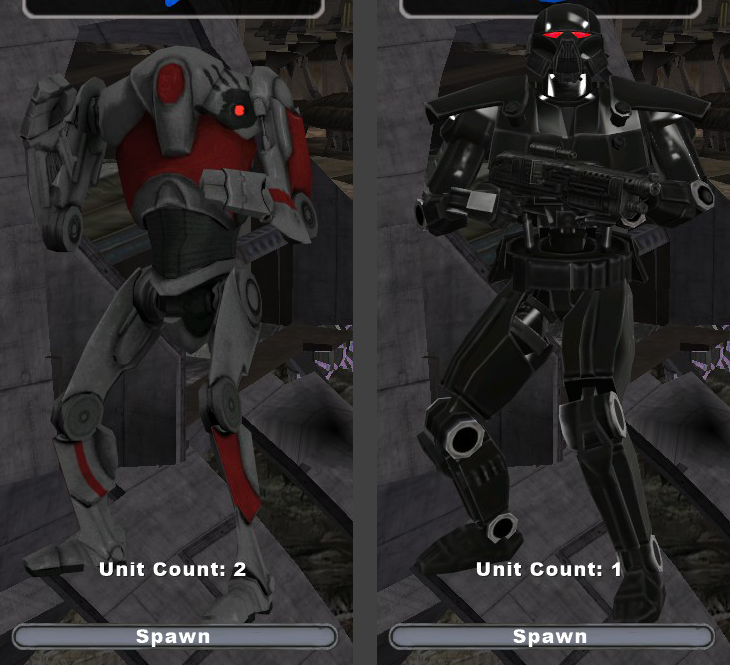 These two units are the most special class in the whole mod, the Droid class. Strong and tanky, but slow with a big shot delay. Nothing describes the class better than these words.
The Reprogrammed Super Battle Droid destroys enemies with its precise Wrist Blaster, but can also make them go up in flames with its flamethrower.
On the side of the Empire, the Dark Trooper makes use of an enhanced Blaster Rifle to take out soldiers whilst also being able to survive a lot of blaster fire. For special situations the Dark Trooper can also use Sonic Grenades, which will shoot anyone in its range flying across the room.
Since both units are bigger and stronger than any other unit, they both have a stronger melee.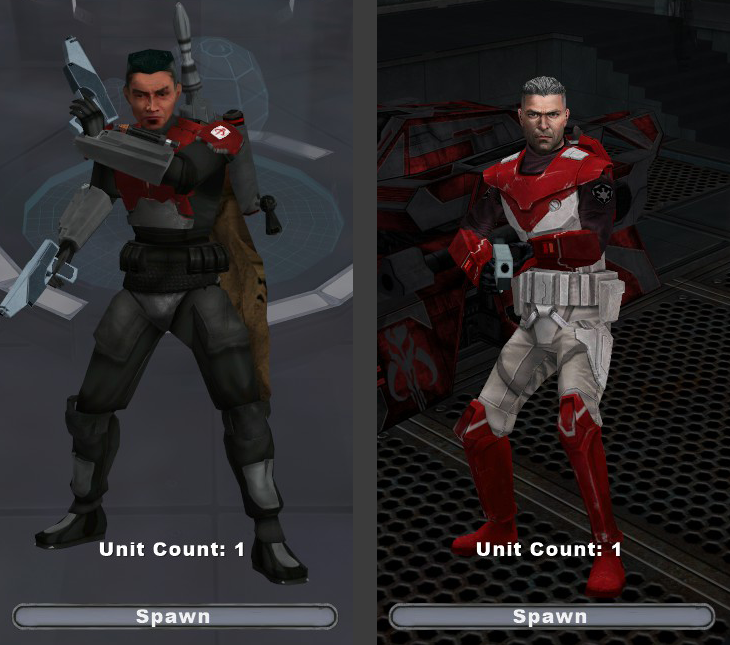 Last, but not least, we have the Heroes. Some people might get disappointed that all maps share the same hero, but there's only so much that someone can do.
The Mandalorian Commander dual wields two WESTAR-35 Blaster Pistols to quickly take out any target that stands in his way. With the rocket on his arm he can shoot wrist rockets and also unleash fire with his wrist flamethrower, no matter whether you're a droid or a soldier, he will make sure that you won't survive.
To counter the Mandalorian Commander, the empire sent out Gar Saxon to deal with the mandalorian threat. Equipped with a modified GALAAR-15 Blaster Carbine, impact grenades, melee and his "Battle Cry" ability, which makes units around him stronger and also makes them regenerate health, nothing and absolutely no one will be able to stop him.