Version 0.5.4 has arrived! First magic spell has been added to medieval characters (only the crusader for now, Ricardo). This will give those characters a better use on ranged attacks.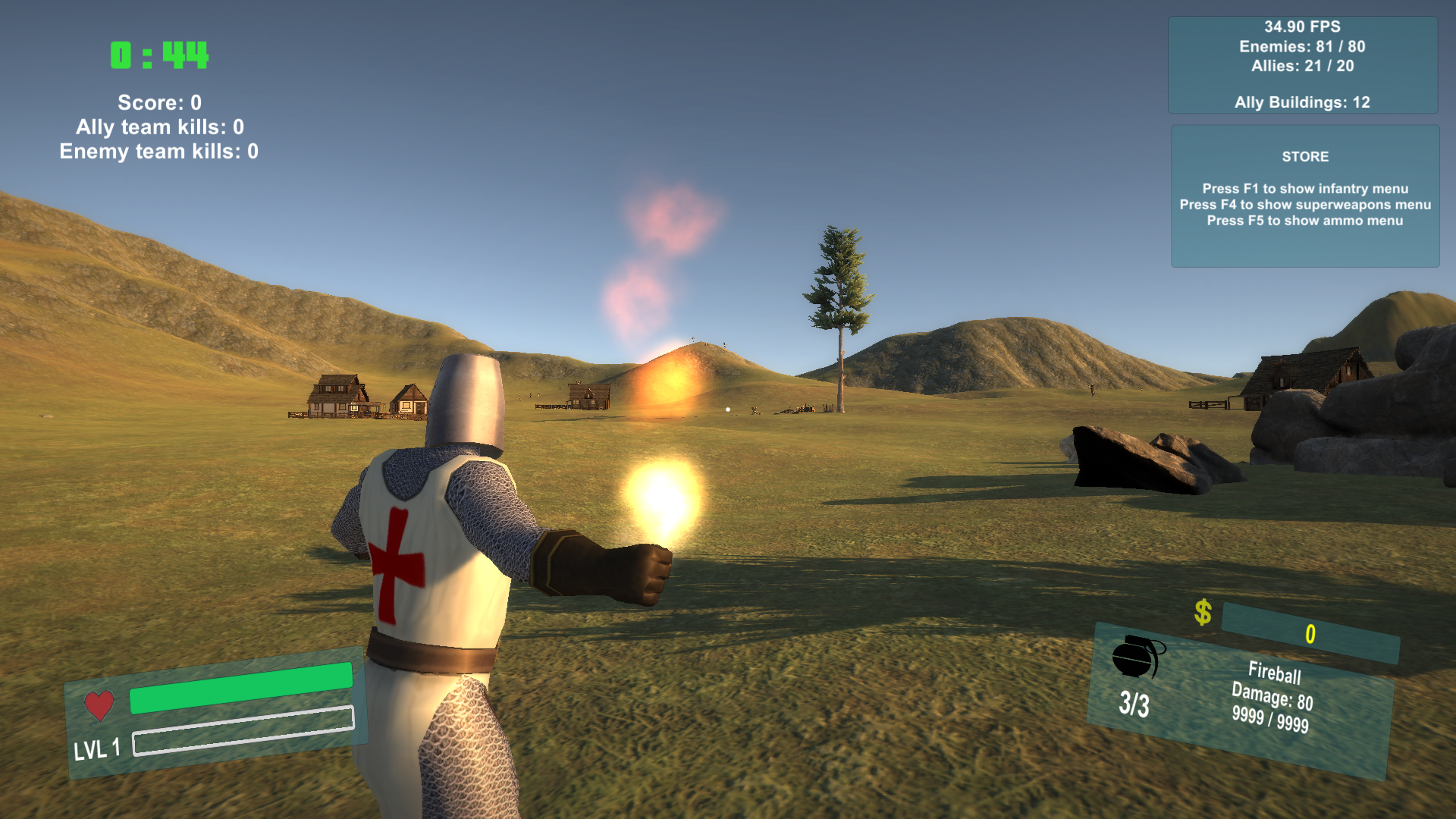 As you can see, it is almost unlimited. Mana will be implemented on later versions, among with more spells.
Now you will be able to buy ally bosses to fight those giant enemy bosses out there:
Übertank (modern characters) - 8500 gold
Master of the Elements (medieval characters) - 7500 gold
Also, DirectX 12 and OpenGLCore support has been added to Windows Build. If your graphic card supports DirectX 12, the game should be running using this API. Sadly, I can't test it since mine doesn't fully support it.
The game should be running faster now. AI has been optimized!
The last but not the least, the UI store can be managed now using Fx keys, instead of the numeric keyboard. I got many emails from laptop users not being able to buy allies and stuff in game so I changed it!
Have fun!
Full version 0.5.4 changelog
News
Upgraded to Unity 5.5.3f1
Since Unity 5.5.0, OpenGL2 support has been dropped. OpenGL2 Linux version removed :(
Added DirectX12 and OpenGLCore support to Windows builds
UI store improved: now you don't need to have a numeric keyboard
UI store: you can now customize the main store button
UI messages for picking up objects are now next to the cursor and bigger
Added fireball magic spell to medieval playable characters (the crusader)
New purchasable allies bosses: Übertank (modern characters) and Master of the Elements (medieval characters)
Updated several assets
AI wanders around if there is nothing to attack
Optimizations
Optimized AI CPU usage
Increased multithread support (experimental graphics jobs option enabled)
Bug fixes
Fixed UI position
Fixed pickup message when ammo is full
Fixed superweapons in Akihabara defense map
Fixed Cyclop boss attack on clients