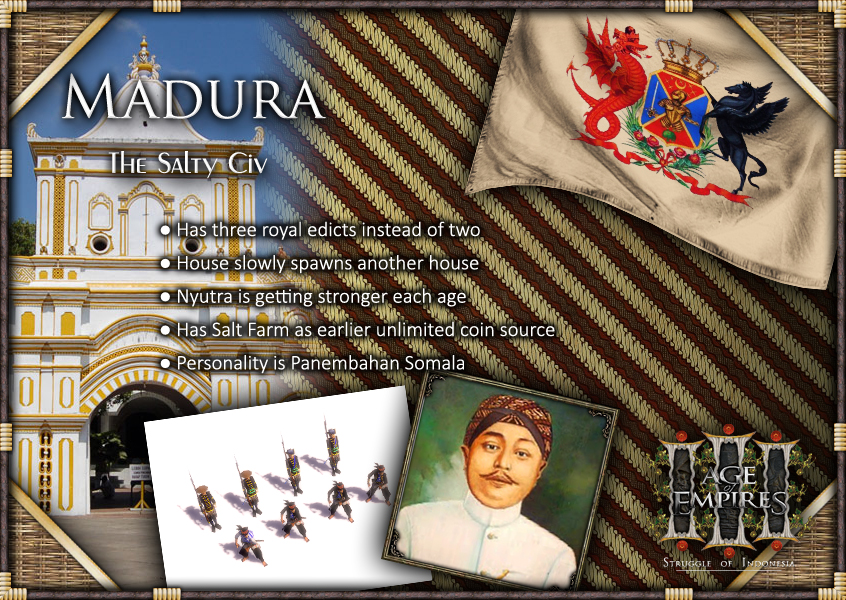 In 1290's, Aria Wiraraja the ruler of Madura allied himself with Raden Wijaya, soon the first king of the Majapahit court. This was the start of its importance in the political balance of Javanese history. In the next centuries, Madura would be divided into three separate power, each sometimes hated each other. The warlike Cakraningrat dynasty of Sampang and Bangkalan, the Pamekasan rulers, and the Songenepan House of Pakunataningrat. Madura was also the home of the infamous warlord Trunajaya, who almost anihilated the Mataram Sultanate to its very end.
Struggle of Indonesia is proud to be the first, the very first real time strategy to ever include Madura as a playable faction/realm/civilization. While we will present it focused on the eastern court of Sumenep, player always has the chance to fit it for his gameplay, whether warlike or greedy. Its personality is Panembahan Somala, the greatest Sumenep duke who brought it to its zenith (pictured is a placeholder - he was never documented!).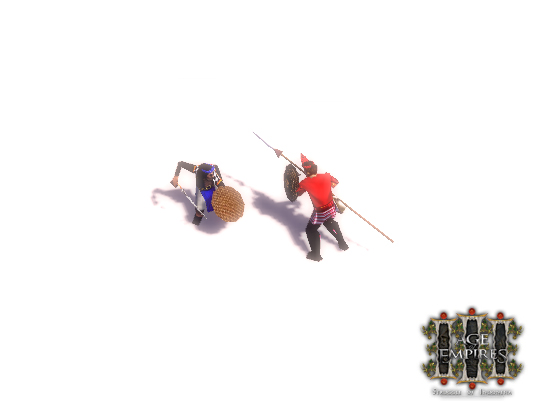 Left: Balinese Mercenary, a swordsman with great siege damage
Right: Makassarese Retainer, a foot lancer
Madura belongs to the simple Javanese culture. It has salt field and a related salt mill as its unique buildings. Salt field is an unlimited coin source which can be built since the first age. It cost pretty cheap and has no build limit. However, one must build at least one salt mill in order to be able to build fields. One salt field may be gathered by up to 5 gatherers.
Beside having that, Madurese house also spawns another house construction sloowly. This sounds like a stereotype, but it is actually intended to portray the Tanean Lanjhang culture. Illegally built houses will be destroyed.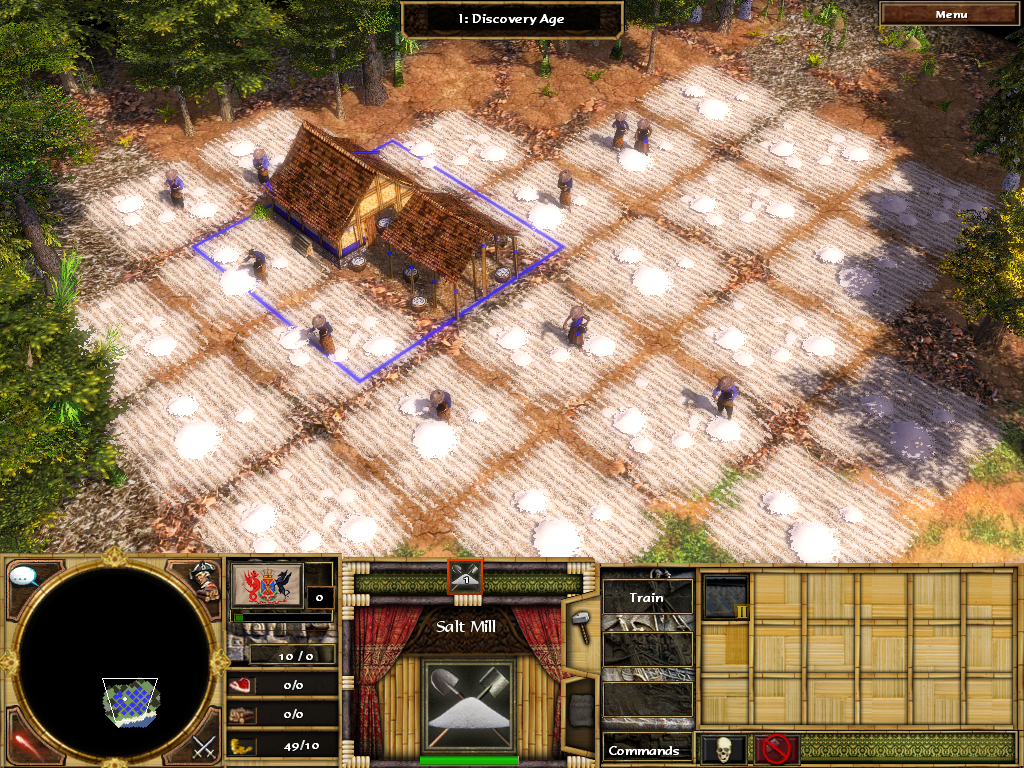 A salt mill. At least one mill must be built to enable salt fields.
Madurese player can improve its gathering since age II, ensuring good coin flow.
Beside a pair of unique buildings, Madura also has a LOT of unique units. They are:
Carok: light swordsman with critical damage
Songenepan: musketeer which is better in melee than in range
Infantri Barisan: skirmisher which is better in melee than in range, requires Cakraningrat or Pakunataningrat edict
Karaban Sapé/Nanggala: a good farm and salt gatherer, requires Pamekasan edict
Parao Lete': a unique upgrade to fishing boat which allows it to deal a damage, requires Pamekasan edict
Trunajayan: Madurese may access Trunajayan lancer although it is not initially available, requires Cakraningrat edict
Balinese Mercenary: these strong swordsmen mercenary were paid to raid eastern Madura by its western enemy, requires Cakraningrat edict
Makassarese Retainer: a foot lancer merccenary, based on the Karaeng Galesong warband, requires Cakraningrat edict
Madurese Auxiliary: a ranged pike mercenary, requires Pakunataningrat edict
European Instructor: a strong heavy cavalry mercenary, only a few Javanese ruler has the money to afford them, requires Pakunataningrat edict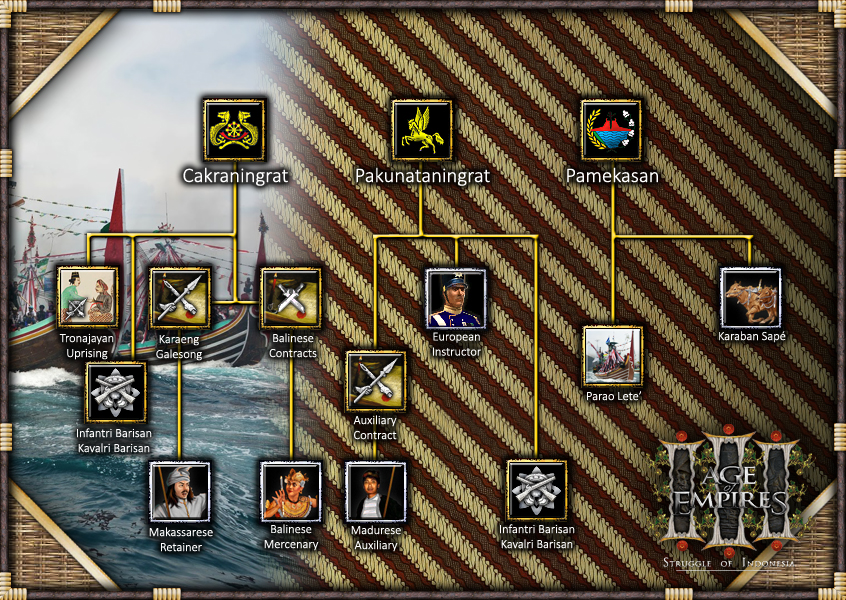 Madurese royal edicts tech tree. Each royal edict disables each other. If player edicts Cakraningrat,
he may choose between Karaeng Galesong or Balinese Contracts.
In Abiyasa, we implement the 'simple' royal edict system. It is a pair of age III techs which enable a certain effects or unlock new units. This way gameplay will be more dynamic than ever. Madura has three royal edict choices, they are:
Cakraningrat: improve Nyutra (again), unlock Tronajayan Uprising (improve Trunajayan lancer), unlock RG for Dragonder, unlock Makassarese or Balinese Mercenaries, enable Infantry Barisan
Pakunataningrat: improve building HP, cheapen salt fields, enable Madurese auxiliary and European Instructor, unlock RG for Infantry Dragonder, enable Infantry Barisan
Pamekasan: cheapen any villager unit, unlock Karaban Sapé, enable Parao Lete' upgrade
These edicts are indeed imbalanced. One is stronger than the other, but that is the point. It is intended to be historicaly correct, rather than gameplay-wise balanced.

Madurese UU: Songenepan/Sumenepan gunner, Carok, Infantry Barisan
One should expect a pretty weak civ in the beginning of the skirmirsh, as Madura initially doesn't have access to spear unit, rifleman unit, and upgrade for its light cavalry. The choice to make it strong is in player's hand.
For the time moment, only human player (no djinn allowed) may play Madura.