Most of you have asked, (and being whipped to our dismay) we've been cracking down on getting more gameplay done, alongside a handful of minor tweaks here and there to the Engine. But rather than toss some more engine upgrades your way first, the Map updates.
---
---
Now for some Engine Tweaks! We've been playing around with various ways to give a tad more quality to the rebels you run around the city. Quality, yet in a very affordable way.
We also looked at the types of improvements Rebels could benefit from, and that would stand out much more than just a expensive higher poly-model. Phong was just the type of tweak we could shove in without seriously hurting your frame rates in any way. In fact we cried with joy when we tested this in-game.
"Us? Capable of doing something that didn't set video cards on fire!? It is true"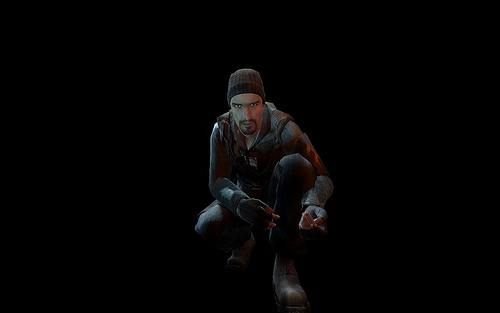 Not your Mothers Phong!

And a Comparison!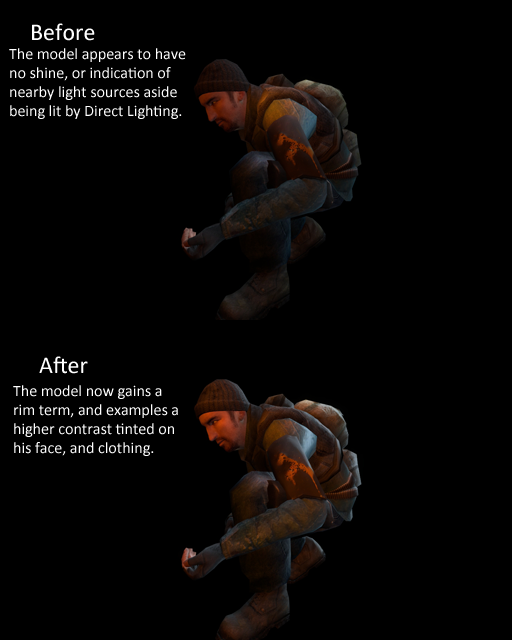 We also applied a Occlusion Facemap
---

Realtime Model Lighting Radiosity
Some of our colorful radiosity images of have been confusing, and to that point we fired the guy responsible for taking them in the first place.
Zombie Improvements - Finally Half-Life 2's zombie are done a little justice
Zombies have always been a rather confusing area in the Half-Life universe.
1: Why do they always wear the same clothing, the exact same way?
2: Why are there no female zombies?
Now, each and every normal zombie will have different clothing applied, whether it be the citizen's white undershirt, or a torn up blue coat. They could even be wearing rebel clothing!
Not only that, but half of the time they'll be female. Unfortunately, not all of our zombie content is done at this time. (We're having a hard time convincing them to pick a career choice other than human pretzel).
Instead, we have a small bit of concept art for you, done by our very own VESS.
You can view that concept here.
We also made a small but much needed improvement to the Zombine. They now have a 20% chance of spawning with the Shotgun Soldier clothing.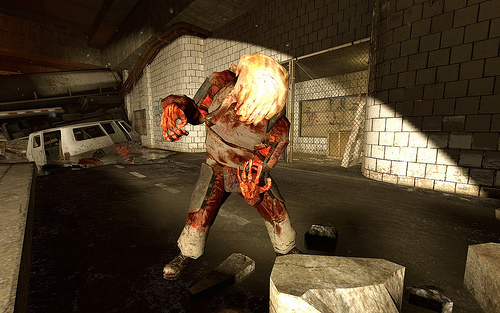 That's it for today! We are also looking for some Model Skinners. If you have the time and patience to deal with our crazy antics, send us an email over at Gear.dev@gmail.com
And remember, there's plenty more of these images in the gallery, as well as higher resolution versions of the images features in this news article. Go check them out!