This devlog entry is originally posted here
Hi, RikuoTanaka here, yet again bringing you the latest devlog!
Let's just jump right in with the news, shall we?
The Development Continues!
Yep, that's right! The development of the game continues to this day. There are still work to be done, after all!
Most features of the game have been implemented, so now it's more on the content side of things.
And that means cutscenes. A LOT of cutscenes. This will take quite a while, but we are working on it!
Other than that, a new feature has been implemented into the game.
Say hello to the new Schedule Menu Sorting System!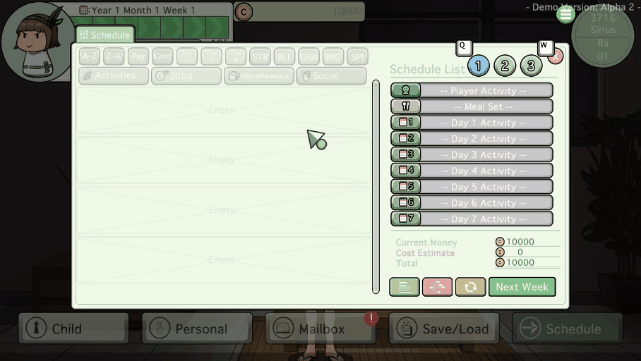 In the previous iteration of schedule interface, you can only sort the activities/jobs based only on the STATS (STR, INT, CHA, IMG, SPI). We realize that with the growing list of activities and jobs card this sort system will not be sufficient anymore, especially considering the basic of sorting type, such as sort by alphabet (A-Z, or Z-A) or sort by pay/cost is absent. We decide to add all those new sort types to make browsing and selecting activities and jobs card easier.
Another addition is the new Social tab, which contains social activities and list every NPCs that your adopted daughter has encountered. With this social activity, increasing the NPCs relationship will be less dependent on random encounters, since you can now focus on which NPC you want your daughter to be "best friend" with. The new social activity comes with its own cost, she will suffer quite a high discipline hit every time she hangs out with a friend and it can only be selected once a week to avoid spamming and player exploit.
In addition to this new feature, we are planning to add more features down the line to make the gameplay experience more enjoyable. Here's a little teaser:

That's it for today's devlog! This is RikuoTanaka, signing out! Have a nice day!