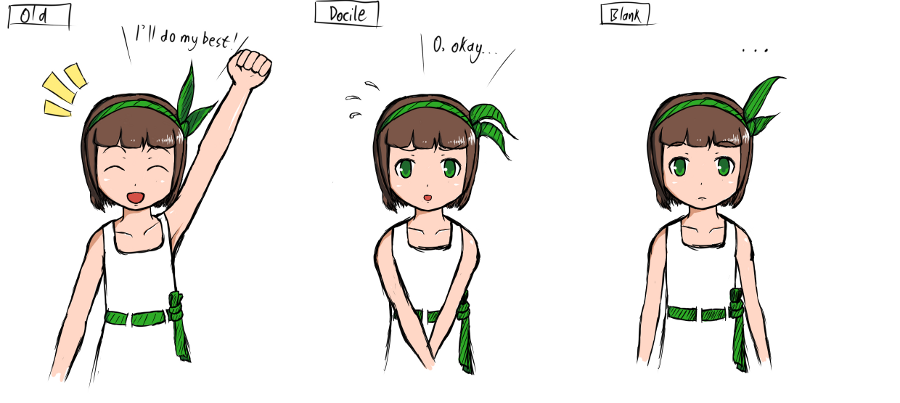 Hi again, wltr3565 here, writing a development blog again for you guys! Regarding our current focus, we're currently preparing for Ciel Fledge's another demo. We will showcase it in Game Prime 2017 and you guys can play it there. The event will be held at 29th-30th July 2017, which means it's 2 weeks to go. Thankfully the progress is coming along and the main system is complete and stable. All we need to focus now is the game's content! As usual, this devlog will elaborate many things that has been implemented so far.
What do you guys think? Do you guys prefer an energetic Ciel? Or do you guys prefer her cutesy and docile? How about a cold, absent-minded Ciel? We're currently deciding about how we initially portray Ciel in the story. This one is difficult to pull off.
Firstly, let's see what has been added. We've cleaned up the Exploration complete with the Companion Select screen. Yep, you can bring some company with you to Support your Exploration. They have their own schedule, however, so they will need a break after they help you.
The companions will help you in many ways. You can ask them to give Active Support by directly attacking your foe, or have them give their Passive Support like decreasing Shuffle recharge time.
On the convenience side of things, we've added several button helps for some buttons on the screen, like what to press to ask Ciel what to do next. With this, playing the game with a Gamepad will be a breeze.
With the button helps implemented, the buttons are now indicated by pictures. It especially applies in the Options. In addition, the Gamepad buttons follow Xbox 360's buttons, considering this is a PC game.
And by request of several people that has played the earlier build of the game, we've added some familiar functions for Visual Novel players: Skip and Auto. Skip will fast-forward the cutscenes, while Auto will have the game continue the messages on its own. Therefore, hopefully these will add more to your reading convenience.
Several titles has been added for you to choose to be called with. Of course, it will be expandable and even have more after you enter a New Game+! That's the idea, at least.
Last but not least, we're currently building the Help menu. This will act as the game's manual, so to speak. All of the info will be available regardless of how far you have progressed in the game. So feel free to browse and refresh your memory about the game.
One extra note. I'm starting to be active on Twitter. I'll more or less post updates there almost daily, if not about other stuffs. If you want more updates at a more frequent rate, follow me on Twitter!
That's it for now. Adios!
------------------------------------------------------------------
This devlog is originally posted at: [Ciel Fledge Devlog#13] Adding More Conveniences and Gamepad Support