The original devlog can be read here!
(Disclaimer: All of the themes showcased are early works in progress)
Hello! It's Jasmine here with another music devlog update. I initially wanted this blog to be about the battle themes, but realized that in doing so, I would be overlooking an important facet in their development. So, instead of talking about the battle themes, I'll discuss their influences instead - The House and Week Themes!
In my first music devlog, I went into slight detail about my ideas for the music and how it was to accompany Ciel (and you) on her journey to adulthood. Here's a quick recap from my first blog regarding that:
"With this being a daughter raising sim, ideas have centered around different styles associating with your daughter's age range. The first [link], more posh and refined, would be for adulthood, Casiopeia, a more renegade style, for the teen years, and boppy, synth pop for your daughter's younger years! As she grows, so does the music."
I'll do this by going over my influences and inspirations for the child versions of the House and Week Theme!
The House Theme
Influences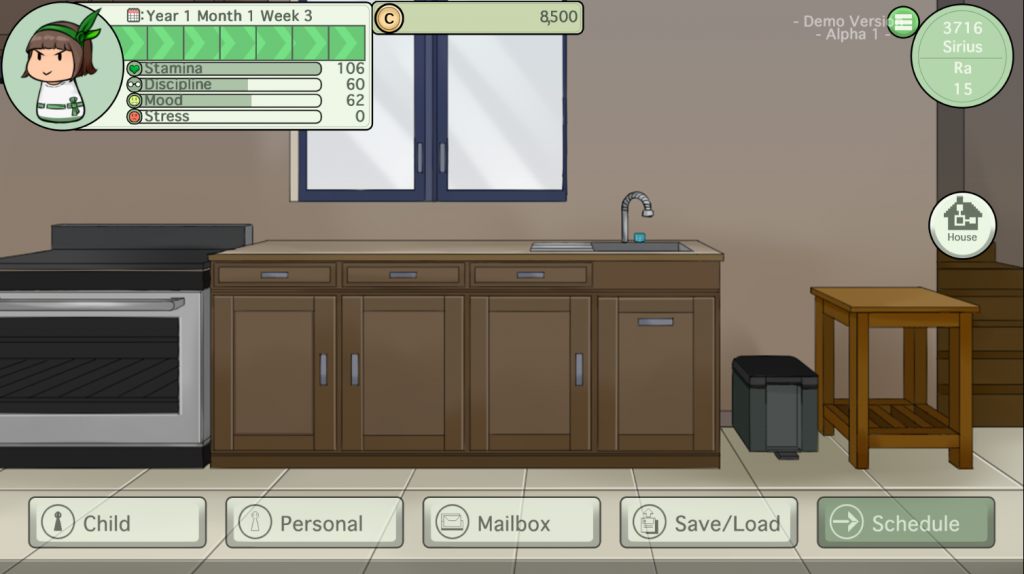 Wanting to stay true to the initial idea, I spent time sifting through my backlog of reference tracks in an attempt to cement a congruent style to use for Ciel. The goal is to create something with an 80s feel, that the player can listen to for extended periods of time without growing bored or aurally overwhelmed. As if instantly, my thoughts fluttered to the "Pakka Pets Original Soundtrack" by Calum Bowen (whose extremely versatile form of writing yields a lot of influence from 80s/90s Japanese Pop), and "Les Aventurs de Tintin" by Taeko Ohnuki from her Copine album.
I modeled the house theme off of those particularly open styles and their use of midi- like instrumentation, while also remembering the sound I can achieve from using real instruments:
(SUCH a fantastic album, LAWD)
I definitely wanted to give off the vibe of youth and innocence, and my first impression was RECORDERS, and WONKY SOUNDS! In the end, I achieved the result below (on the first try, surprisingly!):
The Week Theme
Influences/Execution - Part 1
This theme was a pain to write, primarily because I had a taxing time finding the right style and because I kept pushing forward ideas that were either duds or didn't resonate with me after I gave them time to rest. I knew for a fact that I wanted the theme to be upbeat and bright, which led me to use this track as a reference:
Leading to this idea:
Although an extremely premature work in progress, it felt way too generic. (Honestly, it brought Alfi back to our RPGMaker days). I couldn't quite put my finger on it, but I grew to heavily dislike it. Perhaps it was poor execution on my part, but I felt that I could do better. Who knows, I may try it again!
Influence/Execution - Part 2 and 3
Further research led me to find Noriyuki Makihara's, whose style I *instinctively* gravitated towards.
It was the style I wanted, without a doubt. My first attempt, influenced by the above track, was:
Close, but no cigar. The crew liked the direction I went, but for me it felt too involved, and others thought it much too slow. I still wanted it to contain that open Pakka Pets/Tintin sound I was fond of, but fuse it with Mr. Makihara. The player's time spent within the house will increase as the game progresses, and heavy thumps and constant pulsating will quickly wear the ears thin. Looking through more of Makihara's youtube discography, I found "No. 1":
Which led to the current and reigning week theme thus far:
(Fun fact: The melody you hear in the piece above also occurs in the battle themes!)
Right now, ideas have been tossed around for multiple house and week themes. While working on a possible Result Theme, I came up with an idea that was able to be re-purposed as a week theme! It came a lot easier and definitely starts with a more instinctive 80s (and American!) feel:
The soundtrack is slowly taking shape, at least from a child-like perspective! The more I dig and immerse myself, the more excited I become! Things only get more interesting from here on out. Anyway, that's all from me! I hope you enjoyed my musings.
Until next time.
- Jasmine Cooper