Christmas is here (kinda) !
And thus, I want you to accept this present from me: a new release of Brutal BOOF, the SURVIVAL experience mod for Vanilla Doom I & II, and all the custom maps that you can think of!

This is a fairly big update since I last posted a release. The mod is still far from complete, but I added a bunch of features that you may want to check out. The full changelog can be found at the bottom of this article, in the mod's description and of course in the downloadable archived files, as always (you can grab it at: Moddb.com)

But let's focus on the main new things:
AMMUNITIONS LOG:
Both Brutal Doom and this mod add quite a bunch of new weapons and ammotypes, don't they? Since playing Brutal BOOF means that you'll often strive to scavenge resources and save ammo, I added this feature to let you check how much of your offensive equipment you have left in your inventory. It even shows chambered rounds and bullets in each weapon! Just bind a key to it and check your ammo!
Note: this feature is still to be perfected. In t he future I want to make it show chambered ammo for off-hand weapons (dual pistols, etc.) and the weapons you're currently carrying.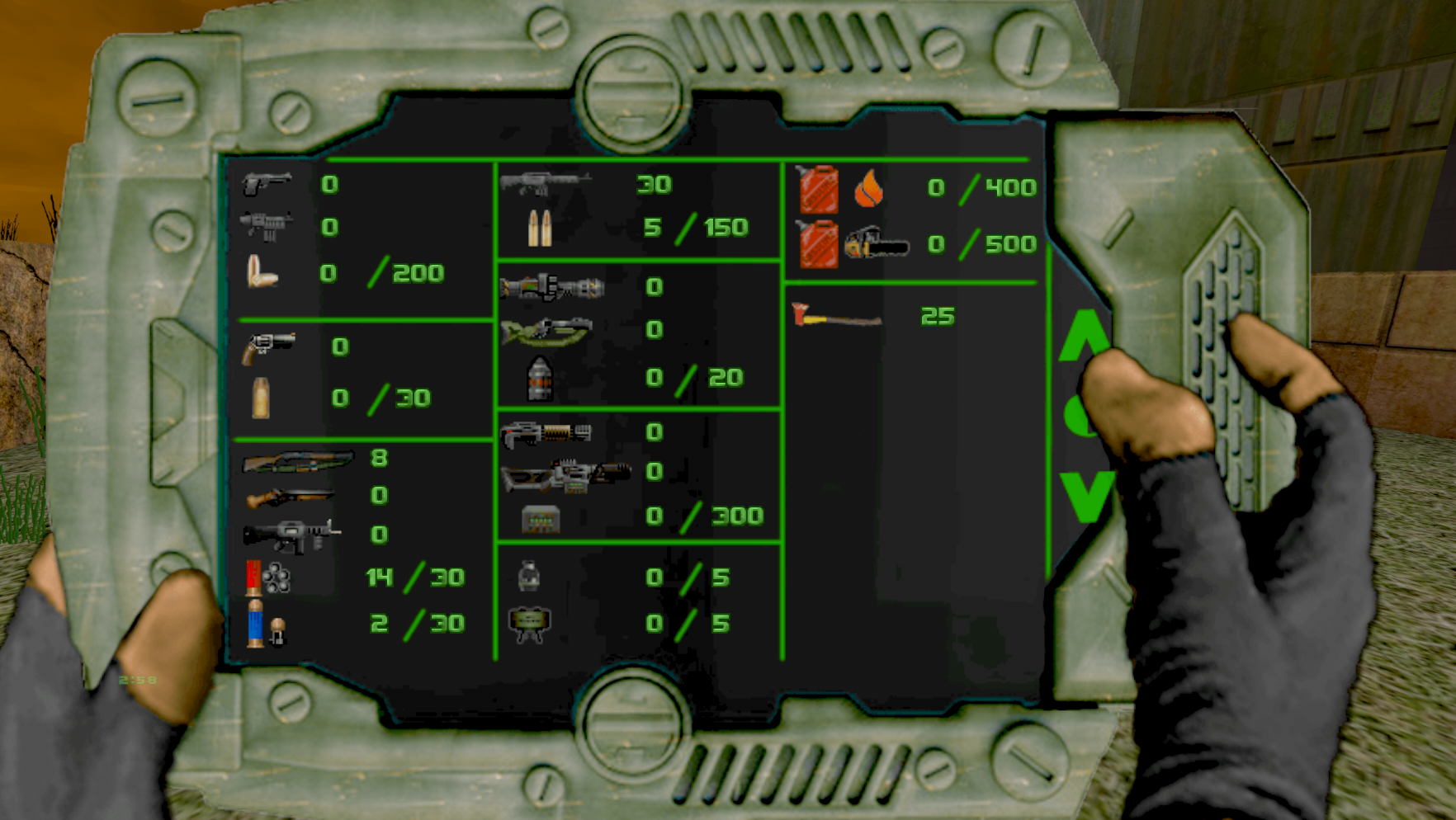 FAVORITE WEAPONS:
Don't you hate when you want to switch to a specific weapon during a fight only to find yourself scrolling through other weapons you DON'T want while monsters maul you to death? Well then, this feature is what you are looking for. Press one key to set your favorite weapon, then press another one to instantly switch to that weapon!
REINFORCED BANDOLIERS AND BACKPACKS:
(Thanks to -Ghost- for giving me the idea)
The new Survivalist class makes you lose some of your weapons and ammunitions when you transfer from a map to another. This can be frustrating on some occasion (although it's meant to be), but now you can have a bit of control over this equipment loss: Bandoliers are a new item that not only give you some ordinance ammunitions (9mm, 7.62, .12 gauge), but you can also carry them around until they break. When changing maps, they will "protect" your ammunitions at the cost of being torn apart themselves. Backpacks received a similar treatment: they still are full of ammo, but the also serve the purpose of protecting your weapons when changing maps. This way you can preserve some of your equipment when traveling between levels. Keep an eye open for them!
PORTABLE HEAVY MACHINE GUN:
The Mounted heavy machine gun from Brutal Doom is now available in vanilla maps and custom map packs!
Find the portable dismounted one, then place it where there's a position to hold, and there you have it!
Remember though that you can't disassemble it once placed, so choose wisely.
GATHERING SYSTEM:
Yeah, I know, still no crafting implemented. But I'm working on it, I swear! Here's proof: gathering of all the crafting reagents is finished. You can find everything you'll need for the crafting around the map, dropped from some monsters, and in some containers and dead space marines. You can also drop empty glass vials on some special blood stains to gather specific chemical solutions. They just... serve no purpose for now.
I need help making the graphics for the crafting station, so until I manage to find a way (or an helper), I'll probably put this feature on hold for now. But it WILL be implemented, sooner or later!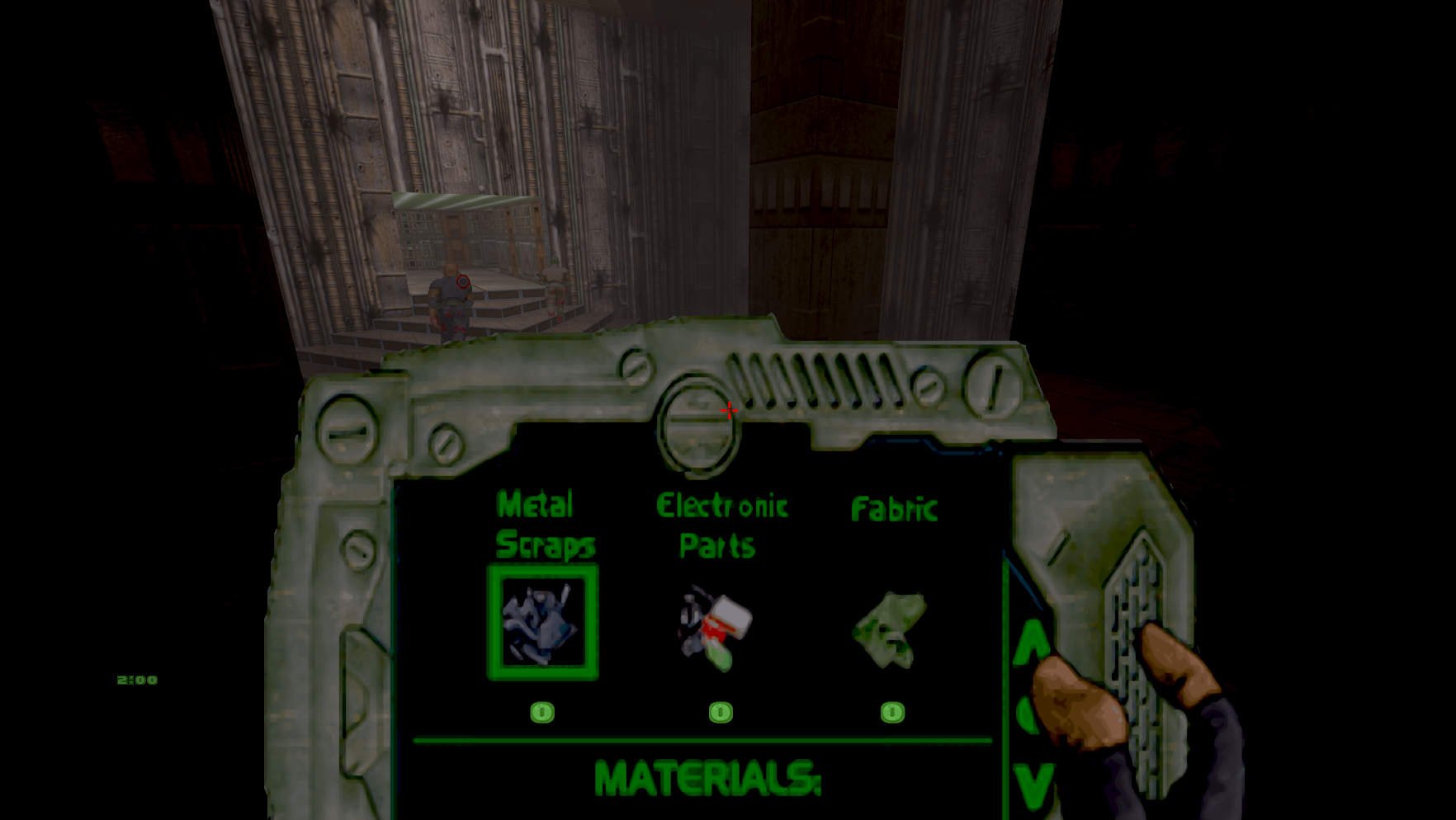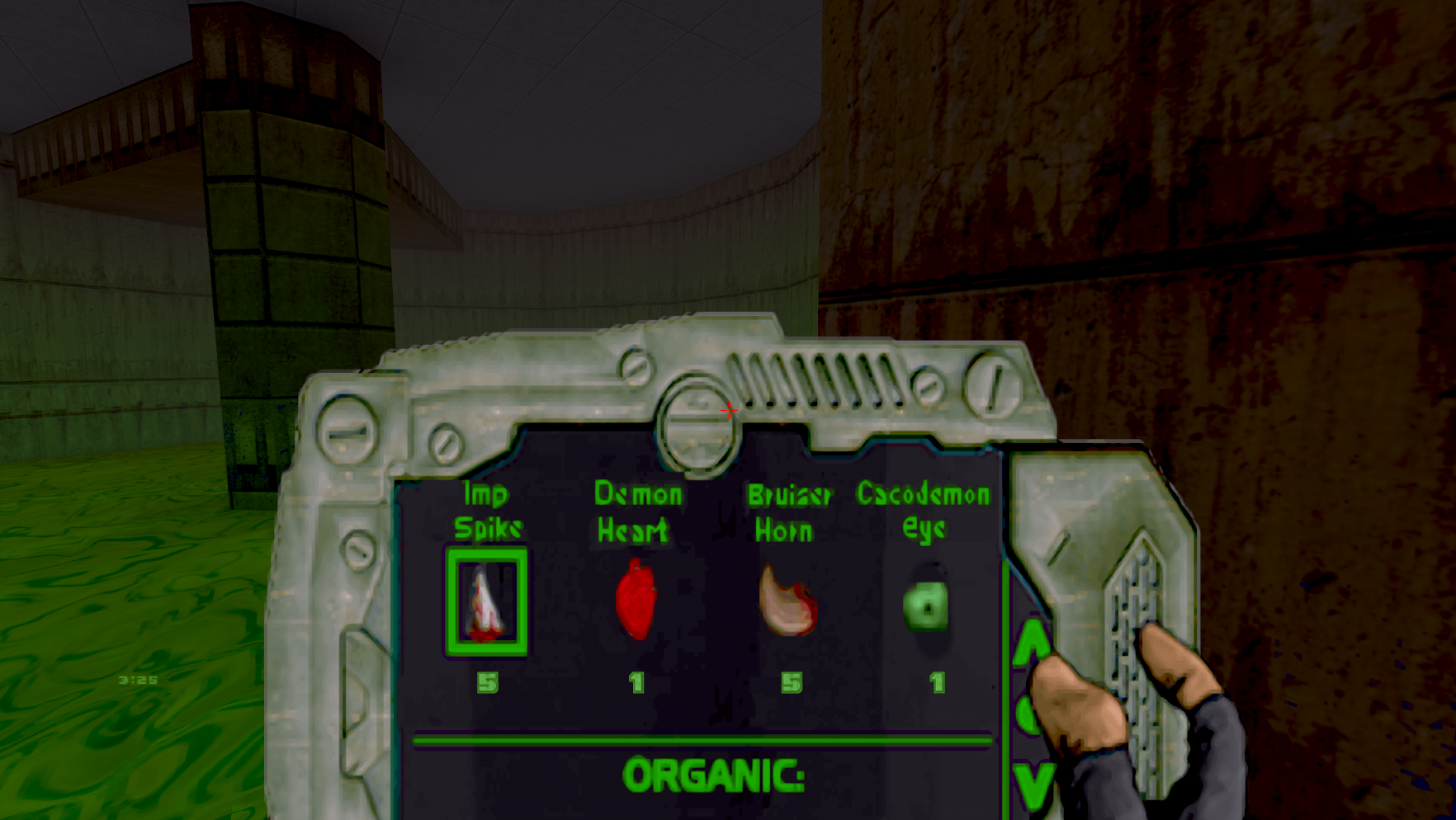 NOTABLE MENTION: Flashlight Batteries
Flashlight can also be alimented from lithium batteries you can find around the maps. You can still use plasma cells as energy source, but that would be your last resort!
LAST COMMENTS:
Here you have it, I hope you'll find some time to try this new version out. If you like it, vote the mod and give me some of your personal feedback, and opinions: that's the stuff that keeps me working on the project! Also remember that you can use the forum to tell me about suggestions, to offer your help if you want to contribute to the mod, and of course, criticize the mod, point out bugs, and other things that you don't like.
I wish you all happy holidays, and 'till the next time!

FULL CHANGELOG:
******* DECEMBER 23 2019 - V0.2 Beta
ADDITIONS:
- New crafting materials can be found around the maps and dropped from some monsters. The gathering part of the crafting system is now complete.
- Empty vials can be dropped on some specials blood stains to gather chemical solutions.
- Some marine corpses now spawn rats near them.
- The Armorshard+Healthbonus pickup was a placeholder for "failed ammo spawns". Now it spawns differents items.
- Reinforced bandoliers: rare drop that prevents you to lose some ammo types when you change map (Survivalist class only. Maximum you can carry: 4) and also gives you some ammo of a specific category.
- Backpacks now let you preserve a weapon in your inventory when you are supposed to lose it after a map change (Survivalist Class only. Maximum you can carry: 2)
- New item/weapon: portable mounted heavy machinegun! Can spawn instead of the minigun and CANNOT be dismantled once deployed. Use it to hold strategic positions.
- You can now bind a key to check all your ammunitions through your PDA. It even shows if a weapon has chambered ammo or not, but doesn't show if you have a particular weapon,
or ammo stored in dual-wielded weapons, at least for now. Still, I think it should be pretty useful.
- You can now bind a key to set the currently equipped weapon as your favorite. Then you can press another key to instantly switch to that weapon. It even works with dual wielded weapons!
- The full helmet HUD has been set as the default one for the mod (you still have to scale it to fullscreen though)
BALANCE TWEAKS:
- Equipment loss after a map change for the survivalist class now is a little more likely to happen, to balance out the new backpacks and bandoliers.
- Survivalist can now dual wield weapons. Dualwielding rifles and SMGs is also more impractical than before in terms of recoil, but it's useful to inflict more damage at short distances.
- Rewritten difficulty settings. All skill levels below "Nightmare" have the former "FAMINE" reduced ammo spawns. I won't restore skill levels with normal ammo spawns until I figure out how to make the spawns settings CVAR-based.
- Slightly slowed down pistol's rate of fire to prevent its primary fire to completely overpower its burst fire mode (and even SMGs)
- Minor damage and spawn chances tweaks.
- Faster deselect animation for the Revolver
BUG FIXES:
- Rewritten quick pull script for the pistol. Before, it prevented the player from using the flashlight after switching to the pistol with this method, and also tended to overwrite other scripts.
It should be fixed now.
- Firing a pistol should not make you run faster if the player is slowed down by a bleeding wound.
- The autoshotgun didn't unload correctly in some cases.This has been fixed (thanks to @bloodwolf333 !)
- Kicking when having the berserker strength powerup now properly pushes barrels away and inflict pain states on some monsters.
- Updated Nukelauncher and Claymores icons, to better fit in the HUD
- SSG Sergeant will infight with other zombies