Navy of Chile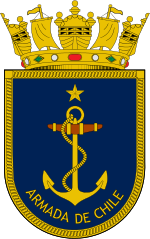 The Chilean Navy is one of the institutions that make up the Armed Forces of Chile, which has the functions of navy, coast guard, marine infantry, maritime, lake and river police.

It has 25,000 troops, including 5,000 infantry. The functions not related to its role of navy (support to navigation, coast guard, maritime police, lacustrine and fluvial, etc.) are concentrated in a dependent agency, called General Directorate of Maritime Territory and Merchant Marine of Chile.
The map where the screenshots were taken is called "Easter Island", where the famous Moai are found.
_____________________________________

La Armada de Chile es una de las instituciones que conforman las Fuerzas Armadas de Chile que reúne las funciones de marina de guerra, guardia costera, infantería de marina, policía marítima, lacustre y fluvial.

Cuenta con 25.000 efectivos, incluidos 5.000 de infantería de marina. Las funciones no vinculadas con su rol de marina de guerra (apoyo a la navegación, guardia costera, policía marítima, lacustre y fluvial, etc.) las concentra en un organismo dependiente, denominado Dirección General del Territorio Marítimo y Marina Mercante de Chile.
El mapa donde se sacaron las fotos se llama "Isla de Pascua", donde pueden encontrar a los famosos Moai.