It's been a while since the last update, but work has been occurring slowly but surely. Among assorted other changes, it's about time for Realms to get another civilization, bringing us one step away from the limit of 44. Nomads that plagued the Aztecs and the Spanish in turn, and one of the first New World groups to master horses:
Chichimeca
Archer civilization
· Hunters, Foragers, and Fishers do not require a drop site
· Archers attack 15% faster
· Can construct decoy military buildings
· Treadmill Crane free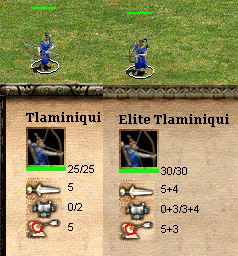 Unique Unit: Tlaminiqui (Archer), Lightning Warrior (mounted Eagle Warrior)
Unique Techs: Stolen Horses (Enable cavalry); Guachichil Tactics (Eagle Warriors +6 bonus vs cavalry)
Team Bonus: Infantry +4 infantry armor
I hope you enjoy the preview of things to come and your new year!