Hello all!
ChargeShot has been in development (on and off) for some time now, and we are pleased to announce that this game can finally be purchased on a local Steam near you!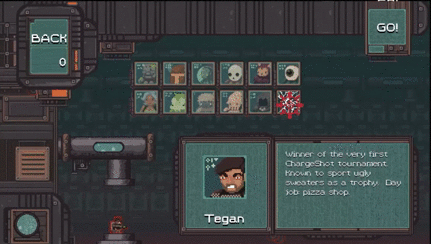 In the spirit of competition, we are holding a single player competition to see who can run the leaderboards the longest!
While ChargeShot is primarily a multi-player game, we have included a single player campaign mode in which you are rewarded for your skill, completion time, and grace in each round. At the end of the campaign, your score is submitted to the global "Badass League" leaderboard, to be compared against anybody else who has ever completed the game.
The kicker: at the end of the first month of this game's release (on 10/18/2015), whomever is sitting at the top of the leaderboard will be contacted and asked for either their best selfie for reference, or for design instruction and guidance on the next new ChargeShot character to be included in the following update!
Pictured above is Tegan, the winner of the first official ChargeShot tournament, hosted by The Shouryuken League in Eugene, OR.
Have fun and happy hunting!
-Cullen (Coyote)