Though development of the game is coming along well, I seem to be at a lost when it came to trying to figure out what this game is about. Over the past month of November, during the time I was building what is seen in the prototype, I only envisioned the fighting system and the characters you can play as. The actually first person adventure was merely an afterthought, believing that the main attraction was going to be the arcade mode where you select one of 9 characters and fight your way to the ending and the text adventure portion would be made later. Today, now that I have given it much thought, it had finally occurred to me that I had it backwards. The first person adventure should be the main attraction and the arcade mode a side feature. So with that, I have now changed my perspective with what I want to do with the game.
At this time I have not put anything down as when I finally realized what direction my game should be I wanted to post this announcement as soon as possible. Though I have some ideas that are swimming in my head which I will post right here and share with everyone.
The Story
The plot of the game revolves around a tournament hosted by a kingpin who goes by the name of Alfred R. Murdoch, a very shady character who is said to have amassed his great empire by illegal means. The tournament is invite only and the invitation is in the form of currency printed by Murdoch himself, shamelessly called Murdoch Dollars. Everyone who was invited to participate in the tournament gets one Murdoch Dollar but the entry fee into the tournament itself is 85 Murdochs and the tournament starts in 6 days. With that said, everyone with even 1 Murdoch Dollar is out to fight for as many Murdochs as they can. To those who manage to obtain the necessary amount of Murdochs will have a chance to win a million dollars should they become victorious.
Here is where you come in. You are trapped in a life of poverty wanting to escape your unfortunate fate. Your chance comes when you come across a Murdoch Dollar. Seeing as this may be your only chance at a better life, you quit your job and go on a quest to get the necessary 85 Murdochs and win the million dollars. However, you have no training whatsoever when it comes to fighting. With only $200 in the bank and your sole Murdoch, you must find trainers to teach you moves, find opponents to earn more Murdochs, increase your strength, and do it all in a matter of 5 days.
Game Features
The game will be like any text adventure aside from the battle system, which you can try out in the Download section. Just like any text adventure, you will use a text parser to go to places. You are only limited to your home city but there will be 6 districts you can visit. Each district will offer different experiences such as opponents from one place to another, you can buy items to use during fights, and of course train to increase your strengths. The specifics have only just begun to be planned but what I have thought so far are the following.
An in game clock. Aside from telling you how long till the tournament, different events will happen during different times as well as establishments being opened and closed during different hours of the night.
Each district will allow you to explore a variety of places to buy supplies, find opponents, and maybe even fun places to enjoy a mini game. You can also explore the not so attractive sites such as dark alleyways.
Random encounters such as opponents searching for Murdoch Dollars, thugs trying to rob you, or even the police!
My aim is to create a game that will offer you the freedom to do as much as you can within the confines of only 5 areas to explore and a limited text parser (I'm going to use the basic [Verb][Noun] format). Though the main objective is to get into the tournament, I also want to give the player options of exploring on their own and discovering new things. I believe that's the fun aspect of text adventures and I want to do it justice.
---
With all that said, I'm going to put programming the characters on the side for now. I did manage to draw 4 of the planned 9 characters and here there are in their text based glory.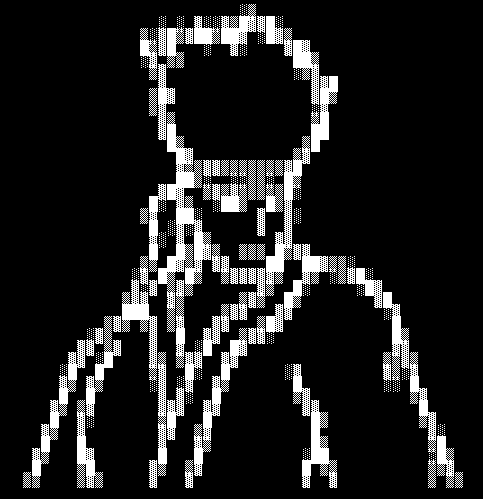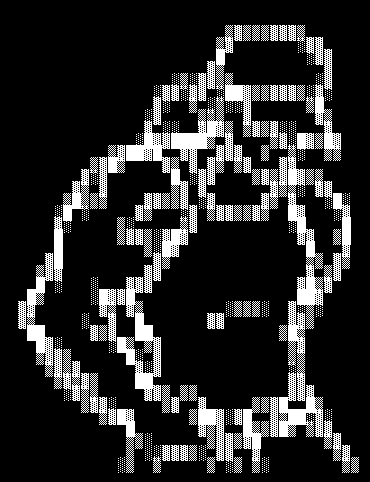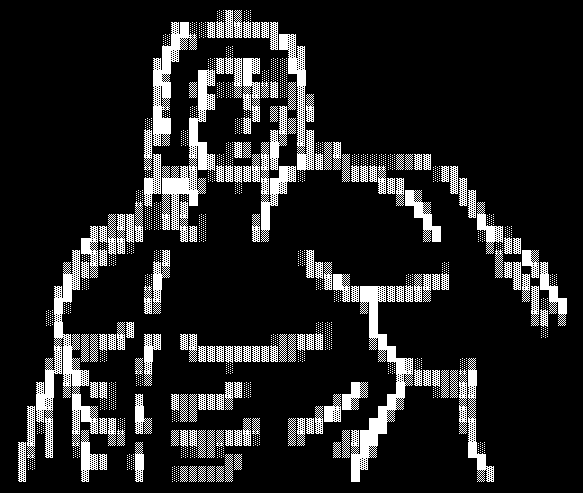 You can get a better look in the gallery section.
In keeping with the spirit of the text adventure genre of days past, the characters will be drawn with text characters. Though its not ASCII art as I'm not using letters or numbers but I'm using the shade boxes from the MS-DOS character map. At first I envisioned them with ASCII characters but when I saw the MS-DOS shade boxes, I believed that would be a better choice.
Please leave any feedback, comments, or even suggestions about anything you see. Until next time my friends.