Hello once again, and welcome to Dissident Logic's character preview week! I'm Mike Smith, character designer on the indie brawler Paperbound. This week we take a look at a colossal pachyderm wielding a hammer of stone into battle: The Mastodon.
I have to admit, it was rather difficult to pick out a unique creature from the Journey books. You could easily pick out a dinosaur but I thought that was a tad too easy. Early in the development process I purchased a copy of "Journey" and each night would write down possible characters to expand upon. These would range from rock creatures, walking petrified trees and moss covered mushrooms. At one point I even had an army of spear totting squids.
However, it wasn't until late in the book where the exploration party encounters a herd of mastodons that my creative juices started to flow. Here below is his final in-game appearance. Next to the Scarab, the Mastodon is one of the biggest fighters in the game.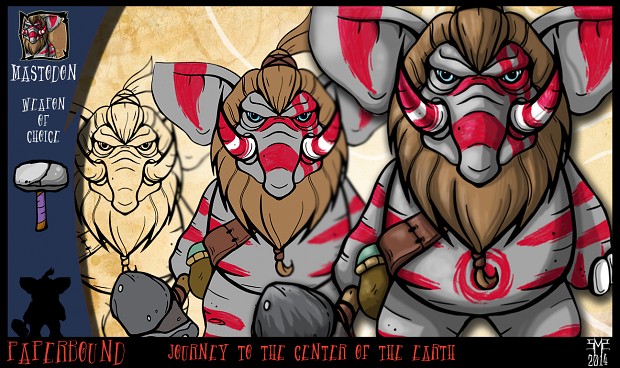 It only took a small number of sketches to find the look of the character. In one of the illustrations I gave the Mastodon an ivory tusk sword. At first this seemed almost sacrilegious and somewhat morbid. However, the ivory blade was taken from a fallen brother, crafted, sharpened and used by a fellow mastodon to enact revenge. The war paint they use, from various mushrooms and insects, was inspired by the war paint Indian tribes would decorate themselves with just before battle.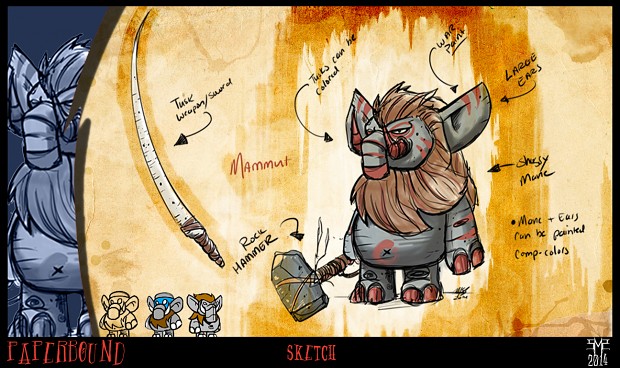 Once the general feel of the character was worked out I moved on to color. Using an existing conceptual sketch I plotted out various versions for his skin and war paint.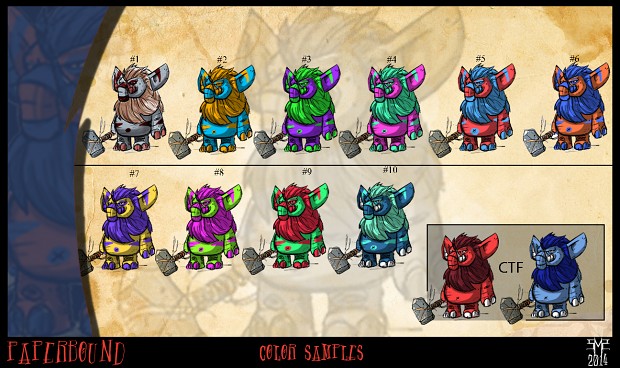 One of the next pieces involved his weapon of choice. I ended up creating three to four different versions of his hammer in the end, including a quick render of the ivory sword and club made from a tree trunk. You can see a bit of that progression below. We ended up mixing a few of the hammers to get to our final design.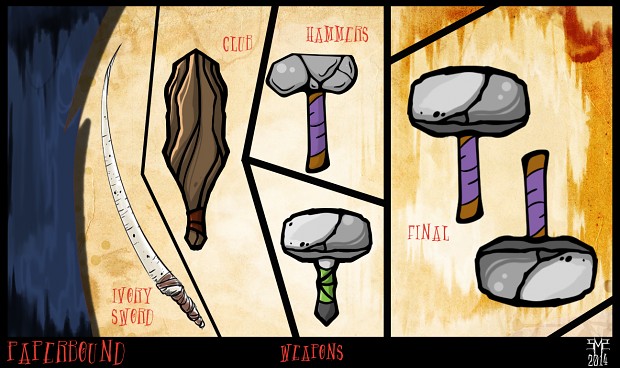 In these final images you can see the overall progression of the Mastodons (I used to call him Mammoot) menu selection screen. I referenced a lot of Riou's original pencil work for the look of the mushroom. Once we paired that with the cavernous background, it all came together.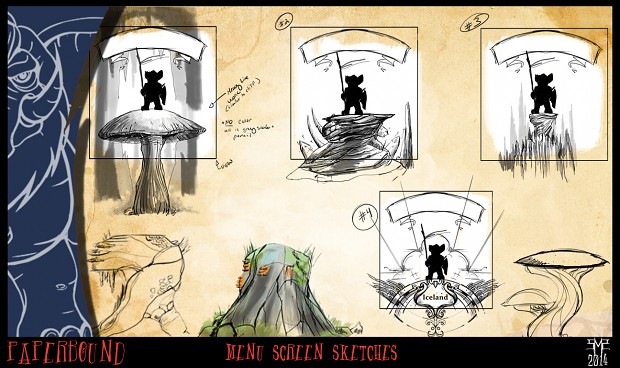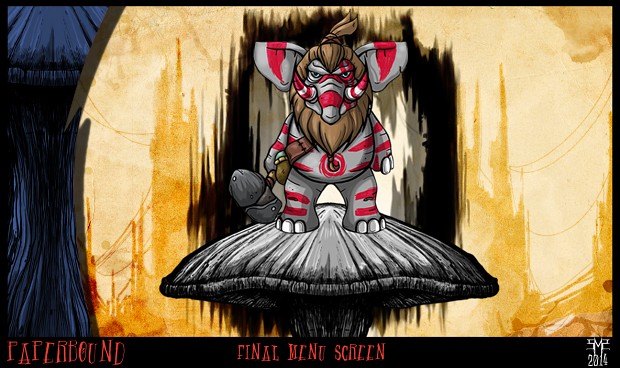 We hope you enjoyed this brief look at one of the many fighters to grace the screen in Paperbound. We have only two fighters left, so we hope you can pop in next week to see the latest update! Thanks for taking the time to look at our work, and make sure to check out our Facebook page for additional news and updates!