Hello once again, and welcome to Dissident Logic's character preview week! I'm Mike Smith, character designer on the indie brawler Paperbound. This week we take a look at the final character to emerge from the Book of the Dead: The Guardian.
The Guardian was created near the end of production in an effort to replace Horus, one of the first characters designed for the game. Horus became difficult to read at his small scale and we needed a unique silhouette featuring longer legs and a more prominent beak. However, by this time, Horus had been featured in game-play videos and on his own button for several indie festivals. To be honest, I was shocked we were getting rid of him. No matter how hard you try to distance yourself from your creations, you kind of get attached to certain characters over the course of development.
Below you can see the Guardians final in-game appearance. In the end, he turned out to be a fun addition to the Book of the Dead, and I'm also relieved that Horus got to stay!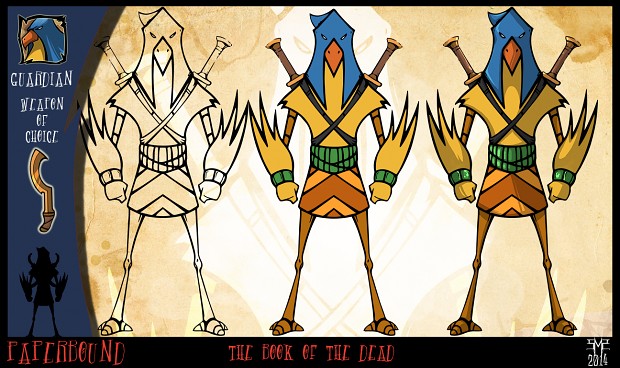 This next selection of images shows some of the conceptual sketches and thought process behind the character. We ultimately wanted a thinner, leaner version of the character. But the earlier versions of the Guardian had beefier, human like proportions sporting heavy armor and wings that would have taken far too long to animate. As a Guardian, he needed to be fast, sleek and ready to move at moments notice...not bogged down in bulky, cumbersome armor. You can see some of that progression below.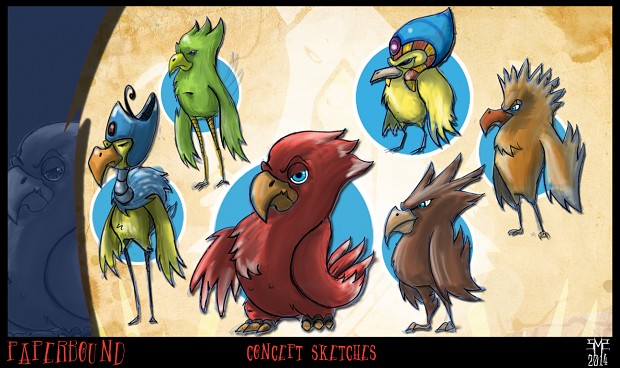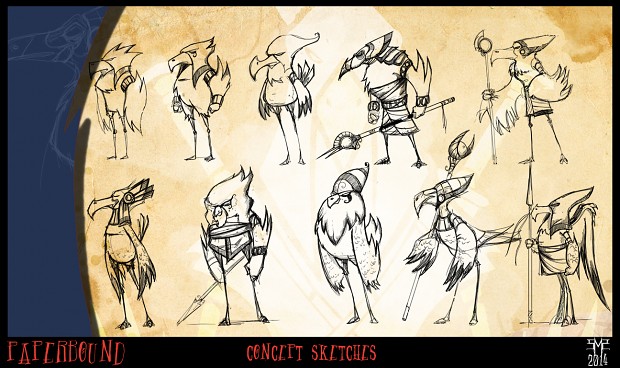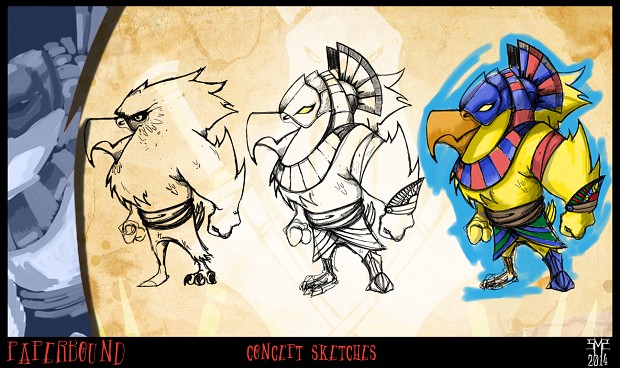 Once the overall look of the character was established I moved on to color. I took my cue from actual Egyptian architecture using bright organic colors to create a wide variety of choices.
The Guardians sword was based on actual Egyptian weaponry. However, I exaggerated the curve of the blade to make it slightly more aggressive. Though he sports two swords on his menu screen he actually only uses one in-game. Below I've provided a few early sketches and the final render completed in Photoshop.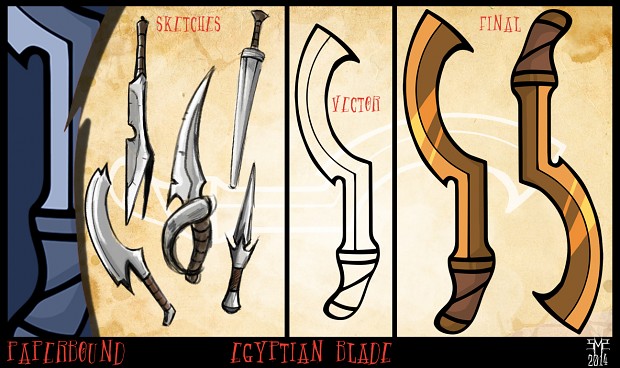 In this final image you can see him perched atop his menu select screen. The same Egyptian pillar shared by all the characters from the Book of the Dead.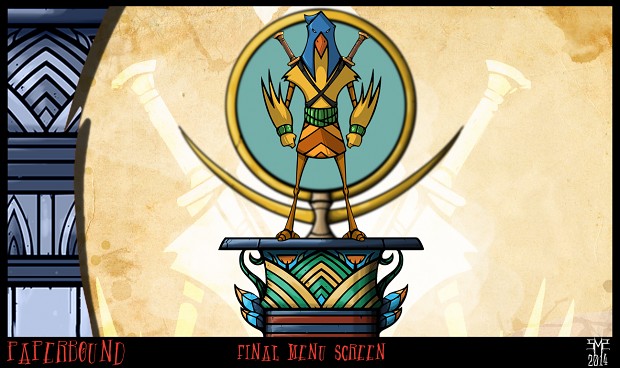 So that concludes week eight of our character previews! We have a lot more to come, so we hope you can pop in next week to see the latest update! Thanks for taking the time to look at our work, and make sure to check out our Facebook page for additional news and updates!