Hello once again, and welcome to Dissident Logic's character preview week! I'm Mike Smith, character designer on the indie brawler Paperbound. This week we journey back into the Book of the Dead and check out one of my favorite fighters, Mumsy. Below you can see his final design and the giant executioner axe he wields into battle.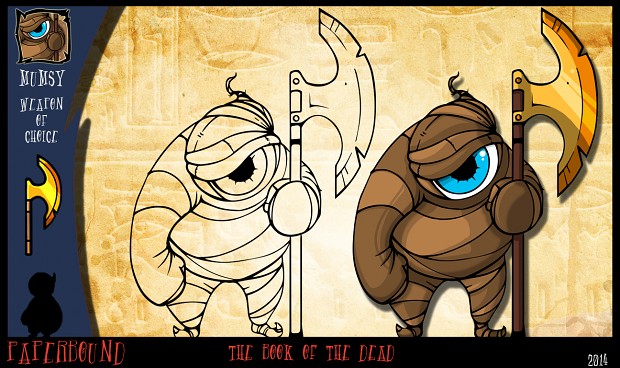 Mumsy was sketched pretty early on in the process. At first, he was smaller, rounder, and had two eyes--one popping out of his head bandages, and the other centered in his belly. I never saw them as quite human at the time. They were something unworldly, a beast that had been mummified to protect the tombs of the pharaohs and would rise when needed. They were taught to see danger, expanding their minds and physical forms, thus the giant eye that is always watching for peril. These images below show just a few of the first sketches and thumbnails.
The next image was actually created as a conceptual piece for a single player campaign that we were prototyping early in development before we settled on multiplayer. Here the "one eye" concept is still intact. However, he is given a heavier body, scrap metal armor with spikes, and a horn that has grown from his skull. I remember, I was sitting in church while drawing this particular image. You can see the initial red pencil drawing I was doodling which was later scanned into Sketchbook Pro where I finished the overall look of the character.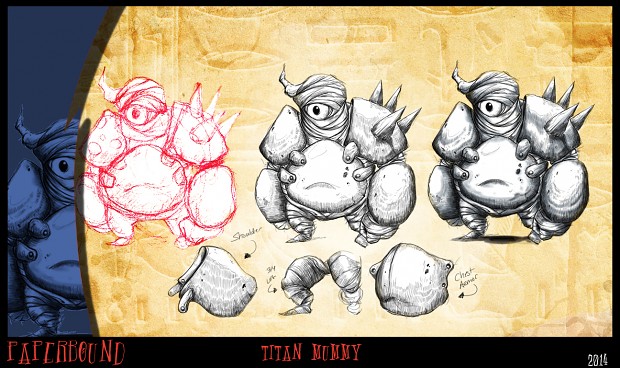 When we began to focus on multiplayer only, the look of the character started to change. I moved away from the gritty shape of the original design to a slightly more rounded, tear drop form. This ultimately gave way to the final look of the character emerging from his broken sarcophagus that I sketched early one Saturday morning. This design would establish the feel of the character and his menu selection screen.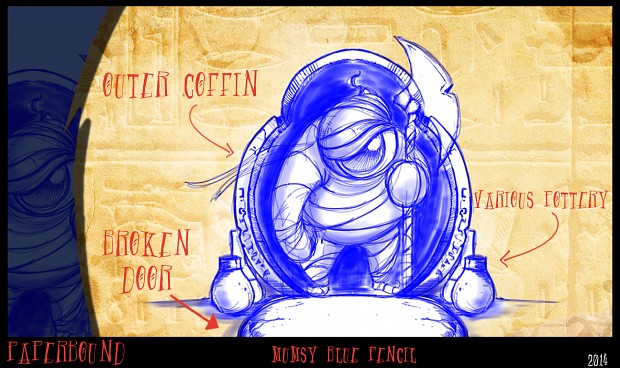 This eventually led to a few more sketches and concepts for the character. Here I found myself doodling him in various poses and positions. At one point, I even slapped a jetpack on his back. It was more for the fun of it than an actual game play element. But perhaps, "Jetpack Mummies" is a game just waiting to be made?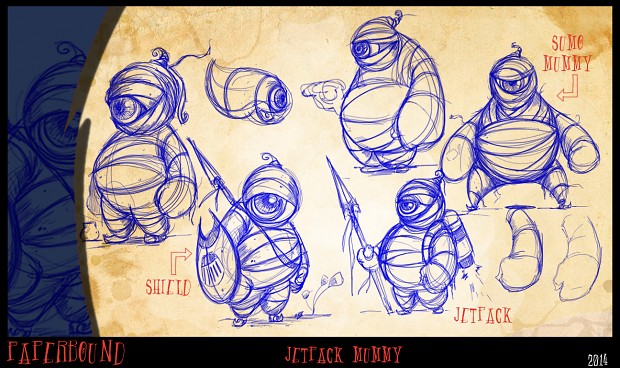 Mumsy's character selection image is one item that had significant changes. I've included the original, and the final design below. At first, I returned to the original idea of him emerging from his sarcophagus. However, as the character roster grew it became important to unify the fighters on a single menu screen, within their own books, to help cut down on clutter. So ultimately, Mumsy ended up on the same stand/pedestal as Horus, Scarab, and The Guardian.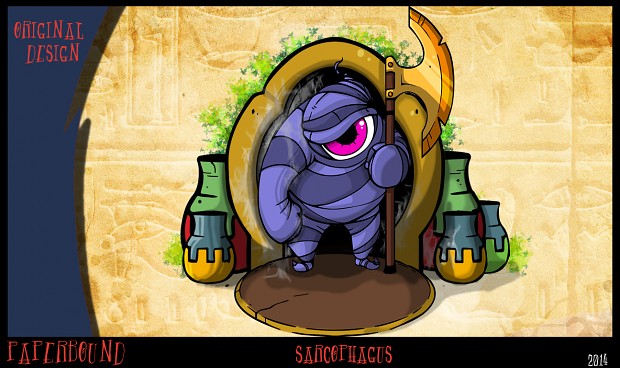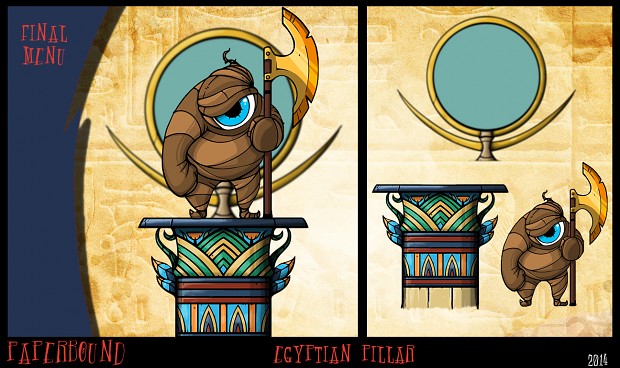 Finally, his weapon was the last thing to be created. A character of his size needed something beefier than a single blade, spear, or bow. I decided, early on, to give him a heavy Egyptian war axe. Most Egyptian axes were slightly smaller, and usually carried single-handedly. Here the axe is exaggerated to create a slightly more menacing weapon.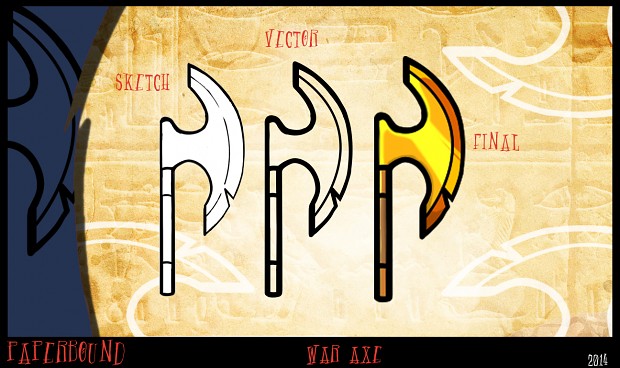 So that concludes week six of our character previews! Mumsy was a joy to work on and came naturally to me at the drawing table. He stands out as one of my favorite characters in Paperbound. So I hope you enjoyed this closer look!
However, we have a lot more to come, so we hope you can pop in next week to see the latest update! Thanks for taking the time to look at our work, and make sure to check out our Facebook page for additional updates and news!