Hello once again, and welcome to Dissident Logic's character preview week! I'm Mike Smith, character designer on the indie brawler Paperbound. This week we take a look at our female fighter Jasmine, emerging from the same doodle universe as our main character Eddy.
Below you can get a glimpse of Jasmine's final in-game design. She actually is slightly taller then Eddy and has a wonderful, graceful glide to her combat style. When I set out to design her I got the feeling she had been "outside" of her book before, traveling throughout various classics and managing to return in one piece. This wasn't in a design doc of any kind, just a general feeling I got while putting her together. She was fully aware of the dangers outside of her own book. To her...Eddy was a chump. She had simply been there, done that!
This next image takes a look at her various costumes. She had an outfit to fit any of the books, ranging from a sleek ninja design, a barbarian armor set and at one point a set of Joan of Arc heavy armor. But that idea was never fully explored. You can see a few of her mock-ups below.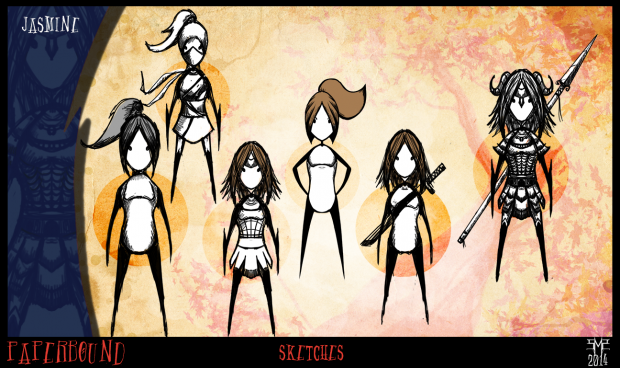 Once we got a look down, I experimented with various color options for the game. You can see several sets below, including one with her dressed in her ninja apparel. Bright, vibrant, neon like colors were the focus.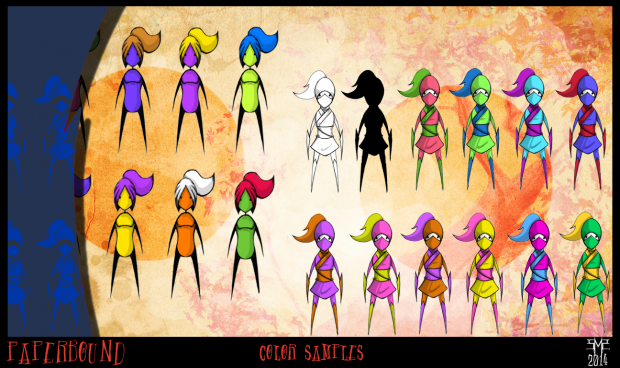 This final image shows the creation of her in-game menu selection screen. Both her and Eddy share the same design overall, with the large swirl and torn paper at the edges. Both the clouds, and sun behind her change tones to match her various color profiles.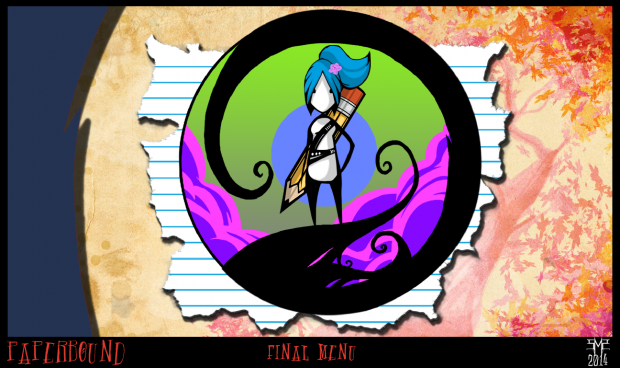 We hope you enjoyed this brief look at one of the many fighters to grace the screen in Paperbound. We have only one fighter left, so we hope you can pop in next week to see the last update! Thanks for taking the time to look at our work, and make sure to check out our Facebook page for additional news and updates!