The Nerd - Gleb Artsimovich Fyodorov
During life, he'd spend long hours in his "lab" conducting all manner of scientific experiments. Among the experiments, he'd often utilize the assistance of squirrels, voles, and other such rodents, 99% of which died on Gleb's account. His single-minded devotion to science above god and unconcern for innocent rodent life compounded with the fact that he'd never been baptized assured Gleb a spot in hell. A seemingly harmless rat bite resulting in a massive gangrenous infection spelled death for Gleb, but Satan's interest in his technical prowess spelled a new beginning in his life after death.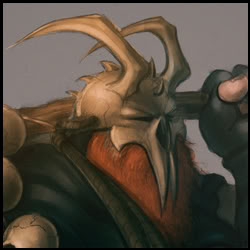 Frank the Executioner
Frank loved money almost as much as he enjoyed the sensation of his axe cleaving through the flesh and bone of those he'd behead. Cash was the driving force behind his profession. Paid well, Frank would execute swiftly, but if the money wasn't as good as he'd liked it, "accidents" happened (gruesome descalpings, or otherwise botched and drawn-out executions). Eventually, and much to his chagrin, Frank was put out of work with the coming of the guillotine, but he couldn't just give up beheading people – it was too intrinsic to his nature! His end came when he was apprehended after it was found out that he'd committed unsanctioned executions of innocent people. Frank was sent to the guillotine and, subsequently, Super-Hell.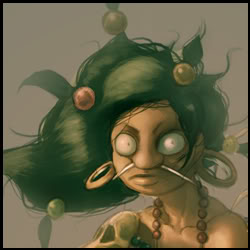 Princess Vu-Doom
She was born into royalty and, as her heathen society deemed it, she was made to be a Voodoo Priestess. The main job she'd perform was the ritualistic and oftentimes brutal sacrifice of all manner of individuals, from enemy tribesmen to her own peoples' babies. And if that wasn't enough to damn her, she also partook in the act of cannibalism, which would be the inevitable cause of her death. Vu-Doom died of an illness she'd contracted from eating human flesh unfit for consumption (probably from some old person), and upon her descent to hell, she willed her soul from her original body to her voodoo fetish in an attempt to elude her hellish condemnation. Her ultimately unsuccessful efforts ended up placing her in Super-Hell as a puppet controlling what used to be her own body.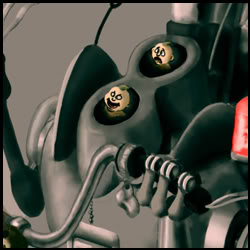 Bucket
Don't let their cuteness fool you. These twins are pure evil. Originally triplets, this pair of blasphemous babies strangled their brother with his umbilical cord because they didn't like the look of his face. On their first birthday, their Mother accidentally left matches on the kitchen table. Sensing an opportunity to escape imprisonment, the twins lit the house ablaze. A fatal mistake was made by not being tall enough to open the door before the fire engulfed them.