Hey Everyone,
Damn, it's been a while hasn't it?
Apologies for the radio silence after the release of Chapter 5 in September. A lot of work has been going on behind the scenes, and wanted to give a big Holiday update on our progress with Chapter 6 - the finale of Depths of Sanity.
First of all, we want to thank everyone who has been with us in this Early Access journey, whether you joined during our initial launch or with the release of subsequent chapters. Your feedback has been invaluable for improving Depths of Sanity every step of the way, and we appreciate seeing the reviews that say the game keeps on getting better with each chapter.
And we're definitely aiming to cap it off with a hell of a finale.
Development on Chapter 6 has been steady, though there have been several big redesigns along the way. We initially had imagined this being the longest chapter in the game, but after playtesting the early builds we decided to restructure the finale, cutting the chapter down to the best bits and refining them to make sure the pace only ramped up as you reached the endings.
Yes, that is plural. Something we've kept quiet previously is that Depths has multiple endings. We're going to keep things vague because honestly we want players to discover what they are/how you trigger them on their own, but a lot of work is being put into making the finale great no matter what ending you get.
So, what can we show you? Well, here's a glimpse of the final unlockable weapon in the game, the Implosion Cannon. It's a short range weapon that absolutes anything that gets too close.
Here's us taking it for a spin in our test room:
And while we can't show you much of the level yet, we can safely say that our enemies are at their deadliest in the finale. While there are several entirely new monstrosities for this last chapter, here is a glimpse at the new and much meaner sprouted versions of the pufferfish, isopod, and swordfish:
Development of the finale is taking a bit longer than the other chapters, but progress is steady. Our aim is to release this final Chapter in Q1 of 2022, likely launching right before or during the newly announced PAX East.
We'll be resuming a more regular posting cadence here and on our social media shortly, now that we've moved to the point where we can actually show a bit about what we're working on. We're also going to be discounted during the Steam Winter Sale for those of you who have been keeping up with us but haven't decided to take the plunge yet.
Thank you for playing, and continue sending us feedback as you go through the game! Post it here, on our Discord, or DM us on Twitter.
Happy Holidays, and we'll see you in the New Year!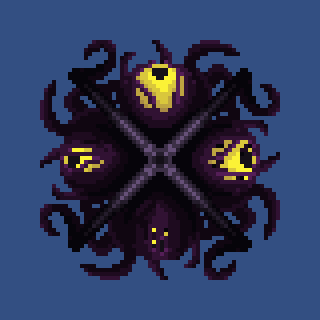 -Bomb Shelter Games