The futuristic arcade racing game "Chaos Ride" is coming soon for Windows PC.
Based on the series of mobile titles of the same name, this is a new and improved version, featuring all new graphics, refined gameplay, split-screen multiplayer, and Oculus Rift support. It also includes all of the levels from Episodes 1 and 2 of the mobile versions, along with three entirely new levels.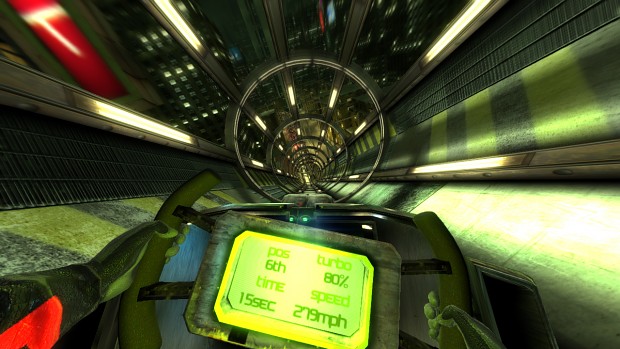 The core gameplay of Chaos Ride remains similar to its mobile predecessors. You pilot a neon hover-cycle at insane speeds through a series of tubular tunnels, building momentum by angling your vehicle at optimum trajectories while avoiding other racers. The PC version improves on this, by offering more precise controls, faster speeds, a smoother frame rate, and a deeper vehicle customisation system.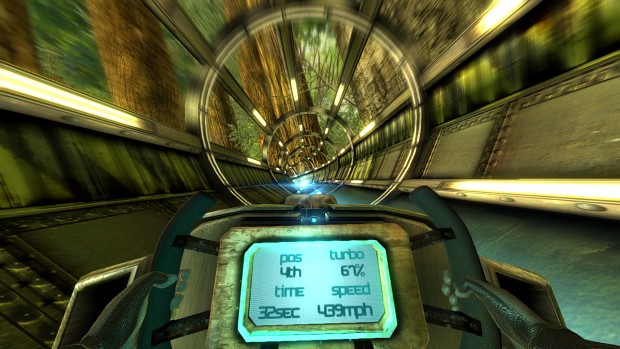 Game Features:
Extremely fast gameplay.
Eighteen tracks (nine tracks with forward and reverse variations).
Five game modes: Race, Marathon, Eliminator, Time Trial, and Survival. 90 events in total.
Fifteen time/score-attack challenges per track. 270 unique elements of gameplay in total.
Vehicle customisation. Tune your vehicle to deliver the best speeds for each track.
Unlockable content. Come first in events to unlock more customisation options.
Exclusive Features for the PC version:
More players. Races involve ten players rather than six.
Faster gameplay. The bikes can now travel up to 675mph.
Smoother frame rate. 720p/60fps on a core i5 PC.
More levels. Some of the existing levels have been completely re-authored, and the game also includes three new tracks that were never released on mobile.
Oculus Rift support.
Split-screen multiplayer, with support for up to four human players.
A progression system that includes an increasing difficulty curve, which is affected by actions in both the single player and the multiplayer games.
An improved customisation system. The top speed, acceleration, and colours are now also customisable features.
Entirely new graphics.
A rear view mirror. This is needed now that players can ram you from behind and knock you from your bike!
Chaos Ride also has a Steam Greenlight page. You can vote for the game by clicking on this link.
Finally, the game will also be playable at this year's EGX London event in September. For those who cannot attend, I have created a trailer: