What is Siege of Inaolia ?
Is the main question that must be running through most of your heads, simply put, Siege of Inaolia is a 3D person survival game, right ? WRONG ! with Siege of Inaolia we aim to change the way survival games are played forever, if you've played modes such as Call of Duty World at War or Black Ops' Nazi Zombies or Dawn of War 2 The Last Stand you would see that usually there is nothing to motivate you to push you to survive, sure basic human instinct kicks in the first few levels but whats next ? Wheres the Story ? The Objectives ? What are the reasons for the surviving characters to Live ? Ill tell you ... There are None ! This is where we hope to kick the old format of survival games in the Groin, We give you a story that slowly evolves from basic survival to having the entire world at stake with 'Flawed' characters (characters that have a disturbing/sad background) a world that lives, A wave is not simple a counter but a Day ! and as each day progresses you see the effect on the world as the story evolves, from the skies being sunny to them turning into red with warp rips in the sky nearing the end of the game, we give you objectives something to push you forward, Boss battles that really are different, that will challenge you to work as a team and once defeated open up new gameplay layers (e.g. The first boss, an Orc General, with an enrage, as he reaches landmark health levels such as 75% 50% 25% he enrages which alots him to take no damage but deal out loads of it, once the heroes defeat him they gain the ability to enrage by picking up his power beads and claiming it for themselves allowing them to use enrage when they kill a certain amount of enemies for a short while, the power beads will also be displayed on the character cosmetically as well) and Rewards in the form of new Armors and Weapons Which would be cosmetic but rewards none the less and Final but not least a Co Op mode that features Drop in Drop out functionality. Those are our aims and we are well on our way to achieving them, the majority of the team being gamers we know what gamers like and dislike that said we intend Siege of Inaolia to be a game "By the Gamers, for the Gamers", I hope all of you are getting chills down your spine, I know I am.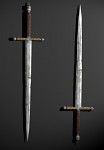 I will be posting regular news updates on our page here on IndieDB but to get the latest news on anything and everything on Siege of Inaolia, check out our Twitter Page at Twitter.com as well as our website Blog Siegeofinaolia.com
Thanks For Your Time.