In this first dev diary I look at improving an existing mod to make Civ2 MGE's terrain and GUI look more like Civ2 Test of Time's for the Civilization 2 ToT Graphics for Civ2MGE mod!
While working with Metropolis on the Civilization 2 - Heroes of Might and Magic 2 Mod we talked about the differences between regular vanilla Civilization 2 and the enhanced Test of Time (ToT) version of Civilization 2 and how both divide the Civ2 fan community quite a bit. Test of Time was a commercial failure and another nail in the coffin of Microprose in its final years as after releasing several pricey addons and an expensive Multiplayer Gold Edition (MGE) re-release most fans had no interest in paying full price for yet another copy of Civ2 no matter what enhancements were made (especially as it was up against stiff competition like Call to Power and Alpha Centauri). Those who bought ToT had mixed feelings about it as some hated its dark moody graphics along with its removal of the throne room, grand council, wonder videos and city sky views. While others loved its colourful animating terrains, huge multi world maps, advanced scripting events and massive immersive fantasy and scifi scenarios.
Even to this day I still see MGE vs ToT debates in Civ forums however most of the Civ2 community made the move over to ToT as it allowed for much more advanced and awesome fan scenarios and mods, plus thanks to the Test of Time Patch Project many missing MGE features have been 'reactivated' in ToT. Some however refuse to touch ToT believing that it ruined Civ2 and that nothing beats the original and its 'final' MGE release. Personally I love both versions haha and am making scenarios for both such as the Heroes of Might and Magic 2 Mod mentioned above, a Command & Conquer African Campaign scenario and a Red Alert 2 Siege of New York scenario for Civ2 MGE, while also working on a Master of Magic scenario Enhancement for ToT.
While mucking around with both versions I came up with a rather wacky idea where I thought it would be fun to mod the original Civ2 MGE to look as much like ToT as much as possible. Yes I know this is a mod no one asked for 20 years ago and certainly not now days haha but I thought it would be fun to make so I went ahead anyway lol!
Pretty quickly I discovered that someone else had indeed thought of the same idea before, as on the CivFinatics site sat an old ToT graphics pack for Civ2 MGE from a user named VWPsycho1984. I figured I wouldn't need to bother making this after all however once I tried out his mod I realised pretty quick that it was very unfinished with a lot of issues and that maybe I should do a 'remastered' version of it to properly fulfill my crazy idea lol!
Here is a screenshot of VWPsycho1984's original mod. It looks like he has pretty much just done a straight colour palette conversion with no touch ups as when I do the same thing myself I get the same results. Due to Civ2 MGE's limited 256 colour palette the converted grassland ends up way too dark and black/grey ish. The people who complained about ToT's graphics being too dark would hate this even more haha: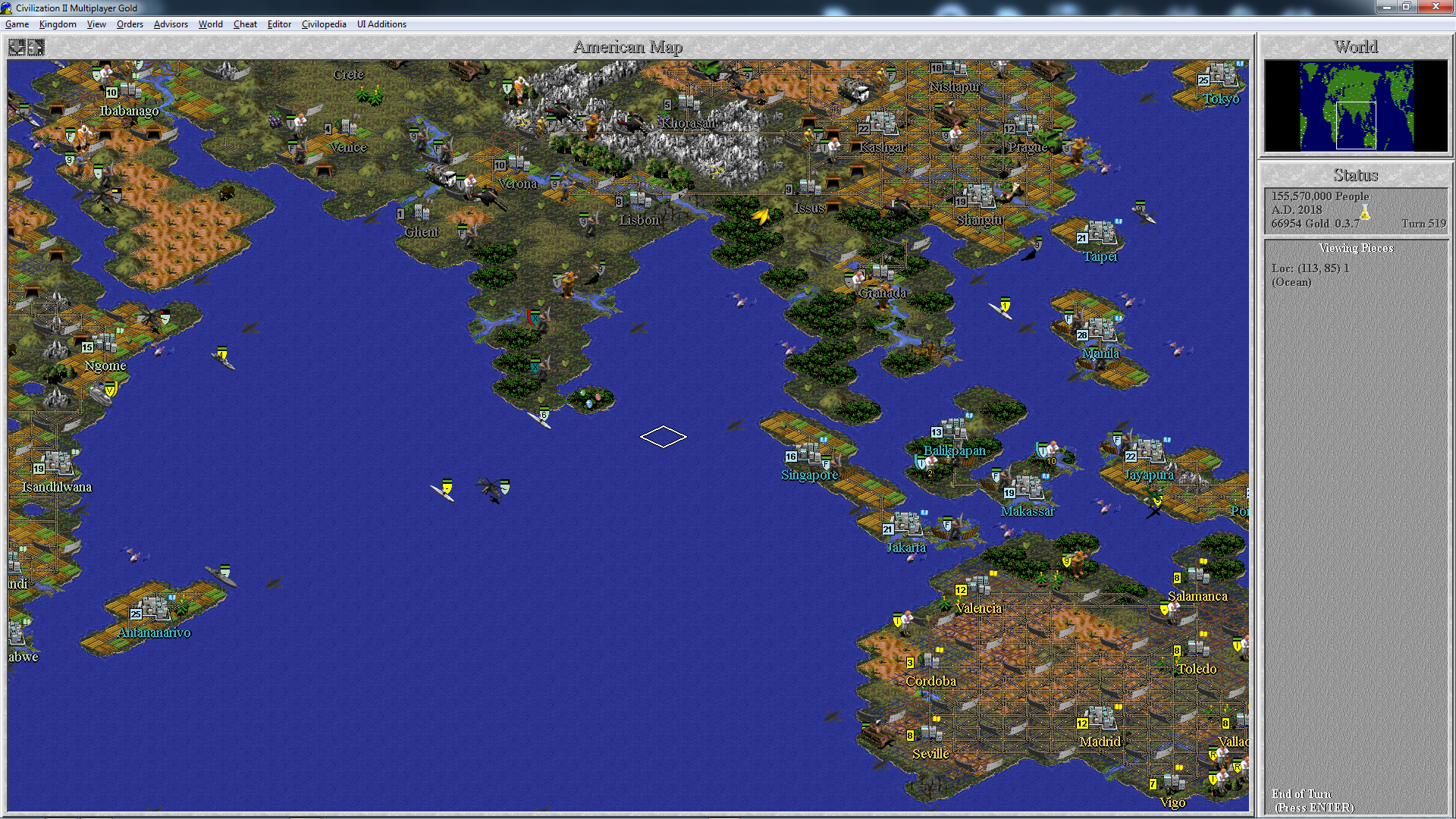 So to get things started I've been playing around with his mod and fixing up various bugs such as wrong faction colours (eg blue barbarians lol) and improving some of the converted colours to look a bit nicer (eg grassland thats actually green and a yellower desert). Here's a WIP shot to compare to the one above: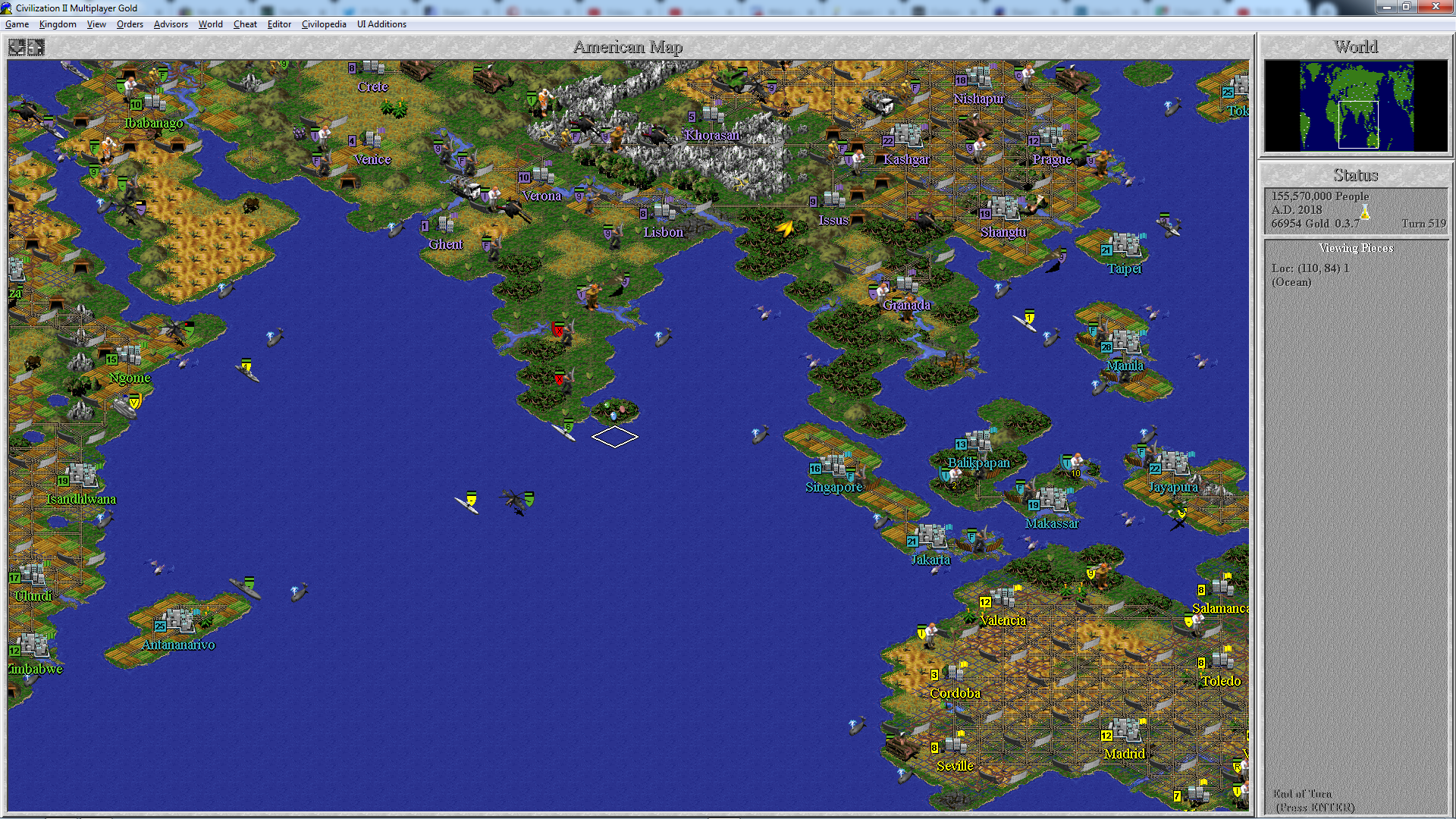 Next I made a ToT style darkened GUI that is as dark as MGE can get before text becomes unreadable. Here's shot from my Barbarian 8th faction hack scenario (to be released later) that shows off more natural undeveloped terrain than the previous shot posted as well as the new GUI: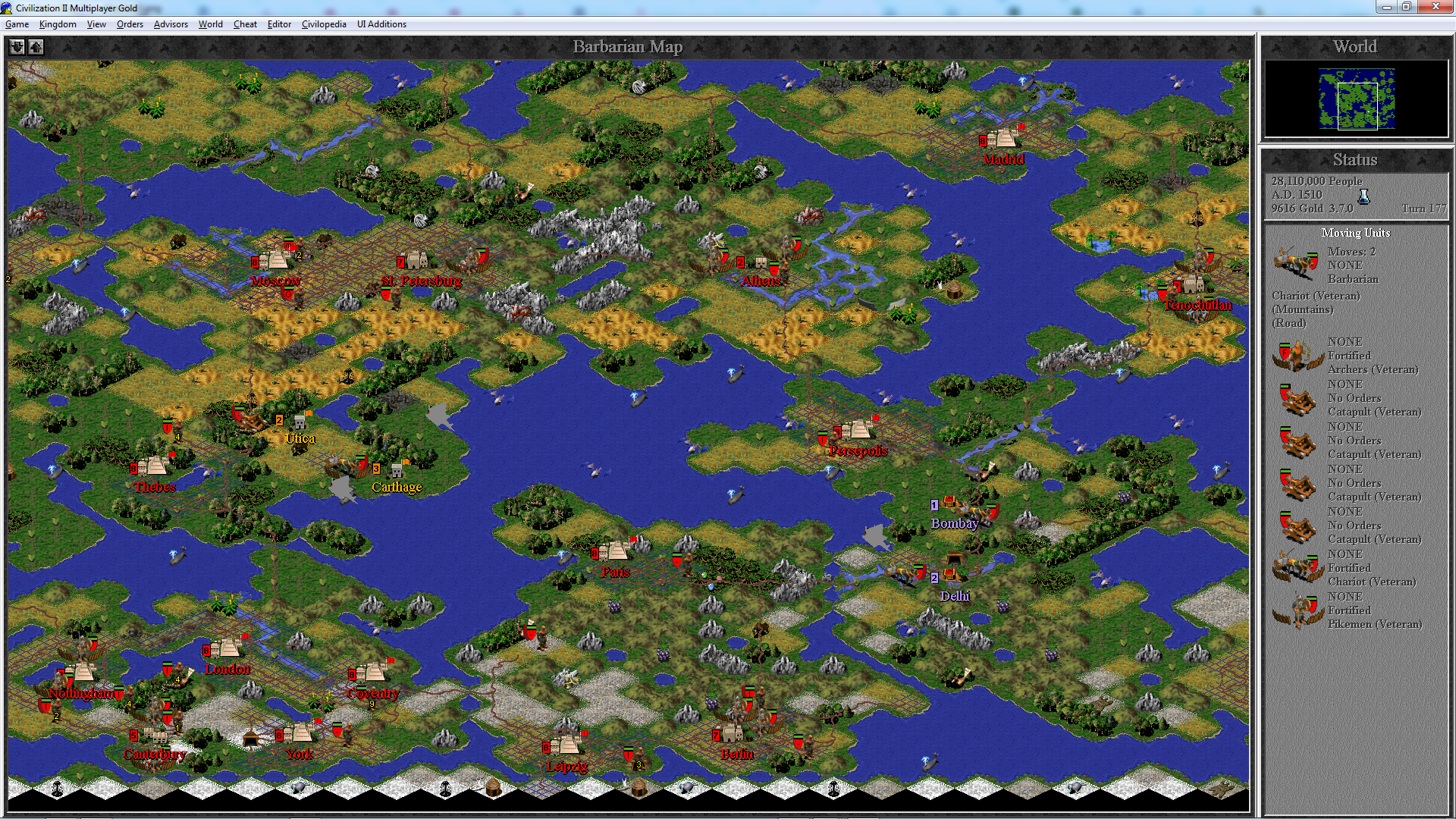 Next I'll look at making a special 'ToT style' city screen (as I've got a few tricks in mind), importing ToT icons and fixing all the wonky misplaced unit shields.