COMING THIS OCTOBER 2014
Winged Sakura: Mindy's Arc (WSMA), a brand new innovative strategy defense game with RPG mechanics, will be will be in stores in mid-late October! Help us get Steam Greenlit by showing us your support by upvoting our game at Steamcommunity.com
Changes to Survival Mode & Marathon Mode
As we wrap up the project to prepare for release, we made a huge last minute change. Before we go into details on what changed, we'll first provide details on the old implementation of Survival and Marathon Mode.
Old Survival Mode
This mode is unlocked after you beat the game. In this mode, similar to Tower Defense (TD) games, you defend against unlimited wave of enemies and eventually the enemies will break through your defense. This mode allows you to test your skills with your Story Mode characters until you lose.
The Issue: May result in boredom too quickly and can only provide a few hours of entertainment.
Old Marathon Mode
This mode plays exactly the same as our Survival Mode, except, your characters start at level 1. You level up every 5-10 waves and you get to pick randomly generated Spirits and buy items to help you progress further. When you die, you have to start back at level 1.
The Issue: Early game is repetitive and players can easily make mistake often. Forcing the player to restart is no fun as it takes a lot of time to restart back at level 1.
New Survival Mode
We merged some of our Marathon Mode elements into our Survival Mode. After every 15 waves, you are now rewarded 6 Item Blossoms and one level towards your Story Mode progression. These Item Blossoms let you roll through our entire loot table to create a more incentive gameplay. Currently, the rewards are as follows: Waves 30 and below allows you to roll on all the B-A tier items in the game. Wave 31-75 allows you to roll on all the A-S tier items in the game. Wave 76 and above allows you to roll on all the S-SS tier items on the game along with SSS tier crafting recipes. In additional, players can play on Insane Mode which allows them to roll on A-S, S-SS, SS-SSS tier items respectively.
We believe this change offers greater amount of replayability then both our old Survival and Marathon Mode combined. With this change, even if you lose, you will end up with a bunch of rare items to help you progress further in your next attempt.
With this change, we have removed Marathon Mode. Overall, we believe Marathon Mode was a bad design as it forces the player to start over at level 1, repeating the same content over and over again, just to get back to where they were. While this mode may offer a few hours of entertainment, it's just not worth it as our new Survival Mode provides much longer hours of entertainment and replayability.
See image below for Item Blossom rewards (example)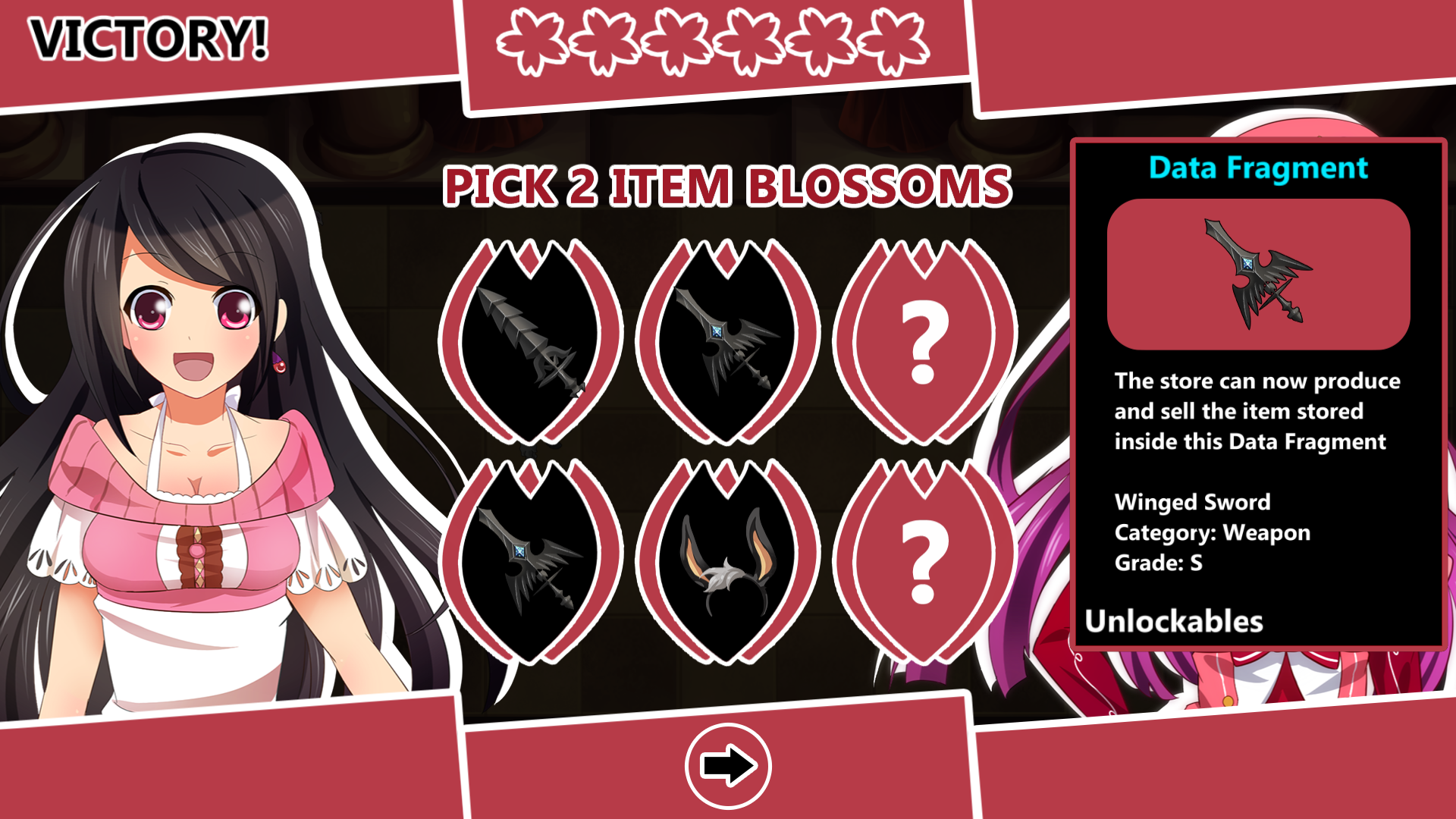 Every 15 waves, you'll see the screen below.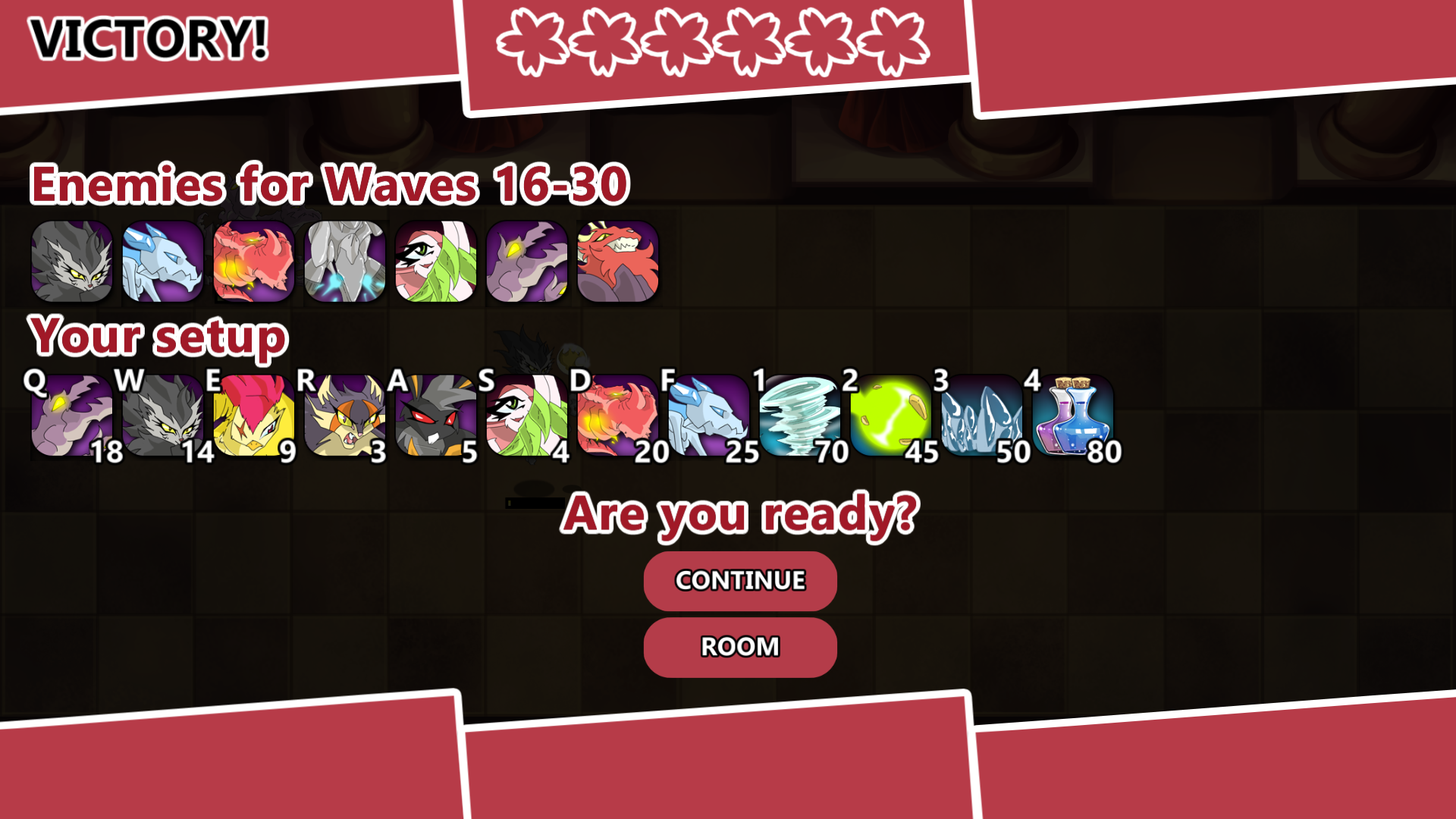 You can save your progress and head back to room to change your Spirits, Skills, or Items to prepare for the next set of 15 waves. 15 waves takes approximately 5-7 minutes average for veteran players and about 7-12 minutes for new players.
If you like what you see and wish to support us, head over to help us get Steam Greenlit by upvoting our game at Steamcommunity.com
We should have an exact release date pinned down next week. It'll most likely be early mid October.