Changes I've made for next version of Super Star Wars.
I've raised the population value of Capitals, Super Capitals, and the large Frigates. The Eclipse changed to 25, Executors are 16, Dauntless-class is 9, Home One-class, Aggressor-class and Lucrehulks are 10, Kedalbe-class is 8, and MC80 Liberty-class, Imperial I and II Star Destroyers are 7. Venator and Victory-class Star Destroyers are 5, Alliance Assault Frigates, Dreadnought Cruisers, Munificent Frigates, and Gladiator SDs are changed to 4. Fighters, Bombers, Corvettes, and other Frigates have the same population value. I've also changed the population value for the Death Stars. In Galaxy view the Death Stars have a Pop Value of 250, while in actual space battles they have a pop value of 30. This will leave you with a Pop Cap of 25 after bringing in a Death Star.
Changes to income - I lowered the credit income for most of the planets. A lot of the planets had a income of 200 to 300 credits, I lowered them back down so most are anywhere from 30 to 190 credits. I made they too high in the first version. Also I limited economic structures so some can only be built on certain planets and you can now only build one mining facility per planet.
Asteroid Mining Facilities can only be built on Endor, Polis Massa, Hoth, Mustafar, Dagobah, Utapau, Alzoc III, Vergesso Asteroids, Tatooine, Geonosis, Atzerri, Fondor, Thyferra, NalHutta, Honoghr, Kessel, Alaris Prime, Sarapin, Byss, Fresia, Myrkr, Wayland, Polus, Ilum, Dathomir, Yaga Minor, Yavin, and Jabiim.
Trade Ports can only be built on Mustafar, Sullust, Utapau, Tatooine, Geonosis, Atzerri, Fondor, Thyferra, NalHutta, Alaris Prime, Byss, Fresia, Polus, Yaga Minor, Jabiim, Kashyyyk, Trandosha, MonCalimari, Mandalore, Felucia, Taris, Imdaar, Muunilinst, Yaga Minor, Dantooine, Bonadan, Coruscant, Carida, Anaxes, Ralltiir, Corulag, Rendili, Manaan, Denon, Balmorra, Kuat, Corellia, Bestine, Abregado Rae, Duro, Bothawui, Naboo, Eriadu, Bespin, Kamino, Rothana, and Ryloth.
Mining Facilities can only be built Yavin, Alzoc III, Trandosha, Mustafar, Despayre, Imdaar, Polis Massa, Alaris Prime, Abregado Rae, Aeten II, Bespin, Bonadan, Eriadu, Felucia, Fondor, Geonosis, Hoth, Hypori, Ilum, Jabiim, Kessel, Mandalore, Muunilinst, Myrkr, Nal Hutta, Polus, and Ryloth.
Changed the Build Cost of the Eclipse to 74,000 and only one can be built now. Executor-class SSDs changed to 62,000 credits and only the Hero varaints can be built. I removed the non-hero SSDs. PLEASE DO NOT ASK ME TO CHANGED TO THE COST OF THE SSDs TO A HIGHER COST. THIS IS THE FINAL COST AND WILL NOT BE CHANGED. ANY COMMETS SAYING TO MAKE THEM COST MORE WILL BE DELETED!

I've added a new hero to the mod, Mand'alor Fenn Shysa, who is part of the Pirate Faction. He only appears on Mandalore. I added Mandalorian units to the Pirates so I could use them as a parital Mandalorian faction.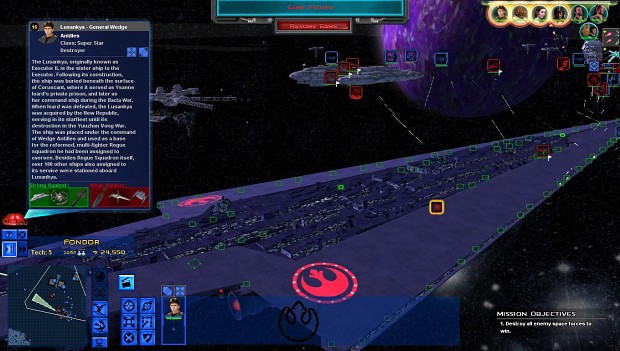 As you already know the Rebellion can built the Lusankya if they control Thyferra. The Lusankya is actually more powerful than a Imperial Executor-class and has lasercannons for use against starfighters. Also with control of Kuat, they can also build a Mandator Dreadnaught.
I hate to do it, but I'll be removing the Bothan, Mon Cal, Twi'lek Rebel soldiers, since I couldn't fix the problem with them not firing.
The Rebel Soldiers and Stormtroopers back to squads and are no longer individual units. I added some extra garrison slots to the transports and bunkers. Gallofree HTTs have 14 garrison slots, The Juggernaut has 16 slots and all bunkers can now garrison up to seven squads or heroes, changed from five.
I removed the Dominator SD and Vindicator Cruiser from the mod, I didn't like the models I used for them and because the Vindicator isn't needed. I will mostly likey get a different model for the Dominator.
The Empire can no longer build Procurator Battlecruisers and Mandator Dreadnaughts. I'm considering removing the Procurators from the game.
Each of Death Squadron's Star Destroyers can now be built, but only if the Accuser is in orbit of a Capital ship planet. So the Executor no longer spawns these, but it still has two Interdictor Cruisers.
**********
*
*
*******************
*********
Skirmish
***********
************
*
*
*****************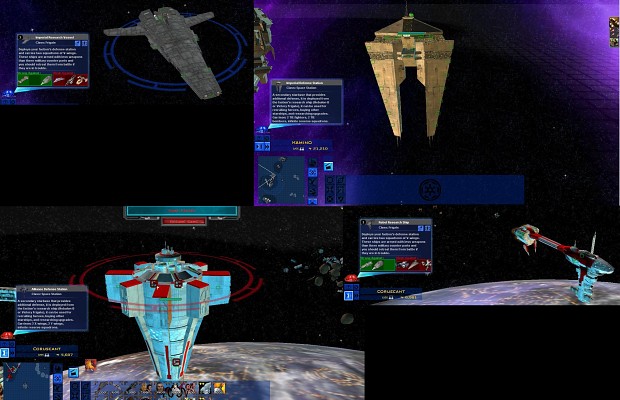 In Skirmish, most have already seen the Research Ships and defense stations. These were used since there was so many new units. This stations are kinda like the shipyards found in Z's FOC mod. The only difference is they deploy onto the map instead of being already there. Also to answer a question most have asked, the reason starfighters and bombers disappear at higher starbase levels is cause at that level you'll have Liberator Cruisers, Gladiator SDs, MC80s and ISDs, which can spawn those squadrons. Remember this isn't like the original game where most of the ships, mostly the rebels, don't have fighter bays. Plus you might want those 5 extra unit population that used for those X-wings and Y-wings to bring out one extra capital ship you really needed.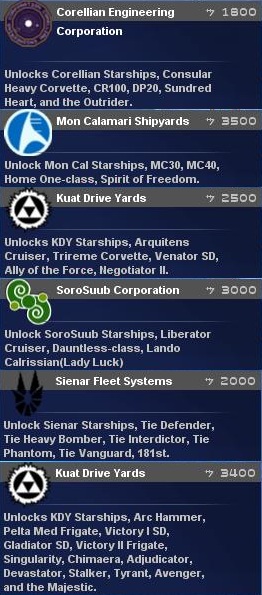 Even with that second starbase, there still isn't enough room for all those ships so I've added shipyard upgrades for unlocking those extra starships. They include for the Rebels, Corellian Engineering Corp, Mon Cal Shipyards, SoroSuub, and Kuat Drive Yards, for the Empire it's Sienar Fleet Systems and Kuat Drive Yards.
**********
**
*******************
******
New Planets
********
***********
**
******************
A few new planets.
MOD STATS: (As of adding this update)
Page Visits -- 359,237
Rank -- 82 of 19,021
Watchers -- 381 members