CETuner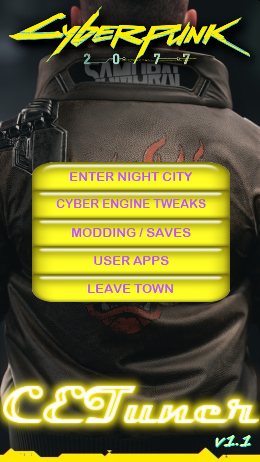 Version 1.3

Updated for CET 1.10.1 or higher.

CETuner is a Graphical User Interface (GUI) Frontend
to allow easy editing of Cyber Engine Tweaks various customizable settings.
Also there are several useful tools and references including a Mod Manager, Games Save Backup Utility and a recently added options for User Defined Applications.

All packaged in a professional grade installer.

Cyber EngineTweaks MUST be installed for CETuner to work!

You can find the latest release here for
Cyberpunk Engine Tweaks
Nexusmods.com
(REQUIRED)

Another Mod to use with CETuner is the
No Intro Videos Mod
Nexusmods.com
(RECOMMENDED)
to skip the game's start up Corpo Logos for the fastest quick start.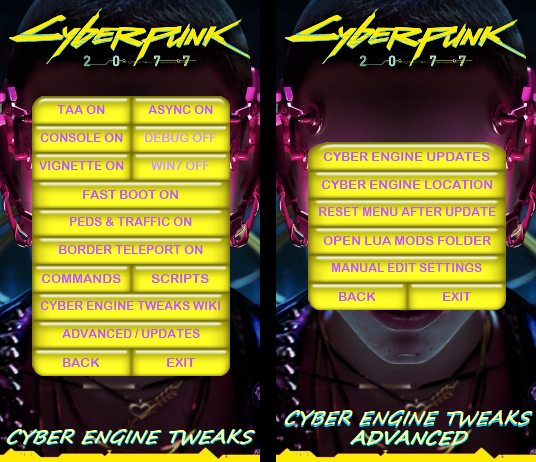 CETuner should work with the Cyberpunk 2077 PC Game
regardless of which seller you purchased the game from.
i.e. - GOG, Steam, Epic, etc.

CETuner is not compatible with console versions of Cyberpunk 2077.
(sorry peasants)

SPECIAL NOTE about performing Cyber Engine Tweaks Updates:
Cyber Engine Tweaks is generally updated frequently so when you download and apply a new version of Cyber Engine Tweaks, you'll need to reset the CETuner menu back to default options so it will match up with the new configuration file. After the reset you can then set the options to you liking again.

There are two ways reset CETuner:
1. - In the cyberpunk 2077 folder, you'll see a file called !CET_DeleteToReset.ini.
Simply delete this file after updating Cyber Engine Tweaks with CETuner closed.
or
2. - On the CETuner's Advanced page, click the RESET AFTER UPDATE button to reset the defaults.
After that simply click the options you wish change.

Using either method above the Cyber Engine Tweaks options in the menu will be reset to defaults.

CETuner Additional Features:

CP2077 QUICK START:
Allows for faster game bootup.
Requires FAST BOOT to be enabled in Cyber Engine Tweaks.
For fastest booting possible of the game,
It recommended to also install the No Intro Videos mod mentioned above.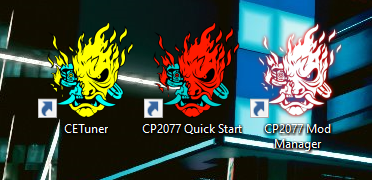 (Icons created by fawert and used with permission)

MODDING, BACKUPS & MORE: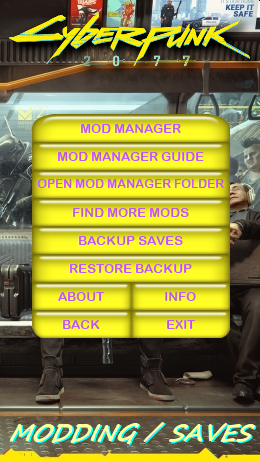 MOD MANAGER:
CETuner includes Jonesoft's Generic Mod Enabler, preconfigured for use with Cyberpunk 2077.
It allows for a way to simply active/deactivate mods with a just a simple mouse click or two.
See the included guide for more information.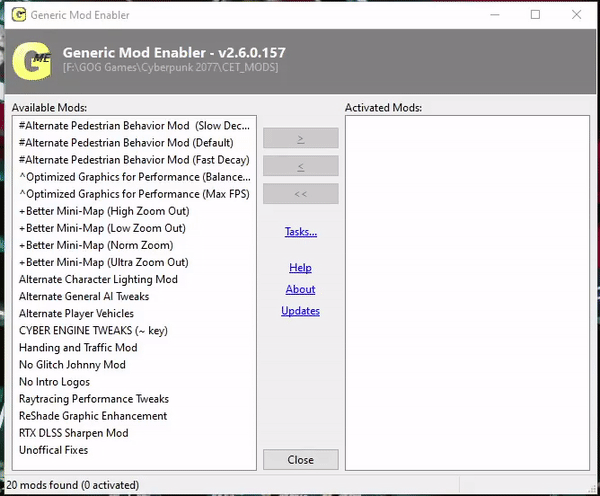 BACKUP GAME SAVES:
This allows for quick and easy backing up of games saves.
Handy if you intend to use any game save editors.
It will keep a history of 2 backups.
A current backup and a previous backup for added protection.





USER DEFINED APPS FOR QUICK ACCESS:
CETuner can be used to organize and quickly access other Cyberpunk related applications,
like CyberCAT's Save Editor, the Better Mini-Maps Installer or whatever app you wish!
You can add Up to Three apps total.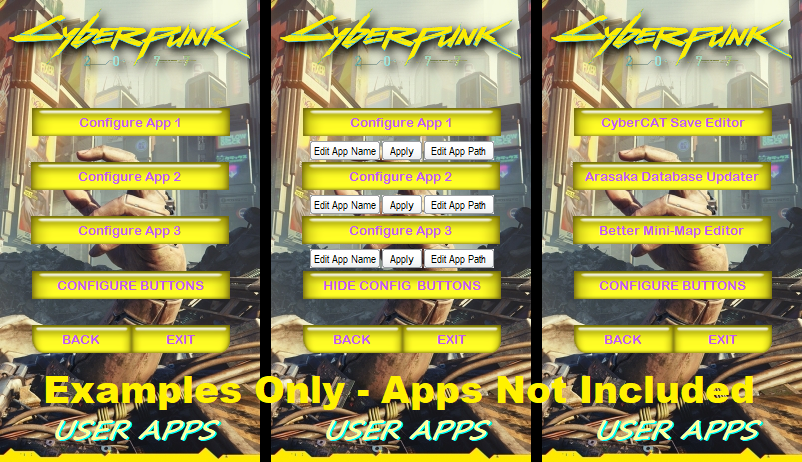 UNINSTALLER:
CETuner has an Uninstaller included.
The shortcut in your Windows Start Menu under the CETuner folder group.

Special Note:
When uninstalling CETuner, Any mods activated by the Mod manager
will automatically deactivated to insure a no mods are left "stuck" in the game.
Any mods stored in the cyberpunk 2077\CET_MODS folder will not be deleted, merely deactivated.

CREDITS and LEGAL INFORMATION:
Cyber Engine Tweaks is open source software currently under development by Yamashi for Cyperpunk 2077.
CETuner is not affiliated with or supported by Yamashi.
JSGME Mod Manager is freeware created by Jonesoft.
CETuner is freeware for the Cyberpunk 2077 community created by hip63
using Autoplay Media Studio 8 licensed software by Indigo Rose.
CETuner Installer package created by hip63
using Install Creator Pro 3 licensed software by Clickteam.
CETuner also uses Findandreplace open source software by ZZZprojects.
CETuner is not supported by CDProjekt Red,
creators of the Cyberpunk 2077 game.
No Warranties implied by any parties.