The first of the Veterane Campaigns is being released today. The campaign Cerebrate Hunters lets you fight together with the Protoss Heroes Elanar and Mojo against the Zerg Cerebrates.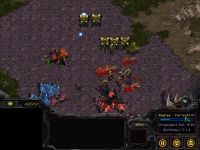 This campaign is hard to beat and meant as a challenge for StarCraft veteranes. The difficulty of future releases of the Veterane Campaigns can vary up or down depending on feedback on this campaign. I've started with a rather basic difficulty (considering it's meant to be hard, anyway) to see how hard others find it to play. So let me know how hard it was for you to beat it - without using cheats, that is, of course.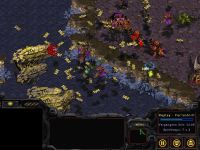 Cerebrate Hunters contains three missions, each with precise and short mission briefing (under one minute, I estimate) so you get to play quickly without having to read for minutes to understand the full story. Most veterane players will be more interested in a quick and hard match than reading long dialouges, I assume. The campaign comes with a full install application - so even the setup is easy and fast.
After the setup, you can find the campaign by choosing Custom Maps from the StarCraft menu and then browsing to campaign\VeteCampaign\CerebrateHunters\
Let me know what you think, and... well, gg and gl!