The C&C3;:TI Team Wishes you a great Christmas and A Happy 2010!
XML & GUI Scripters Needed!
Yes, We are almost running into the programming stages. So that means we need WELL talented XML & GUI Programmers! Do you have a passion for C&C Games and a strong knowledge with XML C&C3; Modding? Apply now! SEND A PM TO: ES_Chrizz
January Media Update?
Media Update 3 is coming Early 2010. We don't have any clue when, but its coming! The problem is that we need XML & GUI Programmers.
Sub-factions?!
As you've seen in Media Update 2, we showed a few sub-factions. Media Update 3 will reveal all sub-factions we have planned.
We've got Tiberium FPS & C&C4; Inspiration
Its a big shame Tiberium FPS has been canceled, and it had some good reasons. But this doesn't say we wont use the Designs & Inspiration. Tiberium FPS is BETWEEN C&C3;: Kane's Wrath & C&C4;:Tiberian Twilight And we really like most of the Tiberium FPS designs! Also C&C4;: Tiberium Twilight became one of our inspiration source, Like the Maps, Tiberium Cracks & Environment. So don't be surprised to see C&C4; & Tiberium FPS Designs in C&C3;: Tiberium Icestorm!
NOD - Tick Tank? Your Comment Count!
Since C&C4; Has really bad comments about design we became carefully with some Designs.
We have this NOD - Tick Tank for a while now but we still don't know if we must continue with this Design! Tell us your suggestions and comments about this little NOD - Tick Tank!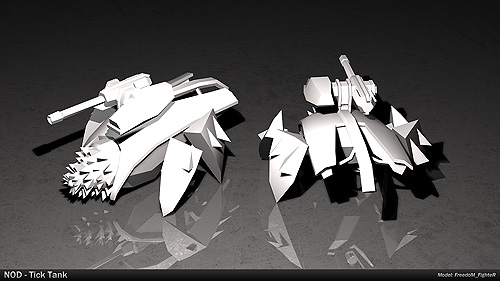 Twitter, Website & MOD Status:
C&C3;: Tiberium Icestorm Twitter: Twitter.com
C&C3;: Tiberium Icestorm Website: Tiberium-icestorm.cncsociety.com