C&C UNTITLED V3.0 RELEASE - " It's of happenings!"

DESCRIPTION:
As you all know, or are about to find out, our project is about 8 (soon to be 9) years old, which means that we grew up from the moment we started and with that, our lives got complicated and got hit by the reality of real-life challenges and which translates to having alot less time for our hobbies..
With that, instead of delaying it even further, we considered that we've done enough for a new release; while there is always room for more improvements, those things take time, which we don't have as of late.
So, ladies and gents, as promised - well more like as many of you hoped for - we present this new year gift to all of you; the release of C&C Untitled v3.0.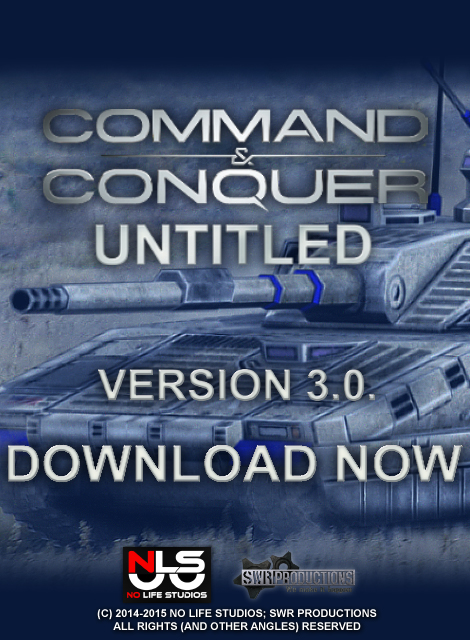 ---
DOWNLOAD MIRRORS*:
> MediaFire Mirror <
Hotfix for Worldbuilder:
> MediaFire Mirror <
*Will add more download links once they're available.
HOW TO INSTALL:We didn't provided an automatic installers / uninstallers program and bat based launchers due to, from past experiences, causing more problems and overall unreliability.
So, follow the linked instructions then extract everything in the .rar file into your main ZH directory:
Additional notes:
- Your must have ZeroHour patched to it's latest version. Latest version is 1.04
- This mod uses custom AI, so make sure to backup the ZH "Data/Scripts" folder by moving it or renaming it to prevent conflict.
BUG REPORTING:
If you have / had encountered weird and awkward bugs, issues and problems, you can head to this two following places:
JOB HIRING: AI SCRIPTER
The AI works to a point, and though we planned to fix it before release, we didn't due to time constraints and we also don't want to cause further delays for the release of C&C Untitled.
In all, we really need an AI scripter, so feel free to offer your services (instead of whining about it as always) because any help on that front would be more than welcomed.
Of-course that means you have to already know how to do it or atleast the basics of it, as none of us has the time to teach you or let you leech the mod in the hopes that you might learn how to.
CLOSING MESSAGE:
Major shoutouts as well to the following due to their contribution to this recent release:
That being said - thank you for all your support during our many years of modding!
Also, thank you for voting for us in the recent MOTY 2014, it means alot for our motivation to keep doing this, and thank you for enjoying our work.
Have a great 2015, and make sure to check out what we have planned for the next release with our future updates.