UPDATE!
Had this version finished for quite a while but we were hoping to get it out completely finished.
Although schoolwork got in the way for both me and Psyk.
what do you get?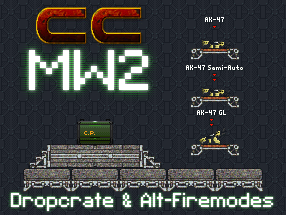 New weapons and things include
A "care package" drop crate,

new fire modes for the,
AK47, semi and grenade
M4A1, grenade
Glock18, semi
AA12 autoshotgun, semi

new weapons
RG-6 grenade launcher
Hand Grenade

A completely Redone gameplay
now instead of following statistics from Call of Duty MW2, all the weapons are based on their real life counterparts and statistics, this includes,

real life weight
real life speed
real life penetration
real life fire speed
real life clip weight
realistic grenades
real life reload speed (based on reload videos)
real life zoom range (based on real life effective range /2)

the only non true thing balancing the weapons atm is the bullet weight and this is still based loosely on their real life weight.

explosives particularly are very very volitile,
and youll see how fire modes changes this to make all weapons generally good all rounders,
for example assualt rifles are slightly more accurate and have a longer zoom range in semi auto.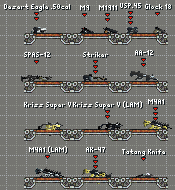 There is gonna be new sprites for all the guns, and this is near being finishe, but currently apart from adding underslung grenade launchers and the RG-6 Grenade launcher there are no new sprites




Get it here!
or on our download page
this version is very near beta!

thats pretty much it for this news post, wanna hear about future updates or keep an eye out for the release of that new version, why not track us?
also if you interested in other stuff me and psyk do why not check out my mod db account page for screenshots from projects or our developer page for other news.