After a long and difficult process the game is now finally available on Steam through the store! :3

---
The Steam version is slightly different from the other versions in which it has a few more objects in it, a new quasi-NPC and a new puzzle mechanic. Check the above trailer for a quick view of the new quasi-NPC! This update will gradually roll out to the other platforms as well.
One of the best things about this game is that through the Steam trading cards you will get this: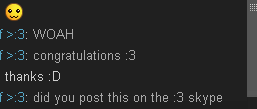 The game has been tested and approved on Windows and Linux, but Mac is coming later due to some unforeseen circumstances.
I hope you will enjoy the game, and please let me know if there is anything. :3