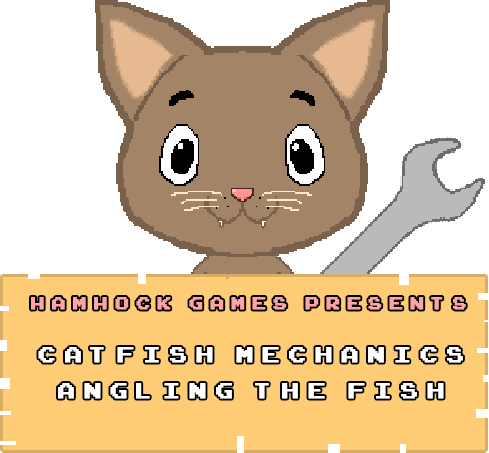 Hi everyone! Stan and Chris from the CatFish Dev Team with an update on the game. In this update'll be discussing one of the most important aspects of the CatFish experience: Angling your Fish.
A handful of people so far have been curious about how the fight with the fish will go once they are on the hook. This first update will explain parts of thebasic mechanics of fishing that we've implemented thus far.
While the fish is on the line, it will be in one of two basic positions: Facing you, or facing away from you.

When the fish is facing your direction, this essentially means the fish is vulnerable to being reeled in without much consequence to the player. This means the player can reel them in and pull on the line without taking damage to the line.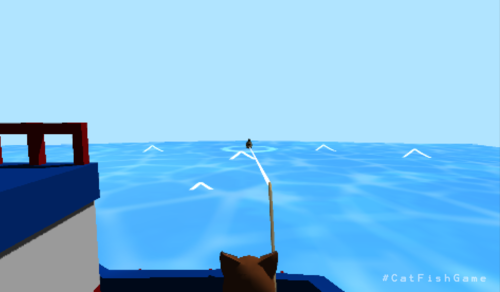 When the fish is resisting you, it has turned its body away from the player. When this happens, the player must choose to either give the fish some slack, or continue to pull and reel it in. If the player chooses to keep reeling, the line will take damage (indicated by color), potentially causing you to lose the fish before it is captured. The challenge to the player is weighing the risks and rewards of their actions, as giving the fish slack extends the length of the fight, while fighting it may break the line altogether.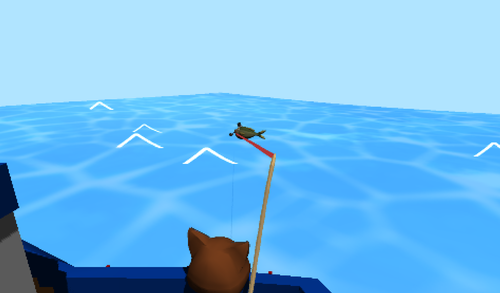 Starting with the obvious: the shorter your line is, the closer you are to catching to the fish. As the fish gets closer and closer, the amount of line you have left to reel in gets shorter.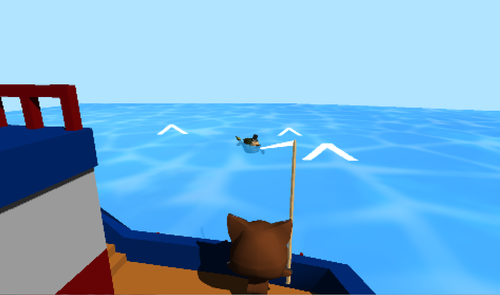 As we described before, a good amount of the fight is based on choosing when to reel and when not to. When fishing in real life, aside from reeling, there is another thing a fisherman can do: Pull.
When a fish is on the line, Cat still has the ability to pull the fishing line into different directions, steering the path of the fish as needed. Traditionally in fishing, this is done to ease the tension on a fishing line, but in CatFish it serves a greater purpose.
As players will come to see, there are obstacles in the water that can prove to be valuable tools for weakening the fish. We'll explain just what this means for your brave feline fisherman in a later update.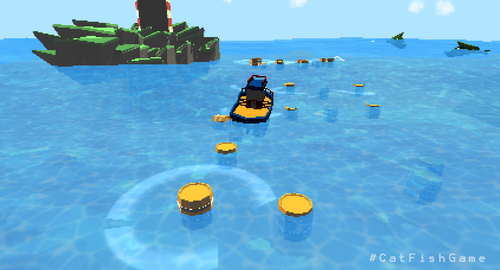 ---
CatFish is an open world adventure game where you sail the seas in search of fish, treasure and your
destiny. Set out to become a legend, or just kick back and enjoy the world. With an original nautical soundtrack, retro-inspired aesthetics and comfy world-feel, we hope you'll be hooked.
Want to know more about CatFish? Be sure to follow this dev blog to receive the latest updates!
Follow us on twitter @hamhockgames
Like us on Facebook!