Welcome to the 10th update of Casus Belli. We will now present the Map Bridge, and two new weapons, Ak74u and JAE100.
A New Map: Bridge
The Bridge map situates the action in a snowy town in Eastern Europe. Soldiers, backed by armored vehicles fight between buildings from the Soviet era. A badly damaged bridge crossing a frozen river, allows troops to move from one bank to another, avoiding sniper fire.
Two new weapons: the JAE-100 and the Ak74u
We now have two new weapons. It starts with the Ak74u, which is a much shorter version of the classic AK74. Primarily designed for special forces and tank crews, its compact shape offers a much faster rate of fire. Developed and manufactured by J. Allen Enterprises, the JAE 100 is a great sniper rifle. Designed around a skeleton of aluminum, its resistance to mounts / dismounts significantly increases its length of service. Particularly well-balanced and ergonomic, it allows NATO snipers to compete with their counterparts in Pan-Asian Casus Belli.
Mod of the Year 2009
The French Touch Studio is still in the race on Moddb.com! If you want to support us and our mod, please vote for us directly on our ModDB profile.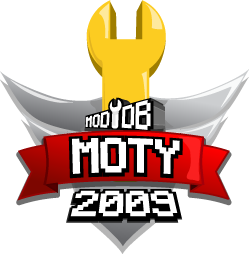 Well, that's all for today. The French Touch Studio is always open to new talent. If you are interested, I invite you to contact us via contact -at- frenchtouchstudio.com. See you soon.