On Sunday, Glenn, Andre and Sasha hung out at the University of California, Irvine campus and posted flyers. The campus was beautiful! Visiting on that day provided us with an opportunity to post flyers just before classes resume. We really engaged with people that we met. The campus is massive and we will return to spread the word in the future. We especially enjoyed the centrally located Aldrich Park. Keep an eye out for our flyers!
We ventured deep into the park where we were thrown into a random encounter with "Landon" and his party of live-action role player warriors and we spread the gospel of Sol Avenger! These brave warriors of Belegarth Medieval Combat embraced the concept and agreed to aid our cause. As they learned more about the game, they revealed how we can reach out to gamers associated with UCI clubs as well as local gaming communities in the surrounding area.
Many thanks to all of the Belegarth combatants, these valiant fighters have rallied our spirits. Glenn is planning on joining a battle and is ready to craft his first foam sword! We left just as the rainy weather began to hit hard.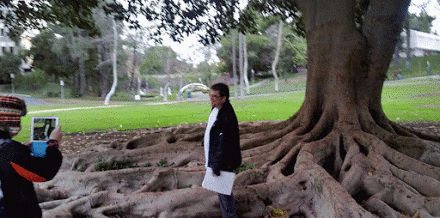 It rained well into Monday afternoon, we went back to UCI to find out how many of the flyers survived and found that around half of the flyers remained undamaged by the weather. We will continue to post flyers. We are traveling north again tomorrow to spread the word.