About Capsa

Capsa is an open world, social game which provides users with the opportunity to hang out in a breath-taking, and ever-expanding environment.
Featuring a large, gorgeous landscape, players can enjoy exploring Capsa's many destinations with all their friends. Developed using the most up-to-date technology, Capsa is designed to take full advantage of current hardware, providing an awesome, high-resolution experience. Unlike most virtual worlds Capsa is developed around the concept of a singular connected world, meaning no separate instances or loading screens to reach different locations and allowing you the ability to travel seamlessly to explore vast areas.
Introduction to Capsa's Underwater

In this article we want to talk about the recently added underwater content, as well as all water improvements in Capsa. Included is the ability to enter the water and swim, then dive down to Coral Reefs, Kelp Forests and various wreck locations to explore.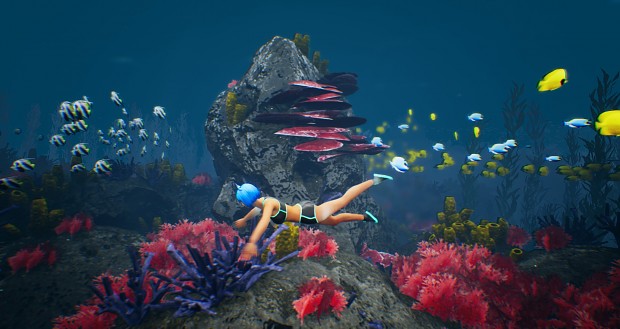 We aimed for accessible mechanics, so after you simply run or jump into the water, and its deep enough you automatically transition into a swimming state, as you expect in most games. Diving down is a case of pressing either Crouch or Jump to control accent or decent.
We have 2 main biome-like areas added so far, which is Coral Reefs, and Kelp Forests. For the Coral areas we wanted dense amounts of colourful foliage and fish to bring the area to life. In all we included a few dozen species, which includes different species of sharks, turtles, eels, jellyfish and of course lots of tropical fish. The Kelp forests have the towering kelp that is quite dense in places that the player can wade through, these offer lots of underwater greenery and you can also find various fish swimming between the Kelp.
Our goal with the underwater content is to continue to expand and add more locations to explore, these could be shipwrecks, crashed aircraft, ruins, temples and various other thing. We'll be looking at adding items for the player to find in these locations, and build gameplay around it later in development.

We worked to ensure all this underwater content which sits just off the shoreline of our existing areas is fully occluded when on land, so this means that other than improved effects in places, there is no real hit to performance from these dense coral reefs that would otherwise be visibly in range. The water we intentionally made foggy, so you can't see beyond around 250 meters, this lets us focus on rendering dense areas, without having to worry about rendering far areas on top which would really kill performance usually.
As part of the update we also introduced crashing waves on the shoreline, and generally improved the top content also, doing various performance optimizations to our previous implementation. Shown above is our ridable horses which we made swimmable as part of this update as-well. It can be a bit silly to watch, but fun to play around with, certainly improvement over the horse just sinking or, worse, riding along bottom of the ocean-floor like in our very early alpha builds. Our long term goals are to eventually to introduce boats and other surface craft for the player to drive or sail.
Save 50% on Capsa during Winter Sale + IndieDB Giveaway

Capsa's store page is on steam here, plus throughout Christmas will be discounted by 50%. Also shown below is the giveaway currently running for 24 hours, with up to 100 copies of the game to be one.
Where can I find more about Capsa?
Capsa's store page is on steam here. We and also have discussion forums on Steam Community where we are active in answering people's questions and taking any suggestions or ideas for the game. A full list of links are below.
Social Networks
Facebook
Vetron's Twitter

Steam Pages
Store Page
Greenlight Page

Useful Discussions
Introduction and FAQ