About Capsa

Capsa is an open world, social game which provides users with the opportunity to hang out in a breath-taking, and ever-expanding environment.
Featuring a large, gorgeous landscape, players can enjoy exploring Capsa's many destinations with all their friends. Developed using the most up-to-date technology, Capsa is designed to take full advantage of current hardware, providing an awesome, high-resolution experience. Unlike most virtual worlds Capsa is developed around the concept of a singular connected world, meaning no separate instances or loading screens to reach different locations and allowing you the ability to travel seamlessly to explore vast areas.
Introduction to Capsa's Home Customization

In this article I want to talk about the Home customization system, which we've recently been overhauling. It works via the three tabs shown above, broken down into appearance, items and options.
In appearance you can set the colors and materials rooms (including outside appearance) use, so for instance you can set the color of the painted walls, or maybe select a different floor material.
In all we will be including about a half dozen house designs in 2 themes for the Early-Access launch build, but we have another half dozen in development, including which are different themes as-well.
The initial themes we have are based around the Tropical/Beach shack variety and a more typical, small tropical house type.
The way our customization works, is that if you customize any home within each theme category, and move to another variant, your customization will be intelligently adapted and transferred over. This allows you to setup each theme, and move around the world claiming different homes without all the start-from-beginning setup time. Capsa is based around being easy to use and quick to get into playing, not one of those games that you spend most the time just setting things up to be able to play. So, with a few buttons presses your customization is transferred over, and you can be playing music or videos with friends.
You can claim a new home at any time, providing another player hasn't already claimed it on the server you are on. Houses revert to unclaimed when you leave the server, though for some private servers we will look into the option later of letting admins reserve homes or something along the fashion so a small group of friends homes may remain persistent in world after log-off.
Items is where you can select each furniture used in the building, its divided up into categories of things like seating, speakers, photos, shelves and lighting etc. For a category, for instance, seating, you can switch through styles of sofa and chair sets, and they be placed in your home in the current layout position. On these you can change the color of for instance the leather, and change different materials for instance the chair legs (we have dozens of different wood or metal type options).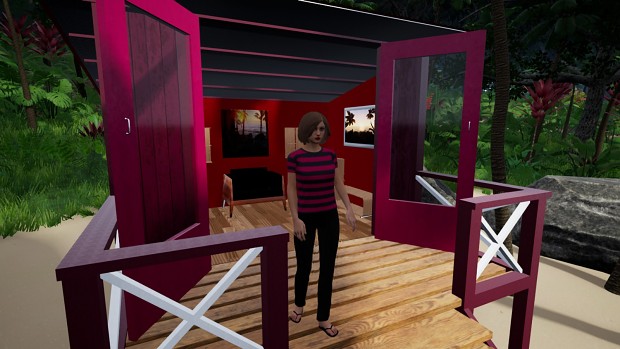 We plan to add-in several layout options over time, allowing you to customize with ease but still have a relatively personalized home. In early development we observed that going complete manual placement of items would just leave most players homes unfilled, because it's often quite long and tedious work to get something looking nice. So, in Capsa we will be adding in a mixture of layout options, which you can then focus on choosing the items you want and customizing them with the colors & materials you like.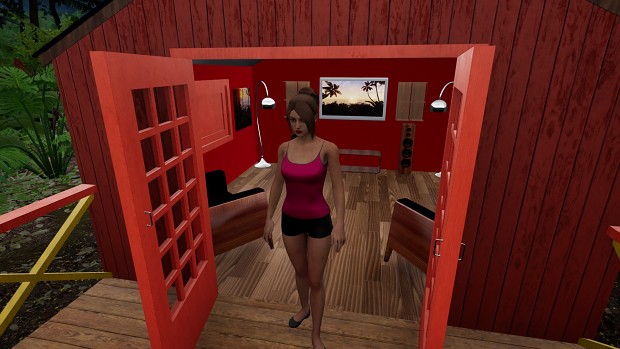 Another element we considered is that we provide users with good selection of furniture items by default for each category of item, so you don't have to unlock or 'buy' anything (we have no in-game currency). This allows you to jump straight into the game and customize your own home without it being some big ordeal. There may be some additional items to unlock via various means, but these will come later, and certainly won't be anything we deem basic essential.
This brings us to the final customization menu tab, which is options. It's here that you can adjust your homes behaviour, such as open or close binds or shutters for example. You can also set the URLs here for an audio stream (we support most radio stations / Shoutcast streams in common format), YouTube videos or image URLs for your photo frames in the home.
We will be expanding what the system can do throughout early-access, with likely many more customization options and new building types which we will be talking about soon.
Where can I find more about Capsa?
Capsa's store page is now live on steam here, and we have the community live with discussion forums live too where we are active in answering people's questions and taking any suggestions or ideas for the game. A full list of links are below.
Social Networks
Facebook
Vetron's Twitter

Steam Pages
Store Page
Greenlight Page

Useful Discussions
Introduction and FAQ