As promised in our last update, we have released renders of the UTF Corvette and concept art of the UTF Sheldon (which is the largest capital ship in our mod).
The UTF Corvette was made by our sound guy, UncleBob. Yes, you read that right, our sound guy made that capital ship model! Everyone has a hidden talent apparently! The Sheldon concept image was created by Dete.
The UTF Corvette is quite small compared to other capital ships, but it will definetely play a major role in covert-type operations!
The other capital ship I'm going to show you guys today is the NTSS Sheldon, the biggest warship that will be featured in ES. Named after General Sheldon, the founder of the UTF, the Sheldon is nearly 100 years old and serves as the UTF Flagship.
Click on the images to go to the full-size images in our gallery at our website.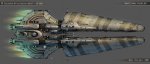 That brings the update to a close, next week if you're lucky, we might be displaying map concepts and maybe another capital ship!
Make sure to visit our main site to view even more Eternal-Silence Media!
~Iced_Eagle