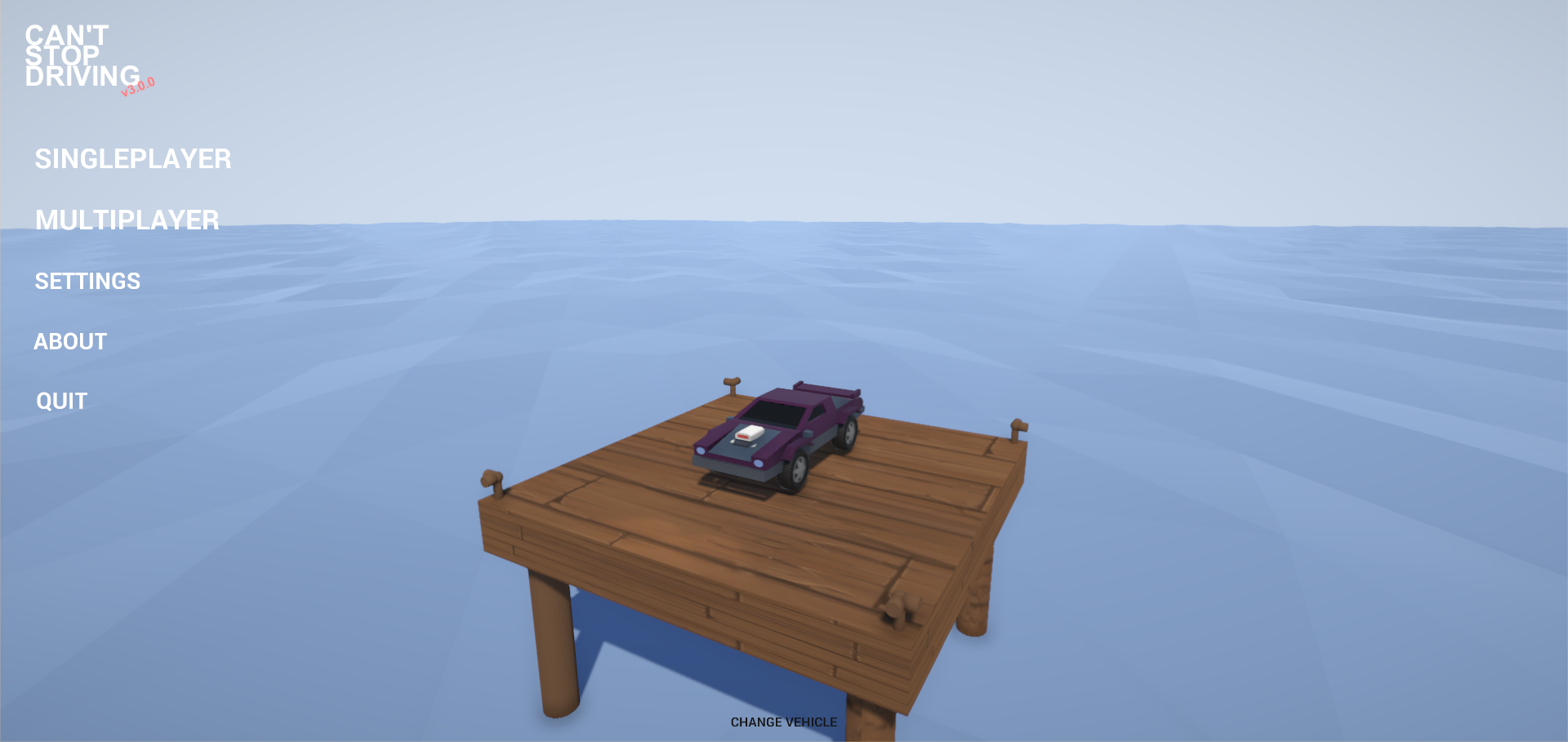 Can't Stop Driving is a student project carried out within the context of EPITA. This is a video game that finds its originality in its Gameplay.
Can't Stop Driving is a real challenge for us, a challenge that we take extremely seriously since it is a game that we will develop until the end!
We had a very structured approach and divided the development of the game into four parts:
A part until March 13, 2018, another until May 3, 2018, a third until June 10, and finally an open-ended part after June 10.
Here are our feelings about the development after the first two deadlines :


The March 13, 2018:
This first part of the project was a great success for the AllOfTheAbove team. Indeed, despite some changes and reassignments of tasks, the overall progress is up to date and even ahead of schedule! With the implementation of indispensable tools such as multiplayer, and a very easy project architecture when it comes to implementing new blocks, new functionalities and even a new environment, we have a well-constructed workspace, built around solid internal communication, and an efficient division of labour. The GitHub is also the key to this success, as it allows us to move forward together.
However, the establishment of this work environment required some sacrifices. As previously pointed out, the tasks were divided. We, therefore, have neglected the Art Direction, and the HUD part. But the fruit of this work is a stable multiplayer, various 3D elements, our own vehicle, a website, a link with professionals in the field, our own music, and finally, a functional artificial intelligence!
We therefore consider these sacrifices to be more than beneficial, and the delays will of course be rectified by April 30,2018.


The May 3, 2018:
The second period of the Can't Stop Driving project was a great success! Indeed, thanks to the rigor in the construction of the foundations of the game during the first period, it was simple for us to implement many features.
Thus, we added playable content that improves (finally) the quality of the gameplay. This makes Can't Stop Driving, despite the lack of many elements, a fun and playable game right now.
On the other hand, the game is a real success on sharing platforms and independent projects with results well beyond our expectations!
We are therefore, as agreed during the last presentation, up to date on our agenda. So we can start serenely this third and final part.


So Can't Stop Driving is on its way! We plan to add a lot of features in the coming months/weeks!
A foretaste: A 3D In-Game lobby to find games while playing? It's possible with AllOfTheAbove!
The word of the leader, Théo LEPAGE:
"Can't Stop Driving is one of the most interesting project I've worked on. It's a new challenge for me because now I have a team to manage and I've to deal with all the organisation that it implies. At first I was seeing CSD as a simple shcool project but I am starting to think that we should continue to develop it afterwards. I am very ambitious because I feel a real potential in this game."


So stay up, because what's coming next is huge...
Thanks for reading us, be careful on the roads!


AllOfTheAboveTeam